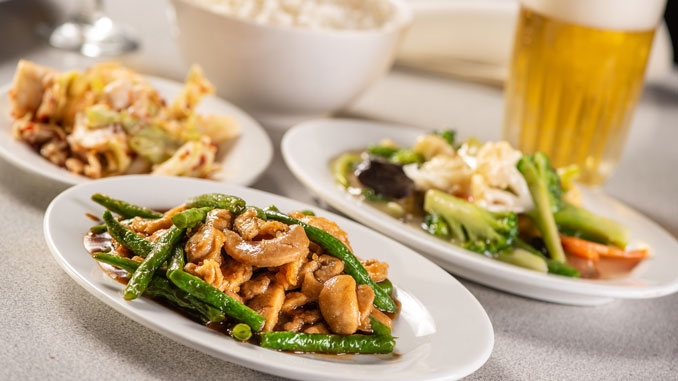 It's a truth universally acknowledged that hole-in-the-wall restaurants make for some of the best dining experiences.
And Peking's unassuming exterior, nestled away on Pacific Avenue, is a signal that you've stumbled upon a hidden gem. Once you walk into the quiet and inviting restaurant, with spacious booths in front, and the sights and scents of other people's meals tempting you, you'll wonder why you don't come here every day.
Whether you're stopping in for a lunch break or ending your day with dinner—the  Stockton staple is simply one of the best choices for Chinese food and has been since 1979. With classic Mandarin and Szechuan cuisine, you're guaranteed to find old favorites, or discover a new love if you're feeling adventurous. Curterina Chu, who co-owns the restaurant with her husband Bill, is happy to recommend a new dish. "I like people to ask questions, be willing to try something new," she says. "I'm pretty sure they'll like it!"
The lunch specials and combos are ample, with so many options to choose from that you'll inevitably be back. And with such generous portions, you'll probably have leftovers, too. The dinner menu is extensive enough to boggle your mind. And don't forget drinks—along with your typical non-alcoholic beverage options, Peking also offers beer and wine.
The most popular dishes at the restaurant, according to Curterina, are house chicken, hot and sour soup, and their hot braised fish. Since you'd hate to miss out on trying as much as you can, why not indulge in delightful appetizers that everyone can share? Hot and delicious options like pot stickers, wontons, or spring rolls will arrive shortly after you order, with just enough time to enjoy before your meals arrive. And when they do, you'll be astounded. A lunch combo of chow mein, egg fried rice, and sweet and sour pork will be served on a plate bigger than your head, the rich scent of sauce hitting you before your plate is even on the table.
Of course, Chinese food has been a favorite of many people for a very long time, whether they're opting for takeout, or looking to sit down and enjoy a meal in a restaurant. Curterina thinks that the key to Peking's longtime success lies within the food itself. "It's got a lot of flavors, and it's different," she says. "Chinese food has so much variety that it has something to please everyone in your family."
Family is actually how Curterina got into the restaurant business. Her father-in-law had opened the first Mandarin restaurant in Stockton, New Yen Ching. Named after a capital of China ("Yenching" being an old alternative name of Beijing), her husband followed suit and named his restaurant in a similar fashion. "People didn't know too much about Chinese things other than Cantonese places," explains Curterina. Like "Yenching", "Peking" is another former name of Beijing. Theirs is the second Mandarin restaurant to open in Stockton.
It's clear that feeding customers is a labor of love for the employees at Peking. From the friendly servers to the personal assistance Curterina is happy to offer diners, going to a place like Peking means you'll get excellent food as well as a memorable experience. And the fact that people continue to choose Peking for their family moments such as parties and proposals is one of the things that Curterina loves most. "When they choose us for that, I really appreciate it."
So next time you're craving Chinese food, stop in at Peking. Between the quiet ambiance, the scrumptious food, and the friendly faces, you're guaranteed to leave feeling exactly as Curterina hopes you will: "Satisfied, content, and wanting to come back."
Peking
7555 Pacific Ave., Ste. #115, Stockton
(209) 957-0617
PekingStockton.com