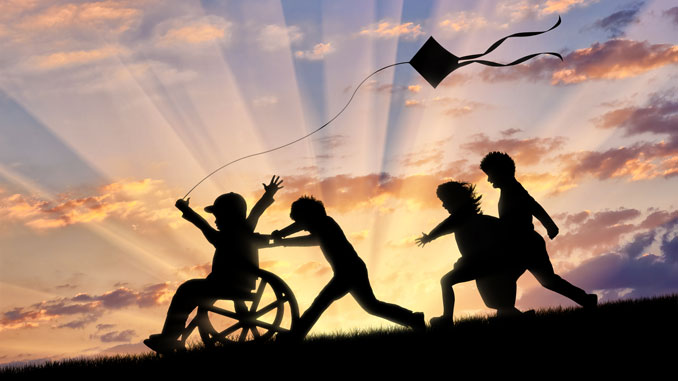 In life, challenges are simply part of the human condition.
Challenges show us where our limits lie and teach us how to move past those limits, breaking down barriers and making us stronger for having encountered them. For those with mental or physical disabilities, the challenges can be even more difficult, the limits even harder to overcome.
But those with disabilities in our area don't have to go it alone. Here in San Joaquin, we are lucky enough to harbor the amazing organization United Cerebral Palsy (UCP). At UCP, staff doesn't just help their clients face their day to day challenges, they encourage them to believe that they can live a "life without limits."
And don't think of the phrase as marketing fluff—for some staff members at UCP, their client's limits are so restricting they threaten their very survival. Helping their clients overcome such limits requires a combination of perseverance and sheer cleverness.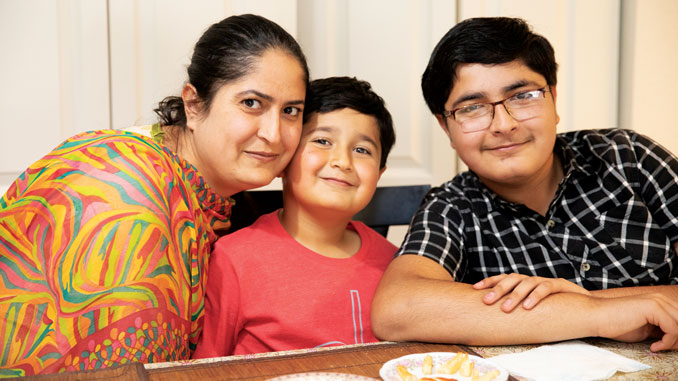 Maazin
At the Savemart CARES Sensory Integration Clinic, a sister building to the main UCP headquarters, a little boy named Maazin Khan plays on large, soft blocks and bean bags. He climbs into a suspended tent that looks very much like a cocoon and giggles as his Occupational Therapy Assistant, Sarah Paepke, swings him back and forth.
Watching from the sidelines is Nazia Javed, Maazin's mother. She sits in a low chair and observes him with eyes that hold several complex, quiet emotions. Her son, so vibrant and full of life in the present, was not always so.
"Two weeks after Maazin was born, he stopped his formula," Nazia explains. "He was not taking any at all. He started baby food, he started everything—but then he would stop. He would try it, and then stop."
Naazia and her husband took their son to various doctors and facilities including UC Davis and Valley-Mountain Regional Center (VMRC). Eventually, after putting Maazin on medication, Nazia was able to feed Maazin Pediasure at night. During the day, however, his refusal to eat was unchanged.
"He wouldn't even touch the food. If his therapist put some on his hand, he would get so mad," says Nazia, shaking her head.
When Maazin turned three, VMRC informed Nazia that they were no longer able to help him—he aged out of their program. Just when things seemed most bleak for Maazin, Nazia was introduced to Debbie Link, Director of Clinical and Family Services at UCP.
"She was a miracle," says Nazia.
Through Great Beginnings, a UCP program in collaboration with First 5 San Joaquin for children from newborns to five years old, Debbie became Maazin's first UCP therapist.
It was decided that Maazin had an extreme tactile (touch) sensitivity, resulting in "tactile defensiveness." While this sensitivity to touch was the main issue, it translated to mouth sensitivity which made him resistant to food. As Sarah Pepke explains, "If you don't want to touch something, you wouldn't want to put it in your mouth and eat it."
Sarah and Debbie's task was to desensitize Maazin enough to where he could stand having food in his mouth. They desensitized his hands via deep pressure work, clapping games, and playing drums. As Maazin's hands became less sensitive, Debbie and Sarah began to focus on the more pressing issue. 
"Maazin would gag when his tongue was sticking out just because his hands and mouth were so sensitive," remembers Sarah. "So, Debbie and I would get a straw and touch his tongue. We would have him stick it out and work on all those oral motor skills, making funny faces to help strengthen and desensitize his mouth."
Finally, they moved onto chewing. Maazin had lost all ability to chew because he hadn't developed those skills as an infant. Sarah and Debbie gave Maazin stale licorice and put apple slices in a cheese cloth so he could practice chewing without having to eat.
"Then, it really took off. The first time he had grapes, he had like six," Sarah beams. "And he's now definitely developing his hunger."
Today, Maazin's favorite food is vegetarian pizza with all the toppings, and he eats dinner with his family every night. His mother couldn't be more grateful.
"I can't even believe where my son is now, and it's all thanks to God and UCP," says Nazia. "Debbie and Sarah did so much for us. I'm so happy."
In a couple months, Maazin will turn five, aging out of Great Beginnings. "My hope for him is that he begins eating three meals a day, so that he can feel good, go to school, eat lunch with friends, and get to fully participate in life," says Sarah.
Watching Maazin clamber out of the swinging cocoon, sitting down at the table to eat a bowl of cantaloupe, it's heartwarming to see the transformation at work.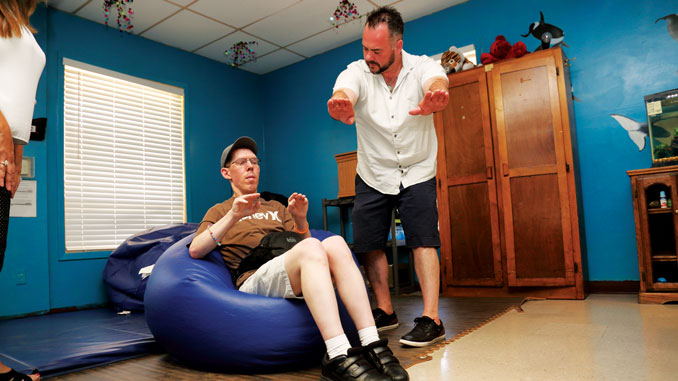 Jeffrey
There are a variety of programs offered at UCP to assist children through the very important stages of early life. But, what about the milestones of early adulthood?
In the U.S., approximately 35 percent of young adults with autism have not had a job or received a postgraduate education after leaving high school. But such statistics aren't stopping Jeffrey Morgan. At 21 years old, and with the help of UCP's Supported Employment program, he landed a job at Trader Joe's and has held it for almost a year.
"I really like it here," says Jeffrey. "Everyone's cool around here, they're nice to me."
As soon as a person becomes a part of the Supported Employment program, they're assigned a Job Developer who guides the client through the processes of creating a resume, submitting applications, preparing for interviews, and more. After the Supported Employment participant lands a job, if any job coaching is needed, UCP will provide that as well.
"As far as tasks on the job, I mainly stick with shelf-facing," says Jeffrey. "But, I really like cart runs because it's my chance to be outside moving about. I'm more of an out-there-moving-around kind of person than just a standing-around guy."
While Jeffrey enjoys his job at Trader Joe's, soon enough you'll find him hitting the books as well as running carts. "I'm going back to school in the Fall at San Joaquin Delta College to resume where I left off," he says. "I'm going to focus on improving my reading and academic skills, and I also want to take an art class to improve my drawing."
Why drawing? Because Jeffrey is bursting with creativity and harbors a dream of building an artistic career that spans several fields.
"I want my career to be in music and show business. I want to be an animator, actor, and director," says Jeffrey. "I want to start my own animated series—I like to draw different characters, and I plan on writing my own script."
In addition to all this, Jeffrey also plans on designing his own video game, becoming a DJ for parties, playing the guitar, and singing. After his interview, Jeffrey asked to demonstrate his singing voice. He sang "To the Sky" by Owl City. With zero shyness to speak of, Jeffrey definitely has the go-getter personality needed for show business. 
That's the beauty of UCP. Necessities are taken care of so that life may be lived to the fullest, and dreams can be followed.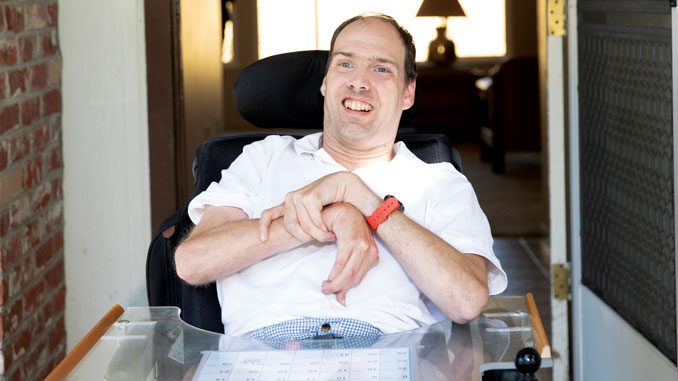 Patrick
At a little house in a quiet neighborhood in Stockton, movers come and go with boxes. The Geek Squad van is parked outside, and behind it, Linda Myers steps out of her vehicle. Exuding maternal warmth, Linda greets me and invites me inside the house, apologizing for the chaos. Once inside, she is quickly drawn away to answer questions about the TV and video game hook-ups.
Looking around the almost-finished space, it's clear Linda is in the final stretch of a long process, taking care of last-minute details. But she doesn't exhibit any weariness—she is too pleased with the progress, and with what completing this project represents.
Because this house isn't going to be her own—it will be her son's.
At 43 years old, Patrick Doherty has never lived on his own. Since his birth, Patrick has been diagnosed with Cerebral Palsy, and has gone through life without the use of his legs or his right arm. In just a few days, Patrick and his soon-to-be roommate James, also diagnosed with Cerebral Palsy, will finally be able to live independently with the help of UCP's Supported Living Program.
"We've been calling this a 'forever home'," says Linda. "We're hoping this is exactly what this will be."
Patrick's condition occurred at birth. Carried to full term, Patrick was expected to be a healthy baby, but complications arose during labor. The hospital was jam-packed, and no one was monitoring either Linda's or Patrick's health. If they had been, they would have realized that Patrick was not getting enough oxygen. 
"It was just messed up. He was full-term, but the delivery failed," says Linda. "We finally ended up with a c-section, and they probably waited too long for that."
Since that time, caring for Patrick was Linda and her husband's full-time responsibility, with the help of UCP's Respite Services. After her husband passed away 10 years ago, Linda decided she needed to start thinking long-term.
"Our goal has always been for Patrick to live as independently as possible. Now, he's on his way," says Linda, holding back tears. "This is truly a dream come true. It's beyond words."
Back at the UCP campus, Patrick eats lunch in the company of friends at the Day Program. His communication skills are limited, but his excitement for living independently is palpable. When asked what he was most excited about as far as living alone, he decided that he was excited to be able to eat whatever he wanted to. When asked what the biggest challenge would be, he simply responded, "Doing laundry."
"He has an interesting mix of emotions right now," Linda explains. "He's very excited, but he's leaving a home where he's made some friends, out at Sunshine Care Home. He's also going to be adjusting to a new roommate whom he knows a little bit, but not very well."
While his roommate James is more mobile, Patrick is wheelchair bound and requires 24/7 care. Linda has had one of the house's bathrooms remodeled and made wheelchair accessible, and has moved a Hoyer Lift into his bedroom so that he can be lifted from the bed and lowered into his wheelchair. Through Supported Living, UCP representatives will help Patrick with his day to day needs.
But, if Patrick ever needs Linda, she's only a short walk away. "I live five minutes away, which is close enough so that I can get here quickly if I need to, but just far enough away so that Patrick won't feel like he can just leave and come running back," she says. "My goal, really, is for him to be absolutely independent of me."
Having been involved in UCP for over 20 years, Linda trusts that her son is in good hands. "I was even President of the Board a couple of times, and I've been just blown away by the level of services they have," she says. "They start working with them when they're very little and they take them up to when they're seniors now."
Looking forward, one hopes that Patrick will live a long and happy life at this house. A Wii-player and sports enthusiast, one imagines that he'll make good use of his new TV.
"He's a big Stockton Heat fan," says Linda. "He also roots for the Giants and loves the 49ers."
As for Linda, while she's a retired educator, she now works at the county office coaching school administrators through their first two years. "I had a wonderful career, and again, I was able to keep that career because of the level of support between my husband and UCP," she says. "It's amazing."
Of all UCP's programs and services that benefit the disabled and their families across San Joaquin, their most significant service to the community is their relentless dedication to helping their clients live their lives to the fullest. Because, in the end, clients involved in UCP and its programs are just people with hopes and dreams. The fact that they can overcome their unique challenges and pursue those dreams is made possible by those who support them—family, friends, and caring UCP staff members. It is their compassion and dedication to making the impossible, possible, that brings clients beyond the borders of their limits, showing them that their lives have broader horizons—that they, too, can live a life without limits.
Save the Date!
UCP Fundraisers
"Spark of Night"
October 20
Everyone should have the chance to go to Prom, and UCP and the Pacific chapter of Council for Exceptional Children is making it happen for anyone with a disability in San Joaquin County! Sporting a fairytale theme, this special night gives those with disabilities the opportunity to don their best dress and dance the night away, with a live DJ, food and drink, and much more from 6-9 PM. DeRosa University Center Ballroom, 3601 Pacific Ave., Stockton
Christmas Without Limits
November 30
Join UCP for an upscale evening of delicious food, libations, and entertainment in support of UCP and all their work with our community. Featuring a Live Auction, an Elegant Elephant Gift Drawing Extravaganza, as well as dancing, this fundraiser will be bursting with Christmas cheer from 5 to 10 PM.  Waterloo Gun and Bocce Club, 4343 N Ashley Ln., Stockton
Last Chance Crab Feed
March 16
Get your fill of everyone's favorite shellfish at the Lodi Grape Festival while you support UCP and all of their amazing programs. With some awesome raffle prizes up for grabs, as well as a contest for the best decorated and loudest table, you won't want to miss this fun-filled event! Event runs from 6-10 PM. Zinfandel Hall, 413 E. Lockeford St., Lodi
"Run, Walk, & Roll" & 5K Obstacle Course Relay
May 19
Grab the kids and head to Swenson Park for a glorious morning full of friendly competition and exercise! Run, Walk, and Roll allows you to have a leisurely stroll through the park, while the 5K Obstacle Course Relay encourages you to get competitive while also overcoming obstacles meant to represent the hurdles those with disabilities must overcome. Check-in is at 8 AM, the event begins at 9 AM. Swenson Park, 6803 Alexandria Pl., Stockton