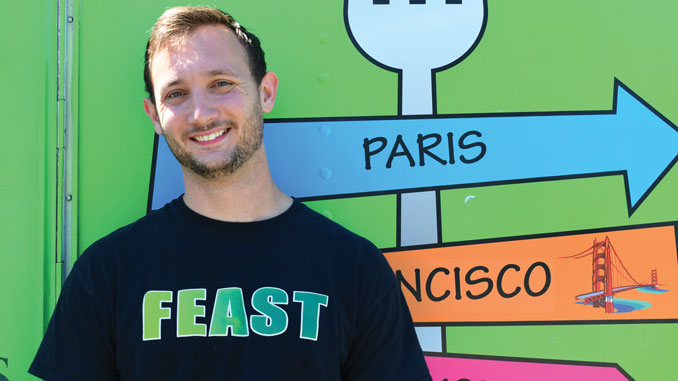 Sam Seed, A Moveable Feast
Sometimes cooking is a family tradition. Sometimes becoming a chef is just in your DNA. That's exactly the case for Sam Seed, owner and chef of Lodi's infamous green food truck, A Moveable Feast.
Sam and his green truck are legendary in San Joaquin foodie circles, thanks to their mouth-watering cuisine and secret menu for frequent diners. But, Sam's path to legendary food truck status wasn't necessarily one he had planned. When A Moveable Feast launched in January of 2012, Sam simply helped cook while his brother handled operations. After a year and a half—when it was time for his brother to raise a family and return to school—Sam took over. Since then, he has been the man behind the knife at Lodi's most beloved food truck.
Sam's culinary perspective can best be described as gourmet American food on the go. With a simple menu, the thing Sam loves most is experimenting. He frequently mixes and matches different items on the menu creating fusion plates like Sam's Special, a combo of the Caesar Salad and Cajun Shrimp. He prides himself on the Feast's sauces, which are packed with flavor and seriously scrumptious. And because he doesn't ever want the menu to get stale, he is constantly trying out inventive flavor combinations.
While Sam isn't formally trained in the kitchen, cooking was just part of his family. He fondly recalls evenings spent in the kitchen with his father, Doug Seed, who taught him everything he knows about food, cooking, and kindness. Doug, who owns the catering company, Morada Eats, is Sam's biggest inspiration and mentor.
"I want our customers to feel loved and feel my love of food," says Sam. "I want every visit to be an experience, a personal customer experience."
And that's just what you will feel if you step up to the window at their green truck. For first timers, Sam suggests digging into the Cajun Shrimp Sando. The buttery shrimp is layered on a soft, buttered bun, smothered in Cajun sauce and piled high with crunchy cabbage. "But no matter what you order, you won't be disappointed," Sam states. "You can count on A Moveable Feast for garlic, spice, and the world's greatest fries!"
Speaking of shrimp, it is both a personal and fan favorite. While many establishments overcook the delicate proteins, Sam prides himself on cooking the big juicy shrimp to perfection.
What does he love most about his job?  "Definitely my interactions with our customers," says Sam. "I get to do what I love, bless people with great food, and meet new people every day!"
If you're craving the Feast's flavor and Sam's welcoming hospitality, head over to Kettleman Lane, and meet the man himself. His passion for cooking is as contagious as his smile!
Taste Feast's Flavors:
1000 W. Kettleman Ln., Lodi
Instagram: @feastlodi
Facebook: A Moveable Feast Lodi