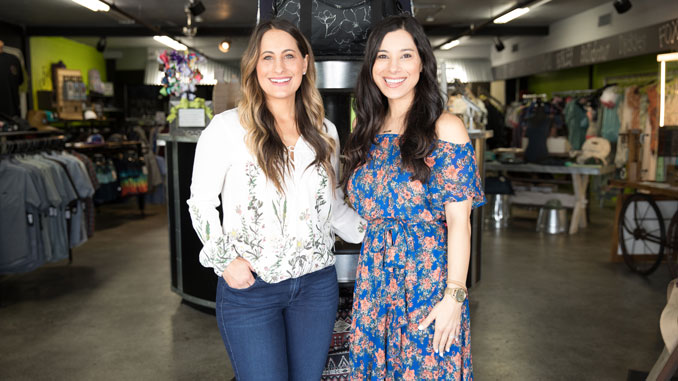 Shop small, shop local. It's a mantra that has been sweeping the U.S. since the Great Recession.
And it doesn't get more local than the sisters behind Lincoln Center's Zuesters (sisters in Dutch), the affordable family fashion and accessories store owned by Shaina Fahey and Kindra Laber. "Owning a store here is something we envisioned for a long time," Shaina says.
Shaina and Kindra grew up in an entrepreneurial family, restaurant owners in the same Lincoln Shopping Center Zuesters sits in today, so it's no surprise they found themselves on this path.
The sisters pride themselves on offering fashions for the whole family—a one-stop shop for mothers, fathers, brothers, and sisters. Many customers first become familiar with the shop when they have to pick up school uniforms; Zuesters carries uniforms for kids in grades K-12. Others stumble in when looking for quality trends without leaving the region.
"We carry a little something for everyone," Kindra says.
Their varied backgrounds and the entrepreneurial spirit they grew up with made the step to opening Zuesters in 2011 a no-brainer.
"Together we have an extensive work background starting in the restaurant business as young children into college, and on to daycare and nanny positions, marketing and communications, office management and retail, business experience," Shaina says.
"When the opportunity arose [to own a store in Lincoln Center] we didn't hesitate," Kindra chimed in.
The mothers know first-hand the struggle of shopping for young kids, which makes them experts in offering a first-class experience in a casual atmosphere for other mothers trying to dress their families.
Kindra and Shaina both love raising their kids in the store, too. It echoes the Stockton upbringing they enjoyed as kids.
"We have always been in Lincoln Center," Shaina says. "We love being in the heart of Stockton where we see so many familiar faces and where people truly believe and love to support small businesses like ours. Lincoln Center feels like home to us."
What to Buy:
Summer is alive on the shelves of Zuesters. Sandals, swimsuits, and casual wear from brands such as RVCA, O'Neill, Billabong, Hurley, Reef, Rainbows, Sanuk, and Stance are among favorites. Grab sunglasses, swimwear, trucker hats, and other gear to complete your summer look.
Start Shopping:
Zuesters
363 Lincoln Ctr., Stockton
(209) 951-5581
Zuesters.com