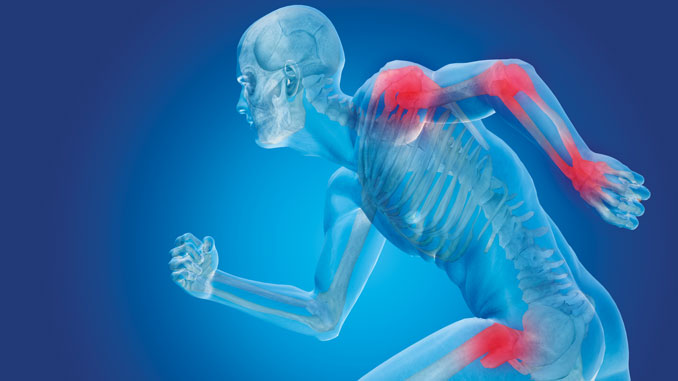 Surgery. Going under the knife. It can be scary for anyone.
But when joint pain caused by arthritis and soft tissue breakdown hinders the ability to enjoy everyday life, surgery becomes the only option for total relief.
For those who suffer from joint pain at their hips, knees, and shoulders, everyday activities are impossible to bear. Walking without, or even with, assistance, is difficult and driving, getting up and down, and out and about are all struggles.
With advancements in modern medicine, however, total hip, knee, and shoulder replacements are not only easier to perform, they are safer for patients. The ability to have joint replacements done as outpatient procedures, meaning patients go home the same day as surgery, is growing as fellowship-trained orthopedic surgeon groups across the county remain dedicated to providing better patient recovery and care in regards to total joint replacement surgeries. At the same time, these surgeons are advancing postoperative care protocols in the county, providing better outcomes to patients, and allowing San Joaquin County residents to receive high-quality care without leaving home.
It's the magic of mobility—the ability for doctor's to replace damaged and diseased parts of a joint and replace them with new man-made parts. The risks are lower, the scars less gruesome, and overall recovery, though no walk in the park, will have you walking in the park faster than ever before.
---
Standards of Care:
The pre-operative process for any of these surgeries is about the same. A patient's surgical team consults with the primary care physician, who has completed a pre-op work-up, prior to the surgery. On the day of the surgery, the patient comes in, discusses the procedure with the doctor, gets antibiotics to reduce risk of postoperative infection, receives spinal anesthesia and light sedation to reduce complications and are cleaned and prepped for surgery.
Before beginning, doctors at San Joaquin General Hospital take a mandatory time out. At this point the patient is ID'ed and the care protocol for that patient is addressed before the first incision is made.
"We're very methodical in how we do things," explains Dr. John Casey, chairman of the department of orthopedics at SJ General. A patient is always prepped and draped, gloves are changed, and the patient is re-prepped. At the time of closure, intra-operative antibiotics are placed into the wound, a practice Dr. Casey says is directly responsible for reducing the rate of infection at SJ General.
Speed is also a factor. Efficiency in the operating room lowers the risk of complication because the tissue isn't exposed as long. This, in turn, reduces the rate of post-op infection. While nationally there is a 2-5 percent infection rate for total joint replacement surgeries, SJ General has an infection rate of less than 1 percent.
 "Postoperative infection in a joint is serious," Dr. Casey says. An infected joint is very costly to the entire health care system, and the doctors at SJ General often aren't dealing with ideal patient scenarios.
---
Hip
When performing a total joint replacement hip surgery, doctors replace both sides of the joint—cup and ball. "It's pretty much all done cement-less," says Dr. Casey, who has more than 30 years of joint replacement surgical experience. "It's press-fit."
Press-fit refers to how the implants are placed. In these procedures, the bone on bone contact is eliminated while the implants are pushed into the bone. Over months, the implant grows into the metal placed inside the knee. The goal is longer lasting implants where repeat surgeries are less likely.
Over the years, Dr. Casey has experienced changes in the technology and processes surrounding hip replacement procedures. Patient specific implants and computer and CT scan navigated hip and knee replacement options have garnered a lot of attention lately. Dr. Casey says computer-aided joint replacements are on the horizon at SJ General and the orthopedic team is already using the technology in total knee replacements.
In addition to technological advances, Dr. Casey cites adjustments to postoperative care as an important step in bettering hip replacements for patients and reducing risks.
Dr. Ace Tabaraee, vice-chair and site director for orthopedic residency at SJ General, says directional approaches to hip replacements have also changed. "The direction of the incision allows for faster recovery," he says.
"I personally use a live fluoroscopy (a type of medical imaging that shows a continuous X-ray image on a monitor) in the operating room when I do my hip replacements from an anterior incision (a front approach to the hip joint)," says Dr. Jaspreet Sidhu, an orthopedic surgeon at Dameron Hospital in Stockton. "I am able to better visualize where the implants are being placed and also restore the length of the extremity undergoing surgery. This ultimately leads to better patient satisfaction and lower dislocation rate."
Today, many total joint hip replacements (meaning the whole joint is removed and replaced with a new ball and cup joint) can be done outpatient. Doctors achieve this near-miracle by paying close attention to postoperative care. Getting a patient up and moving with the help of a walker the same day they undergo the replacement is the first step. Pain medicine protocols are also managed on a patient-by-patient basis. If narcotics post-surgery can be avoided they will be because that gets people up and moving faster.
The new approach to postoperative pain management at SJ General is still in its infancy. "We interact and set up protocols with the anesthesia department to allow for less pain and early discharges from the hospital," Dr. Tabaraee explains.
On the second day post-op, rehabilitation usually begins. Checkups with the surgical team are done 10-12 days post-op. During this appointment staples are removed and the healing process is well underway. After two to three weeks most are walking on their own and driving shortly after.
For about a month after surgery, patients will enroll in a therapy program to strengthen and work on range of motion while weak arthritic muscles are rehabilitated. There may be incisional pain at this point, but the actual pain at the hip should be eliminated the second the joint is replaced.
"Once they have this joint replacement it kind of gives them a new lease on life," Dr. Casey says. "They are feeling better right away." Everything was painful before, and now pain is gone.
In the days following surgery, it is important that patients manage expectations. A good doctor will explain what to expect postoperatively to every patient. The goal of these surgeries is to return those who are experiencing significant pain that interferes with daily activities to a more comfortable state where they can enjoy day-to-day life. Full range of motion is not typically restored, though it does happen, but it is significantly improved. All patients should bear in mind that it can take a full year to realize maximum benefits of a hip replacement surgery because the strength that has long been diminished has to be built up again.
Many times the outcomes of surgery are based on a patient's co-morbidities, meaning the other ailments they have such as heart disease, obesity, and depression. Any of  these co-morbidities create additional complications to healing and can extend the process. If a patient has a BMI greater than 40, they are at an increased risk. At a BMI of 50, complication rates including wound healing, periprosthetic joint infection, and readmission to the hospital in the postoperative period are even higher. Health issues such as this can deter the course of treatment. In some cases, the surgery will be deemed too risky to attempt, while in other cases, doctors will require patients to lower their risks by addressing their co-morbidities first.
"Ultimately patients who have uncontrolled diabetes, liver disease, and end-stage renal disease have been shown to be higher risk patients and that is something I thoroughly discuss with my patients," Dr. Sidhu says.
Who is the best candidate?
Patients who undergo hip replacement surgeries are typically older and experience groin and thigh pain as well as decreased motion. Hip replacement is most commonly recommended when findings of arthritis are shown on an x-ray.
"These patients usually cannot walk a block without pain," Dr. Casey explains. They have night pain, rest pain, they cannot get in and out of cars or chairs easily. "They are having loss of enjoyment and they are having real difficulty just doing the daily activities of life."
---
During Surgery
Some patients find it calming to know what exactly will be done during a hip replacement procedure before undergoing one. In a routine procedure, after an incision is made, the tissue is divided and the arthritic joint is exposed and cut out. To eliminate pain and complications, surgeons shave down bone spurs and implement implants using strategic approaches and incision locations for the best outcomes. Once the final implants are put in, the patient is reassessed, washed, and the layers of tissues are sewn up.
---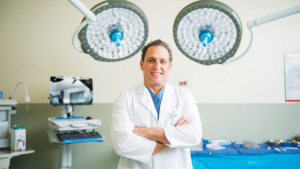 Knee
The general pre-operative and postoperative protocols are the same in hip and knee replacements, but the technology, as well as some of the specifics of recovery and the procedure, differ.
Candidates for knee replacements tend to have a structural deformity such as knocked knees or bowed legs due to bone loss. These deformities are more obvious than in hip joints due to the location. "The legs can be significantly deformed at the knee," Dr. Casey says. This results in loss of motion, a grinding or grading feeling in the knee, and significant pain.
Computer-aided surgeries are more common in knee replacement surgeries than in hip replacement surgeries. Dr. Casey and Dr. Tabaraee have already begun using computer-aided software in knee replacement surgeries in Modesto and they will bring the technology to SJ General next.
In knee replacements, these offerings give doctors a new way to approach the surgery, but Dr. Tabaraee warns that they don't always offer improvements. "Everyone likes the words laser and computer but he or she don't always improve the outcome," he explains. "These are traditionally very successful procedures and it's hard to really make a groundbreaking improvement."
To offer the best outcomes, patients are optimized for surgery beforehand. SJ General orthopedics don't deny patients based on some risk factors but they might require intervention such as lowering sugar levels or stopping smoking beforehand to make surgery less risky.
After a knee replacement, recovery is dependent on the patient. As knee replacement surgeries head toward outpatient settings, patients spend less time in bed, reducing the risk of complications including blood clots. In the first two weeks, skin heals. Pain and discomfort can be problematic in the beginning but almost every patient is walking within one day of a knee replacement procedure. Some patients return to work immediately after the operation. It's not the standard, but it has happened.
"Everyone is different. Some people's recovery is different. For some people it's six weeks and some are three to four months," Dr. Tabaraee says. The average, however,  is that people are up and walking the next day with a cane or walker, home in one to two days (if the surgery wasn't outpatient) and able to begin physical therapy, and by four weeks they are getting off the walker and resuming normal activity.
Who is the best candidate?
Like hip replacements, debilitating pain is a common complaint amongst those who undergo knee surgery. "Ideal candidates for hip and knee surgery, from a physiologic standpoint do not differ much," Dr. Sidhu says. "Usually its patient's that have limited mobility as a result of either hip or knee osteoarthritis that seek surgical consultation."
There is also evidence that supports joint replacement in octogenarians (people in their 80s) showing good outcomes. "I look at patient's overall health status and their ability and desire to actively participate in postoperative rehabilitation after joint replacement and help base my surgical decision on that," Dr. Sidhu says. 
---
Rapid Strides
Speed of recovery is an attractive attribute of developing knee replacement surgeries.  That's why Dameron Hospital developed its Rapid Strides Accelerated Recovery Knee Replacement Program in 2016, a program that uses state-of-the-art, minimally-invasive medical procedures to provide total knee replacements to San Joaquin County residents with an average recovery rate that is half of what traditional knee replacements offer.
"A lot of people were going out of town to have this type of minimally invasive surgery done," explains Dr. Kevin Mikaelian, medical director of Rapid Strides.
The ability to provide significant cuts to recovery time post knee surgery is partly the surgical approach itself. The other part is the pre- and post-op swelling and pain management.
"Our goal is no IV narcotics after surgery," Dr. Mikaelian says. Patients should be able to walk 50-60 feet two hours after surgery and go home the next day. Doing away with traditional anticoagulants reduces postoperative complications and most patients can manage on aspirin alone.
Having the procedure available in Stockton is a win for San Joaquin County residents who would have left the region for the same procedure. Not only is it convenient getting to and from the hospital, if there are issues after surgery, local patients no longer have to go back out of town or see a new orthopedic surgeon who isn't familiar with their case.
Instead of staples, Rapid Strides protocol calls for a mesh with glue to close the incision, allowing patients to shower right away and forgo bulky dressings. "A lot of patients love the incision because it's very small and it's cosmetic," Dr. Mikaelian says. The procedure also avoids cutting the quadriceps tendon,  which shortens recovery time and accelerates the ability to bear weight.
The procedure also reduces postoperative morbidity and complication rates because of the reduced need for IV narcotics and less time spent in a hospital bed, which can lead to complications due to post-op swelling and stiffness. "Patients not only recover faster, they potentially have a better overall recovery," Dr. Mikaelian says.
Since the program was fully integrated at Dameron in November 2016, 121 patients have been treated through Rapid Strides. Of those patients, 90 percent were walking in the first two hours post-surgery using a walker and only 10 percent had IV narcotics post operatively. Any patient who did not go to a Skilled Nursing Facility following the procedure was sent home the next day. At the four-week follow-up appointment 75 percent of patients were walking without assistive devices.
 "I did [knee replacements] the standard way for 19 years so I have a good idea what it's like typically and what this new procedure is like and [the recovery] is a vast improvement," Dr. Mikaelian says.
---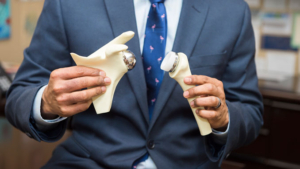 Shoulder
Total joint replacement surgeries in the shoulder differ from hip and knee replacements for two main reasons: they involve a more complex joint and they are not weight-bearing joints necessary to walk.
Someone who opts to undergo a shoulder joint replacement surgery suffers from bone on bone rubbing caused by worn down articular cartilage. For those who have an intact rotator cuff, a group of muscles and tendons that surround the shoulder joint, a total joint replacement similar to a knee or hip replacement can be performed. However, if the rotator cuff is destroyed, a reverse total shoulder procedure will be required.
In a reverse procedure, doctors change the biomechanics of the shoulder joint by placing the ball part of the joint on the scapular side, which is opposite of how a typical shoulder looks. A deltoid muscle is then used as the primary muscle to move and work the shoulder.
While these surgeries started over 30 years ago and have a long history in the United States and Europe, the last ten years have seen the reverse procedure become mainstream. That's because the newer designs doctors have developed are more effective and therefore more popular.
Dr. Jaicharan J. Iyengar, a board-certified orthopedic surgeon specializing in shoulder, elbow, and sports medicine at Alpine Orthopaedic Medical Group in Stockton, performs up to 275 shoulder surgeries per year, including elbow cases. In 2018, Dr. Iyengar estimates 65-75 of those procedures will be shoulder replacement surgeries.
"The shoulder is a delicate joint and takes time to fully heal, so I remind patients to have patience after surgery and not to get discouraged if it takes some time to achieve full strength. This is perfectly normal for shoulder rehab," Dr. Iyengar says.
Those who undergo a total joint shoulder replacement or reverse total joint procedure do not always achieve complete full range of motion, but they do enjoy a functional range of motion. The main goal of the procedure, like a knee replacement, is to eliminate pain and restore shoulder function.
Total shoulder replacement surgeries seem more invasive than most procedures Dr. Iyengar performs because they involve complete replacement of the shoulder with an artificial prosthesis, but also are able to recover rapidly due to surgical technique and the stability of modern implants. The procedure treats advanced arthritis of the shoulder joint that causes extremely limited and painful range of motion.
At St. Joseph's Medical Center, where Dr. Iyengar performs these procedures, a fairly comprehensive program for shoulder replacement emphasizing rapid recovery has been developed over the past three years. Like hip and knee replacements, advancements in shoulder procedures are focused on faster recovery times and less postoperative risk.
SJMC's protocol allows patients to be discharged from the hospital within 23 hours of admission. They are also weaned from their sling within two weeks of surgery and are cleared to participate in full range-of-motion exercises with physical therapy by week three. "Most of these patients report complete pain relief by six weeks post-op, which is pretty incredible and are a testament to advances in anesthesia nerve blocks for pain and sophisticated pain control protocols during surgery," Dr. Iyengar says.
SJMC is also embracing computer navigation during shoulder replacement surgery to achieve better accuracy of placement of the prosthetic implants. When navigation software is used, patients receive 3D CT scans of the shoulder prior to surgery. Then, the doctor generates a computer simulation of the surgery ahead of time and actually performs the surgery virtually, giving him a level of practice never seen before. The plan created during the virtual surgery is accessible during the real surgery, improving accuracy.
The  program is fairly new; it launched in November 2017, but Dr. Iyengar is satisfied with the results so far, and SJMC is one of just two surgical centers in Northern California offering the technology on shoulder replacements. "[It] really has shown me how digital 3D technology can be applied to orthopedic surgery to improve surgical outcomes."
The recovery for shoulder procedures is often much easier than a knee or hip total joint replacement because the area gets better natural blood flow and doesn't bear weight the way hips and knees do. The drawback is that these procedures are newer than both hip and knee replacements and therefore a lot of the research is more limited.
"The shoulder relies on a lot of muscles to work properly, so physical therapy is critical to achieving a good outcome from surgery. The best operation in the world sometimes will not yield a good result if patients are not also committed to rehabilitation," Dr. Iyengar says.
Who is a good candidate?
Those who experience significant shoulder pain, loss of function, or weakness in the shoulder should make an appointment with an orthopedic specialist to determine if they are a good candidate for surgery. Surgery is not always required if conservative treatment such as physical therapy and cortisone injections are effective. When there is damage of the soft tissue—muscles, tendons, and ligaments—these patients are excellent candidates for arthroscopic shoulder surgery. Patients who demonstrate severe wear-and-tear due to arthritis of the shoulder, usually diagnosed by an x-ray, are good candidates for shoulder replacement surgery, particularly if their symptoms are progressive and affect their quality of life. It's important to note that these replacement surgeries are not for minor pain or small defects. Total joint replacement of any joint is reserved for the most serious cases.
Dr. Sidhu's Tips for Postoperative Joint Replacement Patients
Stay mobile
Actively participate in physical therapy
Maintain good eating habits
Participate in low impact exercises (i.e. elliptical, stationary/road bike, swimming)
Enjoy your life while being mindful of the joint that is replaced