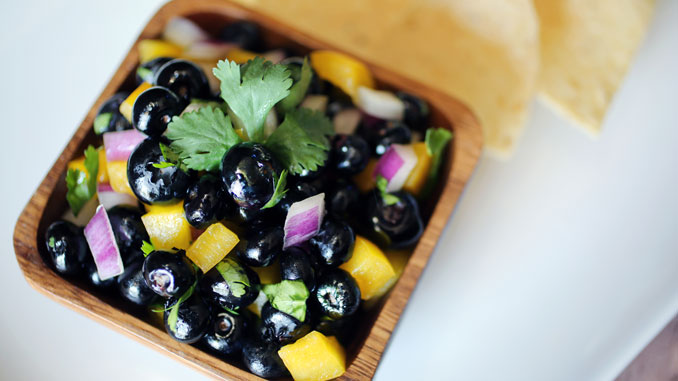 Have you heard the news? The mighty blueberry is ripe for the picking and we are ready to fill our baskets at the local Farmers Markets.
Blueberries are a perennial flowering plant of bright indigo-colored berries and harvest will begin any day!
The Native American Indians were the first to recognize that blueberries had a multitude of benefits including medicinal purposes and natural flavoring. And while blueberries are native to America, they weren't commercially farmed until 1916, when two pioneers harvested and sold the first commercial crop of highbush blueberries in Whitesbog, New Jersey. But it didn't take long for the sweet berries to catch on and by 1960 more than 200,000 seedlings spread across more than 13 states.
Blueberries are so entwined in the American culture, that by 2011, they were planted in the White House kitchen garden.  And by 2014, blueberry production rose to an astounding 1 billion pounds across five continents.
Blueberries may be tiny, but they are mighty. They are rich in antioxidants and low on the glycemic index, making them the perfect fruit for diabetics or those looking to control their sugar intake. Blueberries are packed with immune fighting nutrients, aid in fighting osteoporosis, boost brain power, and promote heart health.
They also taste delicious! While they are traditionally utilized as mix-ins to baked goods, they can be used in a variety of cuisines. Blueberries add texture, sweetness, and acidity to any dish. In fact, they are one of the few fruits that can be enjoyed fresh, frozen, canned or dried. Use the petite berries as a garnish in a sparkling cocktail, whip up a blueberry granite, or make a compote of blueberries as a flavorful garnish to a roasted pork tenderloin. Of course, they are also tasty in the simplest of recipes from overnight oats, to smoothies and just about everything else.
Did you know that our region is home to an incredible blueberry farm called Rhythm and Blueberries? The blueberries are all enrolled as part of the California Certified Organic Farmers program and produces some of the most flavorful blueberries in the world! Seriously sweet and juicy, you will never eat a commercially grown blueberry again. Keep a look out for Rhythm and Blueberries at the Lodi Farmers Market or at any number of Farmers Markets throughout Northern California.
Check out the simple, healthy recipes below to satisfy your heart as well as your hunger! You won't be disappointed.
Recipe 1
Blueberry Corn Salsa
Ingredients
2 pints of Blueberries
1 Yellow or Red Bell Pepper
¼ C. Red Onion, Chopped
¼ C. Cilantro, Chopped
2 TBSP. Lemon Juice
¼ TSP. Sea Salt
Tortilla Chips
Directions
Chop first four ingredients and place in a medium-sized bowl. Squeeze lemon juice and sprinkle sea salt over the salsa. Serve salsa with tortilla chips or as a garnish to grilled chicken and fish.
Recipe 2
Overnight Blueberry and Coconut Oats
Ingredients
½ C. Oats
½ C. Whole Milk
¼ TSP. Splash of Vanilla
1 TSP. Maple Syrup
1 TSP. Unsweetened Flaked Coconut
1 TBSP. Chopped Walnuts
10 to 12 Blueberries
Directions
Combine oats, milk, vanilla and maple syrup in mason jar. Seal with a lid and shake to mix. Refrigerate at least two hours or overnight. Remove lid and garnish with fresh coconut, walnuts, and blueberries. Enjoy!
Recipe 3
Blueberry Goat Cheese Crostini
Ingredients
One Baguette
8 oz. of Goat Cheese
One 6 oz. Package of Blueberries
Orange Blossom Honey (or regular honey)
6 Basil Leaves, Chiffonade
Directions
Turn oven on broil. Slice a French baguette into 1/3 slices and brush with olive oil. Place on a cookie sheet and broil for two minutes or until bread turns golden-brown. Remove from the oven and spread goat cheese on the baguette. Wash basil and tightly roll basil leaves. Chop rolled basil into 1/8 inch slices. Place four blueberries on each crostini and drizzle honey over the crostini. Garnish with basil and serve.