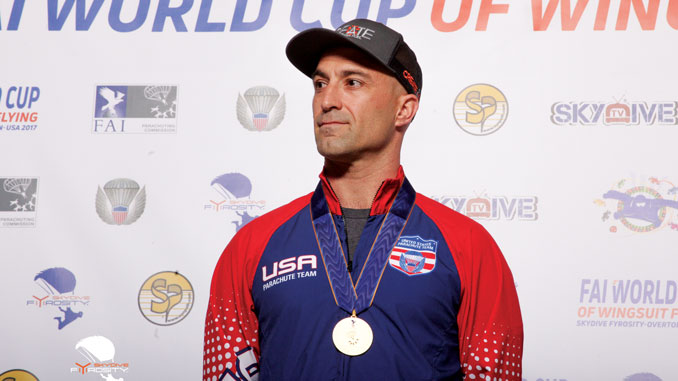 At the cliff face, time stands still for Chris Geiler.

Staring across the abyss, he steps forward in his wingsuit as the wind tugs against his seams. Adrenaline, hesitation, the fear of the unknown is all foreign notions that roll off his shoulders and away with the breeze. He takes in a breath, savors the view, adjusts his body, and falls forward and into the skyline.
As the current World Champion, World Cup Champion, and U.S National Champion of Performance Flying, a frequent B.A.S.E jumper in Italy, Switzerland, and the U.S., and with an additional 2 silver medals under his belt (not to mention a slew of other profound awards), Chris is perfectly at home among the clouds. Since 2010, Chris has landed a total of almost 4,000 jumps. His plummeting first began in his early twenties when his best friend recommended the sport. "It was after I quit racing as a cyclist," says Chris. "I went up to visit my best mate, and we'd seen something on TV, people wingsuiting and skydiving. So, we started with learning how to skydive."
But funding such a thrilling sport cut their time in the air short. It wasn't until a few years later that Chris and his best friend attempted their high-flying dream once again while living in Italy. And soon after, Chris found himself training in Lodi California. Once Chris had met the mandatory 200 skydives, he was eager to get his suit on.
The art of wingsuiting first gained popularity when it was opened to the public in the 90s. Utilizing durable fabrics resistant to high wind speeds, those that take the plunge slip themselves into a specialized suit that helps them take flight. With a webbing of fabric between the arms and legs that inflates to form pressurized wings, Wingsuiters can leap from airplanes or B.A.S.E. jump from mountain tops and shift in the powerful breeze that envelops them.
But what propels anyone to leap from a perfectly good plane or piece of rock?
"At first it was the wow-factor," says Chris. "Flying down mountains was the original attraction, my mate and I had always been so adventurous and into all sorts of sports." And as a bonus, the climb to the top of the mountain when B.A.S.E. jumping isn't so bad either. "It's the whole experience you're in. The scenery, the long hike to get to where you're going. The time on top of the cliff-face, it's actually really peaceful!"
And, really? As Chris explains, what could be better than soaring through the clouds, flying amongst a virtual mountain range in the sky?