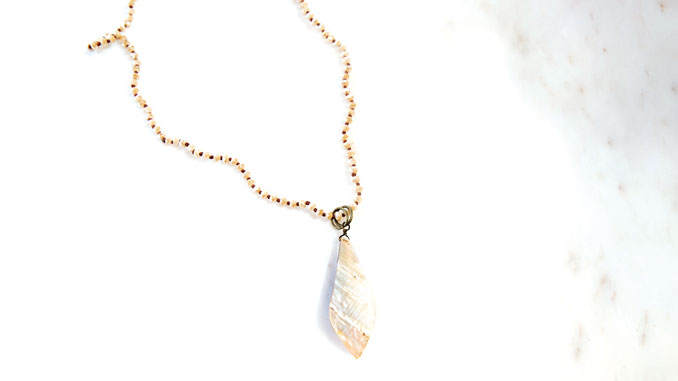 Dorene Willet sells handcrafted jewelry at Lodi's Boxwood Finch.
Zzyzx may sound like a mythical place, but Dorene Willet promises it's real. Formerly known as Soda Springs, it's the spot Dorene got her start in jewelry making 15 years ago, attending a jewelry camp at the area's Earth Science Center.
Actually, Zzyzx, Calif. kind of sounds like a place you might go to play with gemstones and fine metals, learn stone carving, copper enameling, beading, and precious metal clay.
"I couldn't make my hands move fast enough or take as many classes as I wanted, and left there completely in love with the entire process," Dorene shares of her experience. Every year since her family has returned to spend time together while Dorene refines her skills.
Her pieces, often fashioned out of mixed metals, pearls, stones, crystals, glass, and leather, first caught the eye of some friends. Her business Hadar & Adara—Hebrew and Greek words for glory and beauty—was launched with an in-home jewelry show.
"This adventure came into a life of it's own," says Dorene.
Over the years, Dorene has collected customers and friends. She's met some of her favorite people and best customers through those early in-home shows, a practice she still indulges in seasonally.
As her business grew organically, Dorene added craft fairs and Hospice fundraisers to her venues, as well as three retail shops. She has also continued with home shows. She's honored to say many brides and wedding parties have donned her pieces on their big day.
While every piece is a personal expression for Dorene, her favorite pieces are marriages of stones and leather.
"I purchase most of my supplies once a year at the Tucson Gem and Mineral Show in February," Dorene says. "I then supplement my inventory throughout the year by purchasing online from those vendors." Sometimes she turned to Etsy and some other online vendors to find the supplies she needs.
All of Dorene's pieces are handcrafted and of high quality, available at an affordable price point to San Joaquin residents either through her Facebook page or in retail shops in California and Washington.
"My jewelry is a very personal expression of who I am," Dorene says.
Where to Buy:
Hadar & Adara is sold locally at Boxwood Finch in Lodi, as well as at Sierra Mountain Home in Pioneer, and a shop in Vancouver, Wash. She plans to add a Modesto location to her line-up later this year.