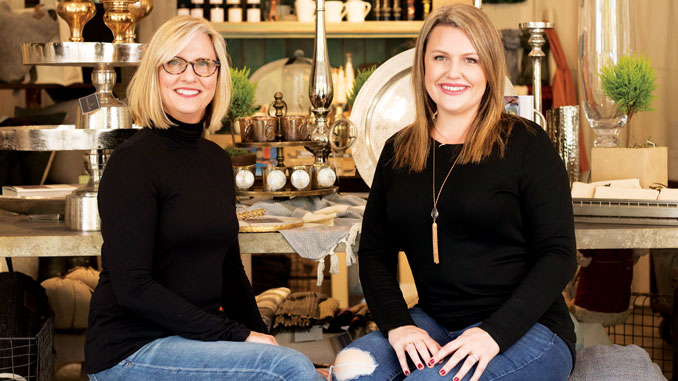 The mother-daughter-team behind Lodi's home décor store
For Amanda Denton and Pamela Snell—the mother-daughter-team behind Boxwood Finch, a home décor store in Lodi—shopping trips are more than just a bonding experience. From San Francisco to Los Angeles to Las Vegas, the two women scour shelves in big cities to find the perfect bits and pieces for their hometown store. The remaining space is designated for locally-made wares.
"I tend to enjoy searching for the more personal items we carry such as jewelry and accessories," Amanda says. "And my mom, Pam, tends to enjoy finding the perfect books and vintage home goods."
Together they fill the shopper's paradise, an expertly decorated space punctuated by natural light, with kitschy pillows, bold statement pieces, and chic holiday decorations. Everything in the luxe space is handpicked and impeccably made while constant inventory overhauls keep shopping experiences fresh and seasonal.
"It's a great place to buy a gift, and we hear a lot of customers who are looking for gifts also mention that they can't help picking up a little something for themselves while they're there," Amanda boasts. "We think that the items we carry, including the hand painted custom furniture pieces my mom creates, are what sets us apart from other shops in Lodi."
Local artists make the best treasures. Amanda and Pam work closely with area designers to showcase work from Lodi for Lodi. It's a beautiful partnership that the duo feels strongly about, considering Pam's first business falls into the creative space—a faux finishing company where she decorates furniture, finishes cabinets and walls, paints murals, and more. And Pam's expert eye for finishes isn't lost in the store's inventory, which houses pieces crafted using heavy woods and worn metals as well as those emblazoned in silver glitter.
"It's truly our goal to have Boxwood Finch be a place that feels good to walk into, and that you want to stay and hang out in even after you've finished your purchase," says Amanda.
Shop Boxwood Finch:
606 W. Lockeford St., Lodi
(209) 224-5781
Facebook.com/BoxwoodFinch