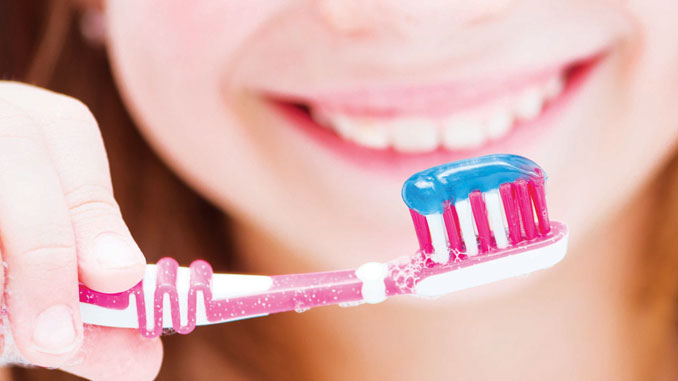 Set a Good Example
As parents, it's our duty to set our children up for life-long success. Little ones are our biggest imitators—wanting to do grown-up things just like mommy and daddy. "We have all been in the awkward situation of saying something we shouldn't have, only to have our toddler repeat it back verbatim," says Dr. Anisha Ranchhod of Lodi Pediatric Dentistry. "The same can be applied to your oral hygiene routine. If your children see you brushing and flossing every morning and night, it will be seen as part of the regular routine in your household and can be the simplest motivator."
Make Oral Hygiene Fun
Sound oral practices are not likely at the top of your children's priorities, or even worse, the act itself may result in a tantrum or disagreement. If you find yourself battling your children to brush, stand your ground! "Avoiding it only makes the problem worse.  Stick firm to a consistent morning and bedtime oral hygiene routine so your little one knows what to expect." Dr. Ranchhod also suggests pumping up the routine with your child's favorite song, a colorful timer, a reward system, and a fun toothbrush and paste.
Choose the Right Dentist
Children should begin visiting a dentist at age one to prevent tooth decay, and set them on a path to oral hygiene success. It's crucial to make dental visits fun and exciting, instead of stressful and scary. And the right dentist can make all the difference. As a Board Certified Pediatric Dentist, Dr. Ranchhod spent an additional two years following dental school, learning about pediatric oral health, pathology, behavior management, and sedation.  She is also educated in correcting lip and tongue-tie in infants to improve breastfeeding.  "I really try to build a relationship with the kids, to figure out what works best for them, and to make dentistry an easy and positive experience," Dr. Ranchhod adds. 
Schedule Regular Appointments
Dr. Ranchhod suggests children receive a dental check up every six months. "Tooth decay is preventable, and sometimes just correcting certain dietary habits or introducing something new to the routine is all you need to combat decay," she notes. Regular check ups also help make a child comfortable in the dental setting, and seeing the same faces, doctor, and office each visit ensures that little patients are at ease. "Also, a friendly reminder to brush and floss from the dentist is always helpful," Dr. Ranchhod says.
Keep Them Clean
As children grow into teenagers, monitoring their dental routine may become more difficult. Chances are, you are no longer brushing together each night. But, as parents, you can continue to support oral hygiene by providing the right tools, and replacing them when necessary. "Tooth brushing apps, electric toothbrushes, waterpiks, and other oral health tools are out there to make oral hygiene more interesting and fun," Dr. Ranchhod says.  It is also important to make sure that teens don't pick up unhealthy soda or snacking habits along the way, and Dr. Ranchhod is always there to remind them to eat healthy and preserve their teeth!
As you follow steps to set your children up for success, feel confident teaming with Dr. Ranchhod to develop strategies to ensure optimum oral care at home.
For More Information:
Lodi Pediatric Dentistry
1300 W. Lodi Ave., Ste. M, Lodi
(209) 333-0374
LodiDDS.com
lodikidsDDS@gmail.com