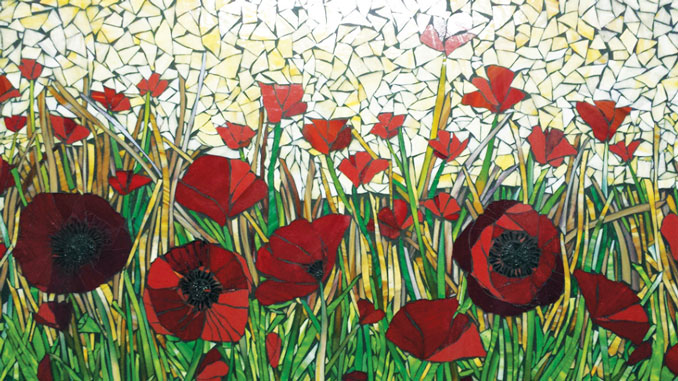 Local mosaic creator takes her talents full-time.
For years, Kristi Halva's glass mosaics were confined to a makeshift studio in a corner of her garage. And the time she spent there was constricted to the hours of 9 PM and midnight, after she put her kids to bed. Occasionally she would pack up her supplies and haul them over to her kids' school to help the students make a mural to auction off at the annual fundraiser. But, for the most part her art took a backseat to being a working mother and wife.
Now that her kids are grown, the Stockton-based artist is finally being showcased—not only as an artist, but also as an art teacher.
"I don't know that I've ever seen anything that I do in art galleries," Kristi says. "My stuff is unique because it's a lot like stained glass, but it has more freedom."
Unlike most mosaic artists who use precut glass squares or tiles, Kristi cuts her own glass. This frequently results in Band-Aid wrapped fingers, but also allows her incredible diversity in the shapes she can achieve.
The process is straightforward, but far from simple. Using particleboard as a base layer, Kristi first sketches out her design, then cuts and glues down the glass, section by section. She finishes it with black grout to contrast the bright colors.
"I don't really ever know how it will come out," she admits. "When I grout it, things happen to the picture that I had no way to anticipate. I feel like I'm channeling some energy that's greater than mine."
Though she welcomes any subject for commissioned work, Kristi specializes in floral and nature scenes. Several of the pieces she is most proud of feature California poppies, gnarled trees, and prominent suns.
In addition to creating her own art, Kristi teaches private group classes. Hosted either in her home studio or at local wineries, these events are often small and cozy, but now she is turning her attention to teaching larger and more frequent classes.
The first step toward that goal was taken on September 30, when she once again found herself packing up her supplies—this time for a class of more than 30 students on Alcatraz Island in San Francisco.
According to Kristi the possibilities are endless when it comes to pairing mosaic classes with interesting themes or venues. She's currently toying with ideas like an afternoon "Mosaic and Mandala" class that would incorporate yoga and serve as both a creative outlet and a relaxing retreat for students.
For More Information:
KHMosaicDesign.com
Instagram @khmosaicdesign