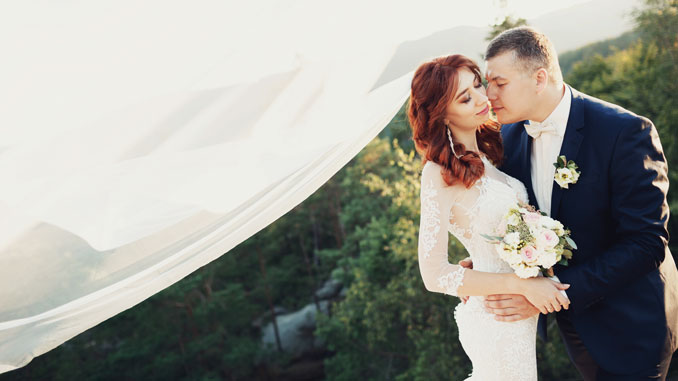 Every bride dreams of a magical wedding day.
One where every plan plays out as expected and no detail falls short. It's inevitable, despite planning and over-planning, that something will derail "perfect." With so many moving parts, something—big or small—is eventually not going to go according to plan.
On my own wedding day it was a groomsmen's tuxedo that made perfect unattainable. All six men were to be dressed in coordinating black tuxes with a subtle pinstripe. On the day of the wedding, the groomsmen who had to fly cross-country for the affair went to pick up his tux only to find that a misstep had been made. His tux was not there, and the only one left was sans subtle pinstripe. The consensus was clear—my husband insisted no one tell me. They didn't. And you know what? I'm glad because I didn't notice, which means few others probably did. If someone had alerted me to the mismatch, I would have been flooded with anxiety, desperate for a way to troubleshoot the style blunder. And when I found out the next day, I laughed. Because in hindsight, it didn't matter.
When something goes wrong on the BIG day, we look to Plan B. Sometimes there's nothing to be done, and agonizing over every what-if will drive you mad, but developing a back-up for the big details could limit fall-out. Like, someone else probably could have picked up his tux before the last minute.
Hire a Professional
Perhaps the best way to limit big blunders is by securing the help of a professional. Many venues come with their own wedding planners on staff, but if you're getting married somewhere without a designated helper, consider hiring your own. These party professionals take care of the details, so you don't have to. It can be nerve-wracking to leave the most important day of your life (so far) in the hands of a stranger, but remember they have more experience doing this than you do.
Schedule for Mishaps
Leave buffers in the schedule to accommodate late arrivals and last-minute changes. Whether a florist gets lost on the way to the venue or another what-if on that vast list begins to play out, extra time will serve you well. Schedule arrivals and drop-offs for an hour before necessary, so if someone is late, it won't be a big deal.
Make More than One Plan
Some details have to be left to the last minute, so make a back-up plan for those. If one of the ushers won't fly in until the day of the wedding, find an understudy. Most who play a role in the wedding day can be replaced at the last minute if necessary so keep that in mind going into things. You don't need to plan for every major disaster, but canceled or delayed flights aren't exactly rare occurrences.
Surround Yourself with Good People
A wedding day evokes emotions in many. Whether you are thrilled or terrified, having the right people by your side sets you up for success. Good friends and family members are the best emergency kit you can have. When something goes a little wrong, delegate. A bridesmaid or a helpful aunt can handle scheduling conflicts and missing items while you focus on enjoying the moment. Feeling panicky? Send one of those loved ones to fetch a cocktail.
 Make a List, Check it Twice
Ever make a packing list for a vacation so you won't forget necessities? How about a grocery list when you head out for the week's food shopping? Lists can prevent disasters on the big day. Pack an emergency kit one-week before the wedding (or the day you need to leave if it's a destination wedding) and make a list of every item that should go into your suitcase, from big items like veils and rings to that little something blue.
If you do forget something, DON'T panic. There is always a suitable Plan B. Borrow a blue piece of jewelry from an attendant (it can be your something borrowed, too!) or send a bridesmaid to run out for a new veil at a local bridal shop. Mistakes happen, but once they have, there's no point in stressing over them. Tackle the situation head on and focus on finding a good-enough solution.
Adopt The Right Outlook
Whatever you do, do NOT walk into your wedding day dead set on everything going a specific way. Sometimes those little mishaps—the groom who blunders his vows or the ring bearer who runs down the aisle—are what make the day special. Setting your sights on perfection will only lead to stress and disappointment at the first hiccup. Instead, walk into your wedding day, take a deep breath, and say, whatever will be will be. At that point, there's not much you can do about mistakes.