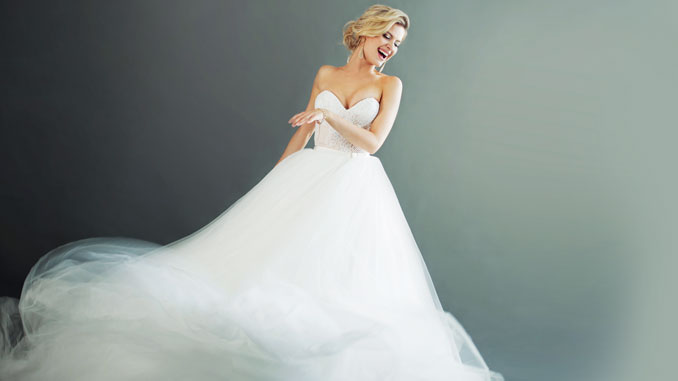 You found the man. You found the ring. Now comes the hardest part: finding the dress.
There is no shortage of gorgeous gowns you could choose for that walk down the aisle—but that could actually be part of the problem. Here is everything you need to know about four of the most popular wedding dress styles to get you started with your search. 
Ballgown
This enduring and timeless style is what princesses and childhood bridal dreams are made of. With the emphasis placed on a natural waistline, the ballgown is a great option for tall or straight-framed brides who want to create a more defined silhouette. The full skirt can also help to create a balanced appearance on a full-busted bride. Petite brides should be careful when selecting a ballgown as a small frame can easily be overwhelmed by this dress – after all, you want all eyes on you as you walk down the aisle, not just the dress!
Trumpet
The trumpet silhouette features the tight-fitting, elongated bodice of the popular mermaid style, but has a more defined flare starting at the knees. This dress is a great option for the curvy bride who wants to show off her figure, but doesn't want to give up her ease of movement on the dance floor. It is also a popular choice with brides who have hourglass figures and are looking to add a bit of drama to their wedding day look.  
Sheath
Also referred to as a "column dress" and reminiscent of the sleek slip dresses of the '90s, this dress follows your body's natural shape. It is known for being a formfitting option that isn't nearly as restrictive as mermaid gowns. The long, straight lines of this gown have a lengthening affect, making it a great option for petite brides hoping to add the illusion of a few extra inches.
Tea length dresses
Show some skin with a short wedding dress. Mid-length wedding dresses have long since been a favorite for destination and beach weddings. Coming in a variety of silhouettes, from sheathes to ballgowns, this style is as versatile as it is fashion forward. It can be especially flattering on petite brides, helping to elongate the legs. Accessorize with statement shoes or a vouge pair of tights.
The devil is in the details
The silhouette isn't the only thing to consider when picking a style that best suits your body. These elements can make or break a dress.
Color: A white dress is never just white. What makes one bride glow will wash another out. Brides with darker skin tones can typically pull off a brighter white, while brides with lighter complexions should opt for something nearer an ivory.
Volume: Where is it written that only the bottom of the dress can be voluptuous? Small busted brides can draw the eye up by adding interest to the top of a dress with a bow, off the shoulder sleeves, or other three-dimensional accents.
Neckline: Universally flattering, you'll find a sweetheart neckline topping every dress silhouette. It offers security for bustier brides and the illusion of more curves for petite brides. A deep V-neck is another trick for brides who want to up the ante and appearance of cleavage. Meanwhile, a halter neckline is a great option for brides with broad shoulders.