Less than three hours from San Joaquin County's major cities, Reno is a quick winter escape perfect for families. Low-cost hotels make it budget friendly while the mountain atmosphere creates a feeling like you're a million miles away. Follow our itinerary to make the most of your quick vacation—a bonus for parents who crave a day of recovery post family trip. The secret is to pack in as much action as possible.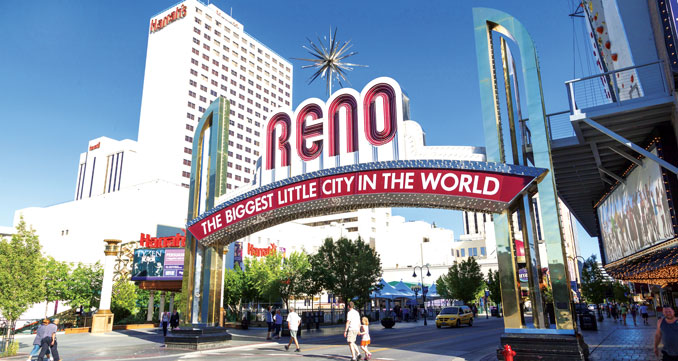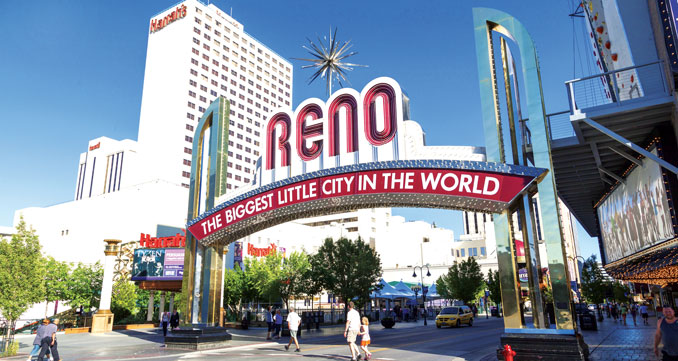 12 p.m.
A lunchtime arrival means your first stop should be grub! Reno's Midtown has been completely redone. No longer does it echo the grittier vibes of Downtown. Today it is a go-to place for families (and couples) looking to grab lunch. Noble Pie Parlor has the perfect atmosphere for families, especially one that has been stuck in a car for a couple of hours.
Feast on East Coast-style wood fired pies, like the PB&J (pineapple, sweet basil, and jalapeno). The restaurant is dedicated to fresh, locally-sourced, organic ingredients so you can feel good about what your kids are eating, even if it is pizza.
1 p.m.
Head to Scheels. Just a quick jaunt from Midtown to Sparks, this oversized sports store is reminiscent of Bass Pro Shops, but on steroids. Outfitted with a full-size indoor Ferris wheel, talking, life-size historical figures, indoor games, a play structure, a miniature putting green and bowling, it's easy to waste a few hours roaming through the two-story store. Oh, and don't forget to shop while you're there! Pick up sports gear from your favorite team. Say hi to the giant fish that call Scheels home while you're there!
3 p.m.
Also in Sparks, Wild Island is a family adventure park boasting bowling, laser mazes, go karts, miniature golf, and much, much more. During summer there's also a water park with rides. Send your kids to the arcade with a handful of quarters while you play a round of billiards with your boo.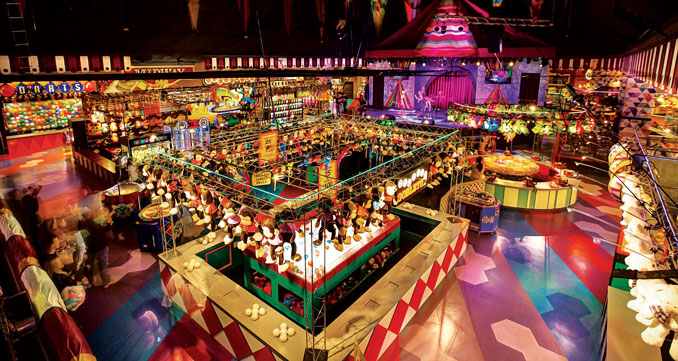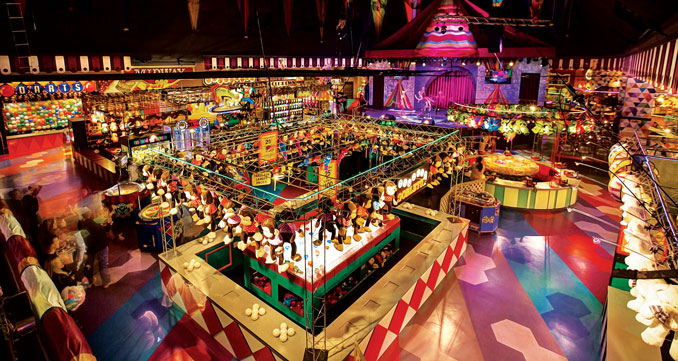 7 p.m.
You're likely already wiped from the days adventures, but if you want to pack all the fun into 24 hours, you'll need to keep trekking. Your kids are probably still full of energy anyway. Head to Circus, Circus in Downtown Reno to end your night. Hopefully you've booked a room to crash in after the day of fun (preferably in the North Tower, which has been redecorated and is more conveniently located to the action).
Head to Midway (light-up directional signs will lead the way) where a full food quart will supply dinner. Kids don't all want the same thing? Typical. Here you have choices. After grub, head downstairs to play the carnival-style games for stuffed animal prizes, partake in more arcade fun, and watch the circus show that plays on the hour with high flying tricks and professional unicyclists. Once the tokens have run out, head upstairs to crash. Your room will offer a gorgeous view where the downtown city lights and sounds will lull you to sleep.
Expert Tip: On check-in the hotel hands out coupon books with the hotel keys. Look inside for two-for-one game play at Midway.
8 a.m.
Rise and shine! Hopefully your kids slept in a bit. First item on the agenda before heading back home is breakfast—and there's only one place you should go. While the city is packed with plenty of options—Hash House A Go Go, PEGs, Two Chicks, etc.—Squeeze In provides a worthwhile experience for families.
Featured on Throwdown! with Bobby Flay, the hotspot is known for omelets and traditional breakfast plates. The hot chocolate comes piled high with whip cream and sprinkles and chocolate bacon is the dessert of choice. Here, kids are invited to write on the walls, already covered with "I was here" sentiments from visitors past. Go ahead and hide the electronics at the table, too. Waitresses drop buckets of toys on the table for families with young kids.
On your way out snap a shot with the restaurant's mascot, a green alien at the front entrance.
Expert Tip: There are two Reno locations and both are good choices.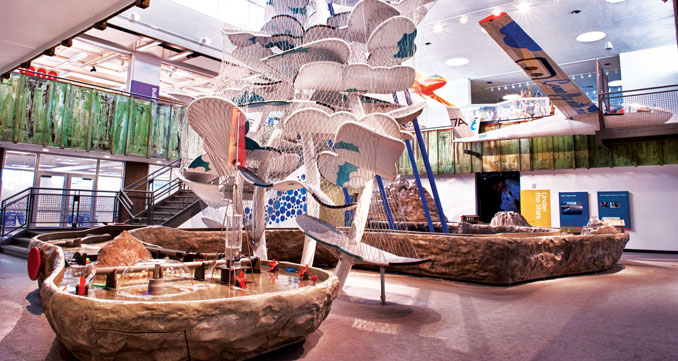 9 a.m.
After breakfast, you're on to your last excursion of the trip. The Terry Lee Wells Nevada Discovery Museum is a science and technology haven full of interactive exhibits for kids.
Find fossils within the dinosaur room's walnut-shell pit, complete experiments with fellow young scientists in the Spark! Lab, solve brain teasers, and explore the human body. For tykes, there's an indoor playroom dedicated to their age group where they learn about pulley and lever systems as well as Nevada history. An indoor cave, giant climbing structure, and a dinosaur named Sue (the most complete T-Rex skeleton in the world, on display until Jan. 15) round out the day's adventures.
By the time you're done at the museum, 24 hours will be up! Want to extend your trip? Add these activities to the itinerary.
-National Automobile Museum
-Skiing at Mt. Rose
-Ice skating at Greater Nevada Field
-Rock climbing indoors at Whitney Peak Hotel or Rocksport Indoor Climbing Center
-Movies at The Summit
-Nevada State Railroad Museum in Carson City
-Day trip to Virginia City