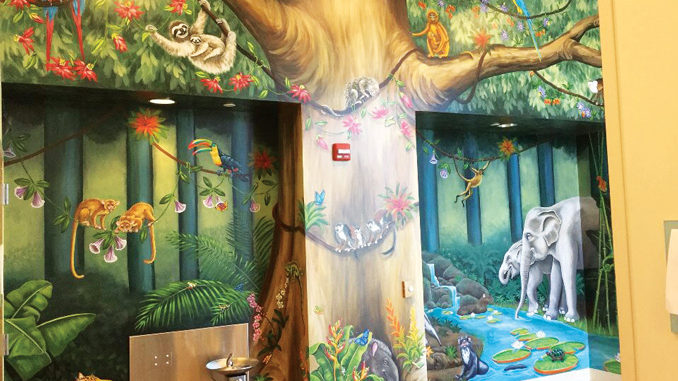 A visit to the emergency room is stressful regardless of age, but it can be absolutely terrifying for young children.
Adventist Health Lodi Memorial Medical Center's ER sees roughly 12,000 pediatric patients a year, and Leadership Lodi has teamed with the hospital to ensure a comforting experience. 
Founded in 1990, Leadership Lodi is a program that selects a new group of local leaders to initiate and inspire change in the community each year.
When Wayne Craig, CEO of t Lodi Memorial Hospital Foundation, pitched his project to the 2016 Leadership Lodi team, the group immediately felt drawn to the project. With many of the members being parents themselves, Craig's proposition to transform two of the hospital's ER exam rooms and waiting rooms into welcoming and child-friendly spaces resonated with them on a personal level.
Paired with the hospital's vision to create a Pediatric Express Program, the Leadership Lodi team recognized the potential of this project to impact the Lodi community as a whole.
"The goal is to make the emergency room more child-friendly and create a relaxing, fun, atmosphere that can help reduce stress and fear in the emergency room," says Mandi Dumlao of Leadership Lodi. "We hope that providing a special place specifically geared toward families and children will alleviate some of that fear and stress."
The team landed on a jungle theme for the remodel, feeling that such a lively setting would afford endless opportunities for intriguing colors and patterns.
In the end artist Katy Hardeay had no shortage of inspiration to draw upon. She capitalized on bold colors and played with the feeling of movement among the animals in her murals.
While the theme is inviting, perhaps even more important is that much of the remodel is interactive, a factor Leadership Lodi hopes will help distract pediatric patients from their discomfort. Within her murals, Hardeay created a seek-and-find that will allow children to discover and learn about all the hidden animals. The remodel also features interactive flooring in the main waiting room, a hand battery display, gaming consoles, charging stations, and a VECTA machine (a sensory and distraction station).
"This project was something that Leadership Lodi wasn't able to accomplish alone," Dumlao says. "We are very grateful for all the effort put in by those involved either directly or indirectly to the completion of this awesome project." 
For More Information:
Adventist Health Lodi Memorial Medical Center
975 S. Fairmont Ave., Lodi
AdventistHealth.org