Do you ever ask yourself why cranberries are synonymous with the holidays?
Maybe it's the ruby-red hue that accents holiday dishes, or the way cranberries add the perfect amount of tartness to rich chocolate desserts. Or wait—maybe it's the way cranberry juice partners with vodka for a perfect cosmopolitan cocktail!? In any case, cranberries have found their way into the hearts and traditions of American kitchens. But, do you know how they came to be a culinary staple?
Although many indigenous fruits hail from North America, very few have gained celebrity status like the cranberry. Native Americans collected the tiny berry for a variety of medicinal, cooking, and aesthetic uses. These included using the cranberry for dyes in their rugs and blankets, treating tribe members for stomach cramps and fever, and mixing the pulp of the berry into dried meat or fish. And, of course, the Native Americans are the ones to thank for creating the very first versions of cranberry sauce.
Traditionally, cranberries were grown in the wild on long running vines in sandy bogs and marshes. The labor involved with harvesting cranberries was back breaking work, but cranberry famers were innovative—developing a multitude of mechanization techniques, beginning with large wooden scoops, and eventually with mechanical harvesters combing berries from the vine. Today, cranberries are still primarily harvested along the northern portion of the U.S. from Maine to Washington, and along the Appalachians to North Carolina. They are also grown in the American Northwest along the Oregon Coast. 
The first commercial canning of cranberries was in 1912 by the Cape Cod Cranberry Company, which marketed the product as Ocean Spray Cape Cod Cranberry Sauce. The company eventually evolved with other growers to become the famous Ocean Spray, synonymous with cranberries today. These folks have brought you everything from cranberry juice to that crazy glob of jellied fruit served at Thanksgiving meals across America. And in modern cooking, dried cranberries are highlighted in a bounty of the salads found on Pinterest or Bon Appétit. The deep concentrated flavor of dried cranberries is the perfect addition to ancient grains, like quinoa and couscous, or as a contrast to roasted Brussel sprouts.
So, even if Cranberries weren't your thing as a kid, you may want to consider adding them to your culinary repertoire. You may be sweetly surprised by their versatility!
Drunken Cranberry and Walnut Baked Brie
Ingredients
1 – 8 oz. Wheel of Brie
1 – 1 lb. Bag Cranberries
1 – 6 oz. Bag Walnuts
1 Bottle Earth & Vine Pomegranate Pear Port Sauce
Directions
Marinate walnuts and cranberries in one bottle of Hearth and Vine Pomegranate Pear Port Sauce. Store the mixture in an airtight container overnight. Remove the brie and bake in foil at 350° F for 15-20 minutes. Transfer the baked brie to a serving plate, and pour the walnut-cranberry mixture over the top. Garnish with a rosemary sprig and serve with a toasted baguette or hearty crackers.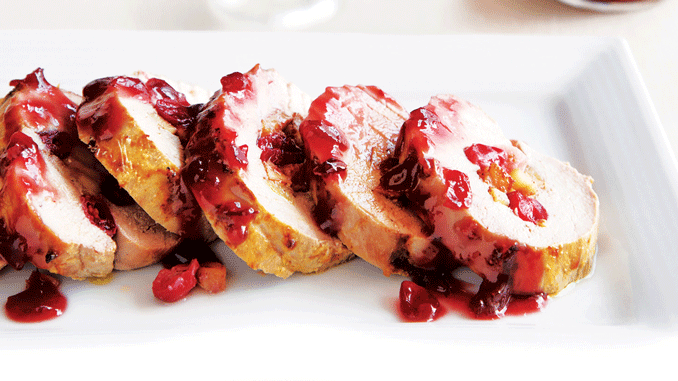 Pork Tenderloin in a Cranberry Cabernet Sauce 
Ingredients
2 Medium Sized Pork Tenderloins
1 Can Whole Cranberries
1 – 1/2 C. Fresh or Frozen Cranberries 
1 to 2 C. Cabernet, or wine of your choosing
8 Garlic Cloves
Fresh Thyme
Fresh Tarragon
Fresh Rosemary 
1/2 C. Butter  
Sea Salt and Pepper
Directions
Prepare a bed of fresh herbs—rosemary, thyme, tarragon—in the bottom of a 9 x 13-inch glass dish. Remove the pork tenderloin from wrapping, and make four half-inch slits into the pork. Stuff the garlic cloves into the pork and season liberally with sea salt and cracked pepper. Sear pork on all sides in a cast iron or all-clad skillet to brown. Place pork in the glass dish, covering the fresh herbs, and bake for 25 minutes, or until internal temperature reach 165° F. 
In a saucepan, combine cranberry sauce, whole cranberries, red wine, and a few leaves of thyme and tarragon. Cook on medium until the sauce begins to boil. Reduce the sauce for three to five minutes. Remove from heat, stir in the butter. Slice pork on the bias and finish with a drizzling of the cranberry cabernet sauce. Garnish with fresh rosemary. Serve with roasted fingerling potatoes or creamy polenta.
Cranberry Citrus Sauce
Ingredients
2 Lg. Navel Oranges
1 – 12 oz. Bag Fresh or Frozen Cranberries, about 3 and ½ cups
¾ C. Honey
Directions
Use a vegetable peeler to remove three 3-inch long strips of zest from one orange. Blanch zest strips in boiling water for one minute and drain in a colander. Finely chop the zest, and transfer to a small bowl. Quarter Oranges, and pulse with cranberries in a food processor until coarsely chopped. Add the orange zest and stir in honey. Chill sauce overnight, or up to three days. *Gourmet Magazine, 1996