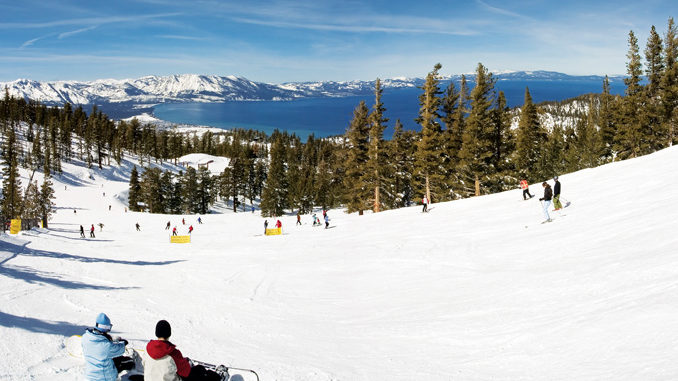 The holiday season gets busy, but finding time to escape as a family is important.
Lucky for San Joaquinians, one of the best winter destinations is just a short drive away. Head to Lake Tahoe where winter activities abound—from skiing and snowboarding to dog sledding and more.
Did You Know?
Family vacations hold hidden benefits for kids. It's a time to bond away from the stressors of everyday life, and winter breaks from school create the perfect opportunity to get away from it all. Many studies have linked family vacations to long-lasting happiness in kids, as well as better stress regulation, improved concentration, good planning skills, and better overall physical and mental health.
Snow Fun
Skiing and snowboarding draw big crowds to Tahoe's many mountain resorts, but they aren't the only activities to keep families busy in the snow.
Snow Tubing
Boreal is a good family-friendly place to enjoy the snow, especially if kids aren't big into snow sports. Aptly named Playland, it's here that families can go sliding down mountains in oversized snow tubes. If the snow isn't packed in enough, faux snow is brought in to keep the park running. For older kids, Boreal is one of the few places you can go night skiing. Hansen's Resort in South Lake offers tubing, too!
Heavenly Village
Mark your calendars for opening day at Heavenly Village—Nov. 17. Here, families enjoy the scenic gondola ride where they can stop at the observation deck, more than 9,000 feet in the air, to catch views of the snow-covered mountains that surround.
Après ski, the village offers cozy spots to stop for grub, a movie theater to warm up in, and outdoor miniature golf for those willing to brave the cold. A small toyshop sits near the miniature golf play area, where kids can browse treasures to take home. Side note: When you ski here, you can ride from California to Nevada and back again.
Mt. Rose
Head to Tahoe Meadows for an afternoon of sledding. Located on Mt. Rose, just outside of Tahoe, it's the perfect place for families with young kids, or catering to a variety of ages. You can moonlight snowshoe at the same place, with great views of North Shore.
Dog Sledding
No need to fly to Alaska to enjoy dog sledding. At Wilderness Adventures Dog Sled Tours, families take majestic rides through the Sierra Nevada Mountains, sailing behind a team of trained huskies. Choose between a daytime or sunset tour.
Ice Skating
There's nothing quite like ice-skating as fresh snow falls around you. At Boca Reservoir, families can strap on a pair of skates and hit the ice on this man-made lake in the Tahoe National Forest! The ice has to be thick though, so make sure it's safe before stepping on. Want to stay indoors? The South Lake Ice Arena offers ice-skating without the forest backdrop.
Boat Tour
Winter doesn't mean staying off the water. Book a boat tour of Emerald Bay and enjoy the winter scenery from the water with the Tahoe Queen or MS Dixie II as your vessel.
Ditch the kids—just for a bit
Some of Tahoe's biggest resorts offer another benefit for families traveling with kids. Hit the slopes, or just sneak away for a while, while kids take part in a day care or kids club on site. After all, quality husband-wife time is just as important as family time.
Heavenly – From six weeks old to six years old, kids can attend the facility's daycare program. Kids ages 3-4 can even learn how to ski with one hour of introductory skiing lessons in the enchanted forest, followed by indoor-outdoor activities at the center.
Northstar –Children ages 2-6 can spend a whole day at daycare at Northstar's Minor's Camp, or just the morning from 8 AM-12:30 PM. For those ready to hit the slopes, book a lesson at the resort's Ski School.
Enjoy the Holidays at Heavenly
Heavenly Holidays
Dec. 18-31
This two-week holiday festival caters to kids and adults, featuring Where's Waldo-style spottings on skiing Santa and his elves, ice sculptors and a 16-foot interactive snow globe where kids can tell Santa what they want for Christmas. The lodges will offer holiday-themed happy hours, too!