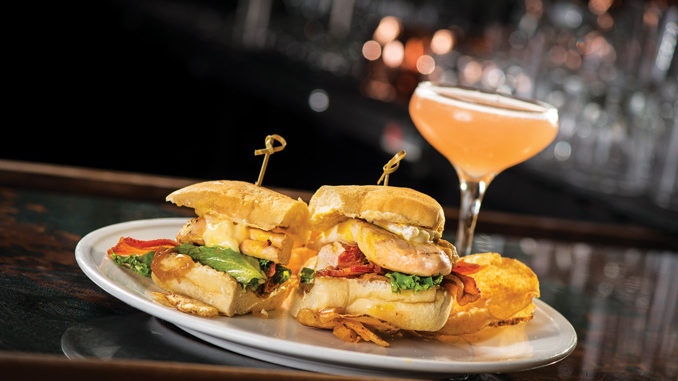 This month, we bring a new angle to classic treats that hail from one of the very best dining venues in San Joaquin.
Sure, you may know the man behind our favorite menu options, but this month we're switching things up. Join us as we sit with Laci and Chef Midgley, who have prepared a selection of delicious duos that are sure to send chills up your spine.
Wind the week down in all the right ways—or find that perfect pick-me-up from the hump-day grind—with a stop at Midgley's Public House, where the season's hottest entrées are perfectly paired with their alcoholic counterpart. We promise, whether you're looking for a light lunch or the ultimate in savory splendor, Midgley's has the dish that can deliver, and the drink that can pull a whole new level of flavor into every bite (and give you a sweet buzz, all at the same time).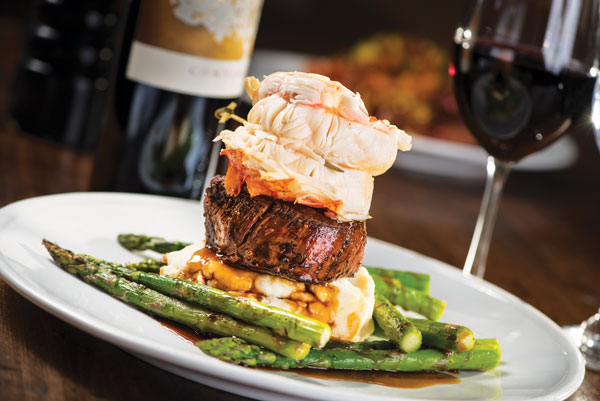 Surf & Turf, Paired with Continuum Red Wine
Go ahead. Indulge in a dish that's quite literally layered in flavor. Begin with 14 ounces of tender, butter-poached lobster tail. Then, turn your attention to the 9 ounces of center-cut filet just beneath, rich juices spilling over and onto a lofty mound of mashed potatoes below. Finally, finish with grilled asparagus spears, settled around the centerpiece.
Laci and Mike suggest you pair this delectable dish with a ruby-rich 2014 Continuum red wine—an estate balance of Cabernet Sauvignon, Cabernet Franc, Petit Verdot, and Merlot—with ripe nuances in every bite, that carry an entirely new balance of taste and may force your hand into another serving. What's so wrong with that?
Pork Chops, Paired with the Hibiscus-Plum Sour
Two succulent pork chops, doused in and resting upon a house-crafted bourbon barbecue sauce, are garnished with a hearty helping of golden raisins and apple chutney, and served with a side of crisp sweet potato fries. "The Hibiscus-Plum Sour is the perfect complementing beverage," Laci adds. "Composed of Weller 12-Year bourbon, hibiscus plum syrup, and lemon for a lovely tang!"
Apple Salad, Paired with the Apple Brandy Sidecar
Salad is always a refreshing reprieve from heavy meals. Mixed greens are accented with sweet, crisp apple slices, grapes, and candied pecans to remind you that spring is never far away in San Joaquin. Drop in Blu cheese, and a Dijon balsamic vinaigrette, and you have the perfect edible centerpiece, highlighted with an Apple Brandy Sidecar. Apple-infused brandy makes up this terribly delectable concoction, tickled with lemon and orange effects.
Honey Chicken Brie Sandwich, Paired with the Midnight Revival
One never shies away from a sandwich rich in flavor. The Honey Chicken Brie is layered with savory grilled chicken, caramelized onions, and thick slabs of bacon—sandwiched between a fresh ciabatta roll. If that wasn't enough to make your mouth water, add brie, honey, and honey mustard, to the equation. This sandwich isn't a waif, and your drink isn't either. The Midnight Revival is a seductive blend of Kettle One vodka and St. Germaine, entwined with honey and grapefruit.
Down a Duo at:
Midgley's Public House
296 Lincoln Ctr., Stockton
(209) 474-7700