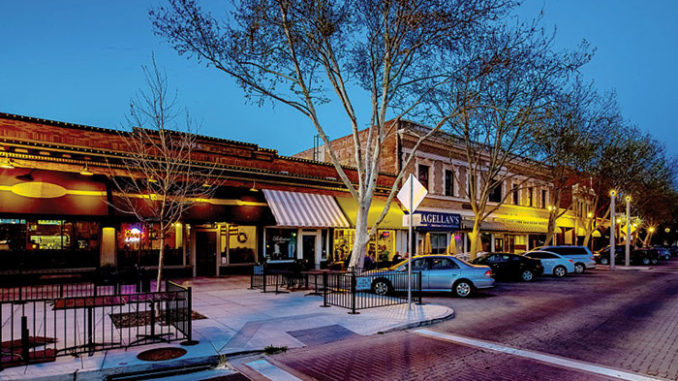 Stockton
 Port Side City stands strong, as an ever-evolving metropolis amid an agricultural wonderland. Bringing in residents both old and new by car, boat, and plane, Stockton offers diverse experiences that honor both its urban and agricultural roots that spread across downtown and throughout the Delta.
Stockton's historic buildings and city gems are celebrated by passionate and proud residents who work to offer a glimpse into the future of San Joaquin's central hub—and let us tell you, the future is bright.
History: Gold fever helped to define Stockton's youthful years, where miners could gather resources before heading for the hills in the late 1940s. After the Rush, Stockton's many winding river channels and rich soil helped to cultivate it into an agricultural hub. Stockton became home to the first inland seaport in California in 1933, and continued to industrialize and expand into the metropolis we know today.
If you have a few hours: Stockton is a melting pot of mouthwatering cuisines, and if the words Mongolian Barbeque aren't already a part of your vernacular—they need to be. For lunch go to GK Mongolian BBQ, and pile your bowl sky-high with delicious fixings before watching the stir fry experts cook it up right in front of you. For dinner, take a drive out to the Waterloo Restaurant and feat on the most down-home, flavorful steak and creamy pesto you'll find this side of the delta. End your night in the center of Stockton's nightlife, among the diversely chic bars on the Miracle Mile.
Claim to fame: The Delta channel is one of Stockton's most prominent features, and is used by the Port of Stockton to move precious goods in and out of the city and across the Central Valley. Enjoy one of many Stockton Heat games at the Stockton Arena, or check out both classics and stars from across the world at Bob Hope Theatre.
Downtown Stockton on the Move: The downtown Stockton scene is growing stronger by the month, featuring new and exciting businesses that are reinventing Port City's walkability score. Take a stroll down El Dorado and visit Bella Vista, a Tuscan themed restaurant held at the old Stockton Hotel. Cast Iron Trading Company is just a few blocks east, with a revolving menu of uniquely prepared entrees and hip décor. The Deliberation Room is Stockton's very own Speakeasy, complete with a brick wall underlay, full bar, and a few delectable bites. And finally, a few meager blocks from the Ace Station is The Sycamore on Weber Avenue. This indoor venue hosts a collective of art galleries, special events, and more throughout the month.
Lodi
Lodi has created quite a buzz in recent years, as its charming demeanor and award-winning grapes welcome wine experts and enthusiasts from around the globe. For locals, Lodi is where suburbia falls away, where unique boutique shops, tasting rooms, and dining venues reign in its picturesque downtown.
History: In its late 19th century beginnings, the appellation we know and love was merely a speck, if that, on the map of the Central Valley. Known as Mokelumne, the population grew once the Central Pacific Railroad chose it as a station for its route.
From there, Lodi received its name in 1874, and thrived despite a fire that ran rampant through downtown. The rise of our appellation began in the late 1850s, starting with the Tokay varietal, and has blossomed since.
If you have a few hours: Lodi certainly has no shortage of wine tasting rooms, but what about a beer or two? Switch it up with a visit to Brix and Hops for a seamless celebration of both! With 30 rotating craft beers on tap, and fine wine, you can't go wrong. Next, head to Cheese Central for another unique tasting—where samples are cut straight from the glorious block. Continue on the downtown streets for a quaint window shopping experience that features unique niche boutiques and consignments shops.
Tracy
With cute corner stores, ritzy restaurants, and other memorable pieces of history—such as the Tracy Inn—this corner of San Joaquin County continues to bring our roots back to life in all the right ways. Known as the archway to the Central Valley, it's just a skip away from the Bay Area, and home to many new and growing families.
History: Location has everything to do with Tracy's founding, which was built by the Central Pacific Railroad as a station that could efficiently connect the Central Valley to theBay Area in the 1870s. Tracy's success was the end to Ellis, another nearby station whose population moved its wares and homes to its successor only three miles away. Since its inception, Tracy has continued to work the land and grow in residents.
If you have a few hours: Start your day the way every day should—with a juicy burger sporting a fried cheese skirt. Yes, you can get the infamous fried cheese skirt at The Squeeze Inn (alongside drool-worthy garlic fries, if you dare). Wash it down with locally brewed and award-winning beers at Morgan Territory Brewing's tasting room. Once you've sufficiently sipped your appetite back, head to Tracy Thai for the perfect Southeast Asian end cap.  
Claims to fame: Look no further than the Grand Theatre Center for the Arts when you want to experience outstanding performances. Eagal Lakes is perfect for catching some fresh air, whether you're fishing, tubing, jogging, or enjoying a variety of other fun activities around the lakes.
Manteca
The Family City continues to welcome new residents with open arms—resulting in a constantly expanding base of beautiful homes alongside the agricultural expanses. Families sink their roots into Manteca's soil as they enjoy easy and direct routes to the Bay Area, the Capital, and Los Angeles, while being only an hour's drive from the majesty of the mountain ranges to the east.
History: Incorporated in 1918, Manteca's roots began, and have continued to revolve around, the many scenic fields and orchards its residents have built up and maintained. It all began with cattle, grain, and a station called Cowell, which the Central Pacific Railroad crossed through. Manteca's name, funny enough, was a spelling error by the railroad. Monteca, the original spelling, simply wasn't meant to be after the first railroad tickets were developed with the Spanish name for lard.
If you have a few hours: While Manteca may be a small and quaint family city, there is no shortage of diversity! Treat yourself to a day of spicy, eclectic cuisine by starting off with lunch at Tandoori Grill—which features an unrivaled Indian buffet. For dinner, head to El Jardin for some delectable Mexican goodness. End your day at Strike Zone, where you can go cosmic bowling, toss bean bags, grab a drink, catch some live music, andmaybe even squeeze in a country dance lesson!
Claim to fame: Ready those wheels! Spreckels Park BMX is the perfect energy outlet for bicycle enthusiasts to test their mettle against regionally known competitors.
Ripon
This charming community may be on the smaller side, but what Ripon lacks in size it makes up for in agricultural abundance and classic home-town qualities. Perfect for folks looking for a tightly knit community, its bustling little bundle of boutiques, eateries, and easy access to the freeway means that you're never far from having a grand ol' time.
History: The success of this agricultural community began with its position along the Stanislaus River in the 1840s. Multiple ferry crossings were erected to connect San Joaquin with its neighboring county, but it was John Murphy who petitioned that a road be built toward his crossing in particular, which is now a part of Hwy 99. As families and businesses settled in the region and irrigation was introduced, Ripon's agricultural industry boomed into the success its known for today.
If you have a few hours: When in Ripon, stop by Pizza Plus for the ooiest, gooiest, meatiest pizza in the area. If you haven't gorged yourself into a marinara coma, get lost on one of the trails inside the beautiful Caswell Memorial State Park—a gorgeous, hidden Central Valley gem, that is especially beautiful on a warm day. After all that exploring, treat yourself to something oh-so-savory at Canal Street Grill.
Claim to fame: The City of Almonds boasts an incredible surplus of orchards that spring to life every February, cascading the city in beautiful white petals. And when the blossoms unfurl, it's time for Ripon's Almond Blossom Festival.
Lathrop
 Lathrop perfectly balances suburban residences, innovative industries, and agriculture. The young buck of San Joaquin County is ever-evolving, as its location alongside Highway I-5 and the 120 kindle flames of new business ventures for residents and visitors to enjoy.
History: Complete with railroad shops, yards, and lodging for the rail line's many weary employees, Lathrop was known as the headquarters for the Central Pacific Railroad in the San Joaquin Valley in the 1860s. After Tracy's incorporation, the hustle and bustle of the rail line—including its headquarters—was moved to Tracy, but the small city continued on to deal in agriculture and has since become an important crossroad for 99 and I-5.
If you have a few hours: Who needs caffeine when you can fuel yourself with chocolate? Lathrop features the tangible chocolate heaven that is Ghirardelli Chocolate Outlet and Ice cream shop. Get lost in the ultimate chocolate sundae, surrounded by walls laden in chocolate squares. Work off your inevitable sugar rush at Go Bananas! A year-round indoor jump and play center. Finally, end your day of indulgence with some succulent sushi at Mikasa Japanese Bistro.
 Claim to fame: From Baconfest and the Mud Run, to a month-long pumpkin themed festival and winter season wonderland, Dell' Osso Farms brings a host of activities to Lathrop, and welcomes residents from San Joaquin and beyond.