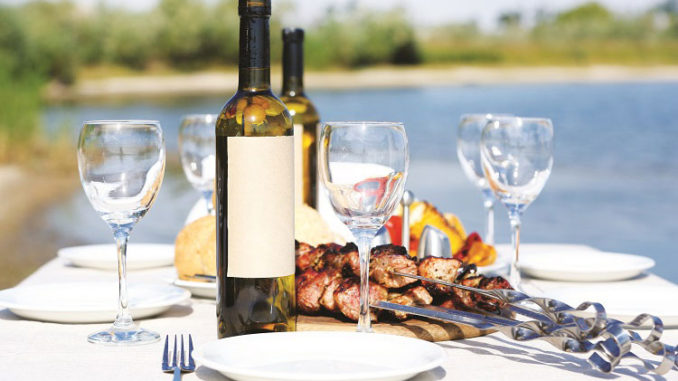 It's time to hit the waterways, San Joaquin! The sun is shining, the waves are rolling, and the- The stomachs are growling? Yeah. Sometimes it might prove a little challenging to find good food along the Delta's many twists and turns, but fear not! We've done our research and have compiled a list of our waterlogged favorites!
Delta Bistro
110 W. Fremont St., Stockton
(209) 944-1140
Whether you're floating along Stockton's waterfront waiting for fireworks or a last-minute friend to hop aboard, you know you're stopping in for a bite at Delta Bistro. Their menu includes hockey season specials, a spectacular Sunday mimosa brunch, and favorites like the Delta Skillet for breakfast, the prime rib sandwich for lunch, and pork tenderloin for dinner!
Garlic Brothers
6629 Embarcadero Dr., Stockton
(209) 474-6585
You gotta love the view at Garlic Brothers! The view of that sweet heat pork patty, those beer-battered prawns, and can we mention those stone oven pizzas? And let's not forget the ever-pleasing ensemble of live music and happy hour specialties. Ohhhh, you thought I meant the view-view? Yeah, the patio makes for a pretty romantic retreat at sunset. Especially with a fish bowl cocktail.
Rosa's at Tower Park
14900 W. Hwy 12., Lodi
(209) 365-0131
It's never a dull day at Rosa's, our favorite stop off Highway 12 on your way to Rio Vista. Tie up and take a seat for specialties like Cordon Bleu bites, fish and shrimp combos, and 100 % Angus ½ lb burgers. We go for the Shipwrecked, which features chili, cheese, and a fried egg right on top! The calzones are nothing to scoff at, either!
Windmill Cove
7600 Windmill Cove Rd., Stockton
(209) 948-6995
When you're boating down the main channel on your way out of Stockton, it's pretty hard to miss the plethora of water-based vessels parked at Windmill. We can see why, considering how popular their Taco Tuesday can get, alongside classic sandwiches like the Philly cheese steak, or the patty melt. We'd suggest trying their Windmill Tex Mex BBQ Chicken Salad, though, if you're craving something a little different.
Bob's at the Marina
6639 Embarcadero Dr., Stockton
(209) 957-3279
Go big. Go bold. Go to Bob's, where hamburgers are nothing short of an art form. We can't get enough of that Chili Size, an open-faced burger drenched in house-crafted chili sauce and shredded cheddar cheese. We've heard tell that their breakfast menu isn't shabby, too, with dynamic takes on the chicken fried steak or biscuits and gravy.
The Delta Dog
Facebook.com/TheDeltaDog
Keep a close eye on your Facebook feed! Because the Delta Dog is a floating bistro that goes where the current (or business) flows! Visit this modified houseboat for a chance to order shaved ice, tri-tip sandwiches, root beer floats, or their delectable hot dogs and hot links!