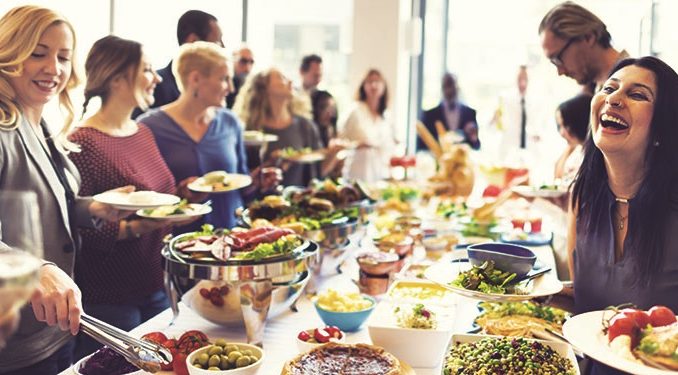 Here for the food? Don't worry! We are, too. Prepare yourself for an outstanding variety of food-focused events throughout the seasons, all with your taste buds in mind!
BaconFest
Summer in Lathrop
BaconFest.com
Celebrate America's mightiest meat with Dell'Osso Family Farm's second annual Bacon Fest! Enjoy bacon eating contests, cooking demonstrations, and the sizzling smell of bacon at this family fun event.
Pixie Woods Wine Tasting
Summer in Stockton
Take a stroll in Pixie Woods while tasting superb wines from California wineries, sampling hors d'oeuvres, and enjoying entertainment and silent auctions.
Obon Festival
Summer in Lodi
LodiBuddhist.org
Witness an elaborate dance parade, beautiful kimonos, and the sounds of Japanese folk music at this two-day festival. Authentic cuisine and live entertainment make this event a must-attend.
Lodi Beer Fest
Summer in Lodi
GrapeFestival.com
Nothing pairs better with live music and delicious food choices than beer from over 50 breweries from Northern California! Sample countless varieties of craft beers for an exciting and fun filled afternoon.
San Joaquin Tamale Festival
Summer in Stockton
SanJoaquinTamaleFestival.com
Grab a bite of some of the best tamales in town while enjoying live music, booths galore, and other savory treats!
 Stockton Obon Festival
Summer in Stockton
StocktonBuddhistTemple.org
Witness an elaborate dance parade, beautiful kimonos, and the sounds of Japanese folk music at this two-day festival. Authentic cuisine and live entertainment make this extravaganza a must-attend.
Taste of the Delta
Summer in Stockton
TasteOfTheDelta.com
Grab a ticket and help yourself to incredible cuisine, a variety of wines, and show your support for the California Delta Chambers!
Reggae on the Delta
Summer in Stockton
BreadFruitTree.com
Celebrate the anniversary of the Breadfruit Tree restaurant with Reggae on the Delta! Please your palate with Caribbean food and drinks from islands such as Jamaica, Barbados, and Trinidad!
Lodi Grape Festival
Summer in Lodi
GrapeFestival.com
Support and celebrate the agricultural success of San Joaquin! Catch a few carnival rides, dig in to a variety of vendor delicacies and browse the exhibits while listening to live music.
St. Basils Greek Festival
Summer in Stockton
GoSaintBasil.org
Get a taste of the Mediterranean at the Greek Festival! Enjoy savory Greek dishes and music, listen to the choir performances, and tour the halls of the church.
St. Mary's Olive Oil Festival
Summer in Stockton
SaintMarysHighSchool.org
St. Mary's annual Olive Oil Festival is packed full of exhibitors and entertainment. Enjoy their farmers market, meet local olive oil vendors and enjoy delicious tastings of food and wine.
Stockton Beer Week
Fall in Stockton
StocktonLive.com
Local beer fanatics, get ready to wet your whistle! Taste pourings of nearly 100 craft beers while also enjoying food, music, and giveaways for lots of crazy beer related fun!
Manteca Pumpkin Fair
Fall in Manteca
MantecaPumpkinFair.org
Celebrate fall in beautiful downtown Manteca! Have some family fun in Haunted Houses, car shows, and share a meal together with over 150 booths!
Stocktoberfest
Fall in Stockton
DownTownStockton.org
Enjoy this annual festival full of delicious German food and plenty of beer!
Almond Blossom Festival
Winter in Ripon
RiponChamber.org
Take a stroll amongst the blooming almond blossoms in Ripon with friends and family. Watch the annual parade, gaze at gallant horses, and take part in the fun run and reward yourself with delicious food afterwards!
Stockton Restaurant Week
Winter in Stockton
VisitStockton.org
Be amongst local foodies in this dine-out extravaganza by visiting your favorite participating food stops and sampling their specially designed menus! Support local restaurants and produce at great discounts!
Lodi Wine & Chocolate Festival
Winter in Lodi
LodiWineAndChocolate.com
Ready your taste buds for the tantalizing experience of a lifetime! Wine meets chocolate in a crescendo of flavor presented by more than 50 wineries. Even the fickle will find their favorites this weekend!
Stockton Chinese New Year Celebration
Winter in Stockton
StocktonCNYC.org
Come celebrate Chinese New Year in this cultural extravaganza that is open to all! Watch a parade packed with traditional dragon floats, folkloric performances, martial arts demos, and mouth-watering cuisine.
Lodi Wine & Food Festival
Spring in Lodi
GrapeFestival.com
Get the total wine and food experience right in the heart of Lodi! Live music coupled with a bounty of food from several local restaurants and caterers will make any mouth water!
San Joaquin Asparagus Festival
Spring in Stockton
SanJoaquinAsparagusFestival.net
Join in on the fun, and all this asparagus for the largest asparagus festival in the west! From appetizers to salads, cocktails and ice cream – foodies can enjoy the spear implemented into an array of artful dishes.
Linden Cherry Festival
Spring in Linden
LindenChamber.net
There's nothing sweeter than a freshly plucked cherry at this festival! Enjoy the many vendor's booths, food and various live entertainers.
Zinfest
Spring in Lodi
ZinFest.com
Raise your glasses to a wine tasting wonderland filled day! Vineyards and wineries of our local appellation are proud to present their very best blends in this spectacular showcasing featuring food, live music and tons of laughs.
Festa Italiana
Spring in Lodi
Festa-Italiana.com
Don't miss out on great performances, handmade goods, and local Italian food. Taste a bit of Italy while you're at this family fun event sampling the gelato and pastas!
Jewish Food Festival
Spring in Stockton
TempleIsraelStockton.com
Take a tour of the sanctuary, listen to live music and enjoy munching on some traditional foods at this Temple Israel hosted event.
The Great Asparagus Dine Out
Spring in Stockton
VisitStockton.org
Local restaurants take on locally grown asparagus for a month of mouth-watering bliss! Enjoy uniquely crafted cuisine before the season runs out!