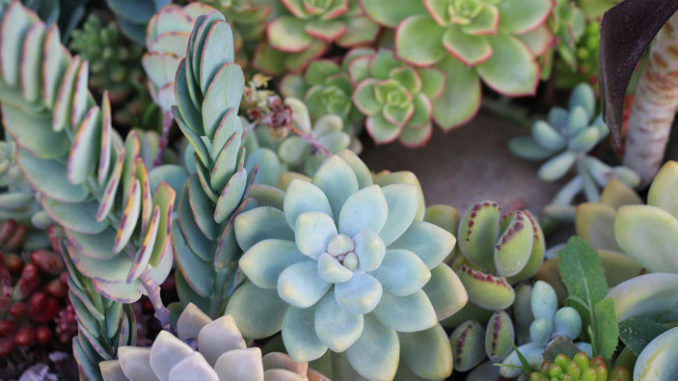 They are Instagram stars, a go-to décor choice for designers, and a best friend to our ongoing drought. Booming in popularity—both aesthetically and environmentally—succulents are a hot trend that's here to stay, especially in the San Joaquin Valley.
Our poor plants—lately, it seems nearly impossible to keep them alive, even more so as our community faces water usage restrictions. What was once a beautifully landscaped yard seems to be turning to dust. But it doesn't have to. Succulents can be the perfect permanent addition to your empty soil, pots, and garden beds.
Thriving in summer months, succulents need water only once a week. Brighten up your yard by planting them on the east side of your property, where they can be reached by the morning sun; or pot some near a window to give your house a trendy, Instagram-worthy touch.
For those who are prone to killing their plants, worry no more! Succulents are the easiest of plants to care for, and Poots Cactus Nursery in Ripon sat down with us to share a few tips.
The basics.
Succulents that live outside should be planted in well-draining, sand-like soil rather than clay. Although they can be planted in regular soil, it is best to use cactus soil. Watering is only necessary once a week in the summer, and rarely ever in the winter, depending on rainfall.
Location, location, location!
When planting succulents, keep in mind where they were living when you bought them. If they were in direct sunlight at the nursery, don't plant them in the shade at home. If they were covered at the store, don't expose them to direct sunlight right away.
Buy a succulent, bust the drought!
Cutting water usage in this drought takes a toll on our fragile plants. We often have to choose between keeping our gardens pretty or alleviating the drought. With succulents, we can have the best of both worlds! Since they are the strongest of plants, they can survive with very little water.
Propagating
Succulents are also money savers. You can grow multiple plants from just one succulent if you propagate. Simply pick off a leaf—or let it fall off—stick it on some shallow soil, give it some water from a spray bottle, and watch a new bud sprout! Once the parent leaf has withered and a budding succulent is in sight, carefully remove the new sprouting succulent and allow it to take root. When the new plant has grown large enough, replant it as desired.
These aesthetically pleasing plants aren't just pretty faces. Succulents are diverse, low-maintenance plants that are both cost—and environmentally—friendly. Check out your local nursery for these summer beauties!
Buy them here:
Poots Cactus Nursery
17229 E. Highway 120, Ripon
(209) 599-7241
PootsCactusNursey.com