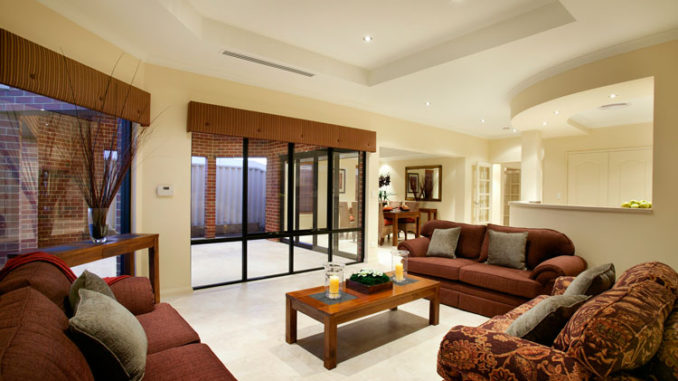 Local pros answer questions on everything from home design to how to save money on your energy bill.
Do you have any tips for adding an accent color to a neutral-colored room?
"Some people want to paint one wall, but you can paint the ceiling or add color in the floor," Jonathan Singer, an interior designer at Thornton House Furniture in Lodi, says. Or, change out throw pillows and rugs. An accent doesn't have to be bold; choose a shade of brown or wood grain instead.
Floral arrangements make a good color wheel test. "The floral arrangement can come and go," he explains, but ultimately it's a good way to test colors in a space.
What's the best way to get new furniture on a budget?
Gail Gabbert, co-owner of The Owl Box in Tracy, suggests picking up furniture from garage sales, estate sales, and Craigslist that can be refurbished. "You can take a garage sale piece and update it," she says. "Try Chalk-Paint® by Annie Sloan."
"You're never going to have equal pricing on all items. There are certain items to focus [your budget] on," says Jonathan Singer from Thornton House Furniture in Lodi. Expect to spend more on items such as an oven, mattress, and the couch that'll be used most.
I want to bring the outdoors in. Where can I start?
"Expanding the door to the backyard by putting in large sliders or French doors to give more of an indoor-outdoor environment is a good place to start," says Larry Diggs, owner of Paradise Designs of California in Manteca. "[Door openings] about 8-10 feet seem to be pretty popular."
He also suggests utilizing a patio cover that extends off of the house, or a Corradi cover that retracts all the way back in winter to let light in or opens all the way forward to create shade in summer.
How can I save money on my energy bill?
"Along with looking at opportunities to increase overall the energy efficiency of your home or business, now is a perfect time to look at solar as a means of lowering your energy bills," says Rich Remington of BTA Solar. In addition to recent improvements made in solar module efficiencies, homeowners can take advantage of the available federal tax incentives to get a cost-saving solar system for less.
How can I give my master bathroom a spa-like feel without breaking the bank?
A good, inexpensive place to start is with linens-bath mats and towels, -suggests Amanda Fossum, a designer at Classic Design Floor to Ceiling in Lodi. "My mother always said anything that touches your bare skin should be high quality," she shares. "The next thing that I always recommend is changing out the outlets for USB ports."
If you're looking to invest more in your bathroom remodel, opt for heated floors, Amanda says. "Heated floors will give your space a feeling of luxury and ultimate comfort." You could also opt for glass shower doors to create an elegant yet modern look in any bathroom too.
Of course there are plenty of things that you can do to your bathroom, it just depends on what your end goal is? What do you want your bathroom to look like? Do you just need some new different coloured towels, or would a completely new bathroom need to be in order? Perhaps you need to start from scratch and just rip up all those tiles that are already in place. Just remember to plan for unexpected obstacles. One of the most common issues that homeowners find when renovating is that they have Rising Damp and that can throw a spanner in the works if the budget hasn't been prepared for such things.
If this is the case, then make sure to get a specialist in, such as DustRam Broward County, this is the safer and better option. You also need to make sure that you have the right plumbers and electricians on your team in order to increase the safety and success of your business. You could use trusted electricians in Red Deer or in other places, in order to make the best home improvements. You don't want to make a mistake and ruin your bathroom by doing the wrong thing. Unless of course, you are an expert bathroom remodeller, it's always a good idea to get the experts in!
How can I freshen my walls without painting the whole interior of my house?
"One thing we like to do a lot is a stencil. If you do a geometric stencil using different sheens in the same color you can get an interesting effect," says Kathleen Jennison of KTJ Design Co. "It looks very subtle." To do it yourself, paint the first coat in a flat sheen, and then place the stencil and paint over it in a semi-gloss. "It's an inexpensive alternative to wallpaper, which is becoming very trendy now." Use it in an entryway or on an accent wall, she suggests
How do I create more seating options in a small living space?
Use furniture that can double as seating to maximize your options. "For example, you can get an ottoman that can double as your coffee table," Kathleen Jennison of KTJ Design Co. says. Put your remote, etc. on it and then use as seats when needed. Stools that are upholstered on the top can be pushed together to make a coffee table, but also used as extra seating when you have guests, she adds. "One thing we like to use is a pouff," she says of the alternative footstool/seating design.
The same goes for an entryway bench that can be used to drop items when you walk in the door, but can easily be moved to the table when extra seating is needed.
How can I create an indoor play area for my kids without losing my adult space?
"It's just a matter of making it a dual space as far as storage and as far as media," Jonathan Singer, an interior designer at Thornton House Furniture in Lodi, says. If the space is large enough, he suggests using storage units or furniture to divide it into individual areas and give each modular space its own purpose.