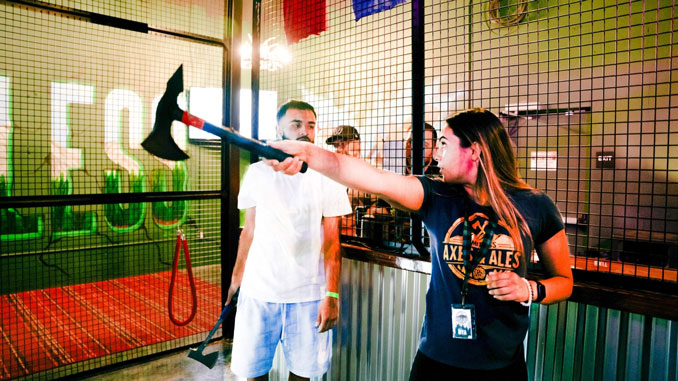 Get ready to throw down. Limitless Escape Rooms in Lincoln Center is getting a new neighbor and expanding the family of businesses with the opening of Limitless Axes & Ales this month. The bar-meets-axe-throwing-arena is the first of its kind in the area, so it is sure to fast become a go-to for date nights, corporate events, and friendly reunions. Hell, you can even throw your Christmas party here.
Owner Michael Hill already owns one axe throwing business in Pleasanton, along with a Livermore escape room much like the Stockton one. The Lincoln Center location, however, is a bit different from the Bay Area rooms. "Stockton has much more lounge space, and we'll have more bar games to play including arcade games, shuffleboard, foosball, Giant Jenga, etc.," Michael says. "We wanted to make sure that the Stockton location was very welcoming to persons not wanting to throw, but who just want an awesome place to chill and have a cold beer or glass of wine."
For those who haven't tried axe throwing before, Michael insists it's easier than it looks. Every reservation comes with an educational component doled out by a resident axe throwing coach. Throughout your axe-perience, the experts can give pointers, offer insight, or just cheer you on. "A lot of first-time throwers are nervous at first, but there's no need to be. Our ranges are individually closed off and very safe," Michael says. "It doesn't take long to get the hang of it, and once you do, you'll have the best time ever."
Not all axe throwing ranges are created equal. At Axes & Ales, you'll use state-of-the-art digital targets with a variety of games including Zombie Killer, Connect Four, Tic-Tac-Toe, and more that amplify gameplay excitement. The system also helps keep track of player's scores and team names so you can make it competitive.
Open to all ages, kids can get in on the fun, too. And along with a (very large) selection of canned beers, guests can also grab wine, champagne, seltzers, and tasty ciders. For food, there is a small menu of bar bites, including pizza and wings.