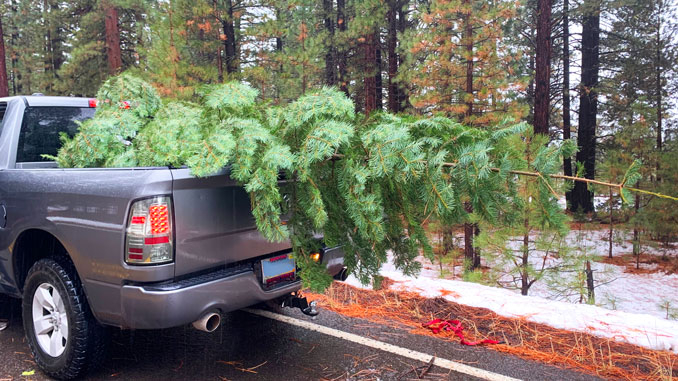 Cutting down your own Christmas tree is a favorite tradition for many families, and there are a few ways to do it. Christmas tree farms exist nearby in Murphys, Dixon, Sloughhouse, and Castro Valley, where trees are grown for the sole purpose of getting axed by you. Others, however, choose to escape into the forest, and chop down their own wild tree, without the modernization and extra festivities offered at a tree farm.
The Plumas National Forest, which didn't all burn down contrary to swirling rumors, has acres filled with trees big and small, sparse and full, vibrant green and smelling of pine or a little brown and more Charlie Brown-esque. To take one home, all you need is a $10 permit.
Instead of driving two hours or more before heading back the same way you came, make a weekend of it. Situated in Graeagle, surrounded by the national forest, sits the Chalet View Lodge, a cozy, two-story property boasting family- and dog-friendly loft rooms with picture windows to watch the snowfall, or family cabins with kitchens and other amenities.
Dine: You don't have to go far to find a meal. The taproom onsite boasts ten Eureka Peak Brewing Co. beers on tap and other options for drinks, plus games and TVs to make it cozy while you dine on small plates and pizza.
More beer: Nearby, Blairsden is home to the Brewing Lair. Depending on weather, you could be sipping a cold beer while the snow falls around you at the outdoor taproom or playing a round of disc golf while barbecuing burgers, meats, and other goods on the communal grills (plus, picnic tables). Don't miss: the hot cocoa.
Also in the forest: On a warmer day, a hike on one of Plumas Forest's trails is ideal for family bonding, but the real fun comes after a hearty storm. Bring snowshoes and traverse the wilderness or grab a few sleds and make a day of it; Chalet View Lodge has free rentals.
Permission Granted
It's illegal to cut down a tree in a national forest without permission. Luckily, it's easy to get. Tree permits are sold on Recreation.gov. For $10, families can cut down any tree of their choosing (within a few parameters to protect the forest) through December 21. Need more than one tree? Purchase an extra permit. A Christmas tree cutting map (available with permit) shows where to cut. What to avoid: trees less than six inches in diameter. What to bring: your own saw and a good attitude.