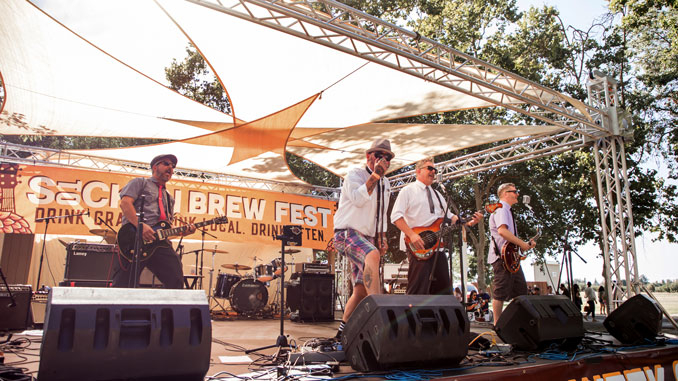 On Saturday, September 11, Stockton Beer Week hosts its official kickoff event—Stockton Brew Fest. From noon-4 PM, microbreweries from across the state of California will gather at the Weber Point Events Center in Downtown Stockton for the ultimate tasting event. Sip beers from right here in SJC, or let your palette venture outside of the county, with breweries coming from the Bay Area, Northern California, Southern California, and every other nook and cranny of the state.
The park-like setting of this event makes it feel like a mix between a European biergarten and a festival, offering up live music, food vendors (including food trucks), games, giveaways, and more. All in, tickets get you access to tastings from more than 40 microbreweries boasting regional craft beers and ciders represented at the event..
Get Access
There are three types of tickets up for grabs for the ultimate brew event. A VIP pass will run you $50, while general admission tickets are $40, and a designated driver pass is $15. Tickets purchased on the day of the event will be $10 more (except the DD ticket—that price doesn't change). Everyone must be age 21 or older to attend.
Why Become a VIP?
All attendees will enjoy unlimited beer tastings from 1-4 PM (drink responsibly please!), entrance to the event, a complimentary tasting glass, and access to all non-alcoholic event activities. In addition, VIP guests will also receive a free gift, a VIP badge, opportunities to taste VIP-only beers from select breweries, additional giveaways, and—perhaps most importantly—an extra hour of unlimited beer tastings with early access to Brew Fest beginning at noon for VIP guests only.
Stockton Beer Week runs September 10-19
To learn more about what beers will be featured at Stockton Brew Fest, visit page ?? for our What's On Tap feature
Join the fun:
Weber Point Events Center
221 N Center St.
Stockton, CA 95202
VisitStockton.com (for tickets)