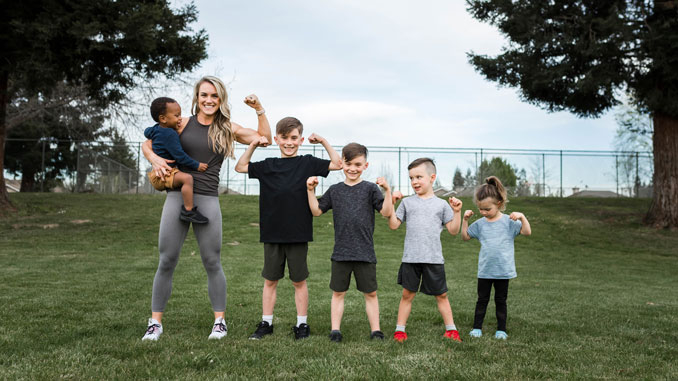 Squats, running, upper body workouts, core strengthening, adorable videos of her vibrant children…when you first check out Bethany Davis' social media, it's impossible not to be impressed. This powerhouse entrepreneur, mom of five, and wife of a police officer loves helping others. She's been a fitness resource online since 2006, sharing videos and content, with the goal of educating people so that they, too, can create and enjoy the benefits of a healthy lifestyle. Authentic, realistic, and warm, Bethany instantly attracts followers because she understands and lives the same struggle that we all do – trying to balance her busy life and the lives of her family, while still making time to take care of her health.              
Really seeing peoples' lives transform for the better – that's what drives Bethany. Her journey to becoming a business owner started when she began sharing photos and videos of her workouts as a type of online fitness journal. Quickly, her friends and family were enthralled and wanted to know more. They asked her questions, and she shared her expertise with them and the online community, pushing her personal growth while connecting with others. And she does it all through her website—BeFitDavis.com—which offers personal training, recipes, workouts, and an online community with challenge groups, where people pay for content and even one-on-one coaching.
Bethany has always been drawn to fitness; she earned a degree in applied exercise science and she credits running for really jumpstarting her career. While she's always been athletic, Bethany hadn't considered herself a runner until after college, when her friend convinced her to give it a try. Bethany didn't think she would be able to manage five miles, but despite her doubts, she got hooked!
Escaping on her own for 30 minutes to an hour a day made Bethany fall in love with running. When she found out she was pregnant, she talked to her doctor and got the okay to continue to train, running her first half marathon when she was four months pregnant. Her passion continues to grow and now she's run a few full marathons, too.
With her home duties and a blossoming career, Bethany knows a thing or two about balance. Her personal mission statement is "Inspire, educate, motivate." Sometimes the hardest part of fitness is discovering the right balance between family, work, and health and wellness. It's a process of trial and error. "You have to find out what works for you and your unique family and situation," Bethany says. "What works for me won't necessarily work for everyone."
Making it your own is important. "Don't think you have to spend hours in a gym to get fit. Lifting heavy weights isn't the end all, be all," Bethany says. "For you and your family, maybe it's not about lifting weights or running, but it's more about taking a family walk, swimming, or going on an active adventure." 
While she personally has a passion for fitness, what she loves most in life is being a mom. Life with kids can be chaotic. There are schedules to manage, and it seems that someone always needs something. One of her best pieces of advice is that fitness is part of a lifestyle. "The food and nutrition you use to fuel your body, your mindset… it all goes hand in hand," Bethany explains. That's what she's trying to teach others through her platforms. "It doesn't have to be hours every single day, you can see results and maintain your health and wellness by consistent ten-minute home workouts."
Bethany's family is her biggest inspiration. "They're crazy and fun!" she remarks, thinking about her adorable crew. True to life, you'll often see Bethany's kids show up in her workout videos. It's unrealistic to think that a mom of five wouldn't constantly be involved with her little ones, but Bethany shows you how to still get a great workout in even while the kids are around. "It's not always ideal, but that's just the state of life sometimes and you have to embrace it," says Bethany.
Join the crew:
BeFitDavis.com
@be.fit.davis