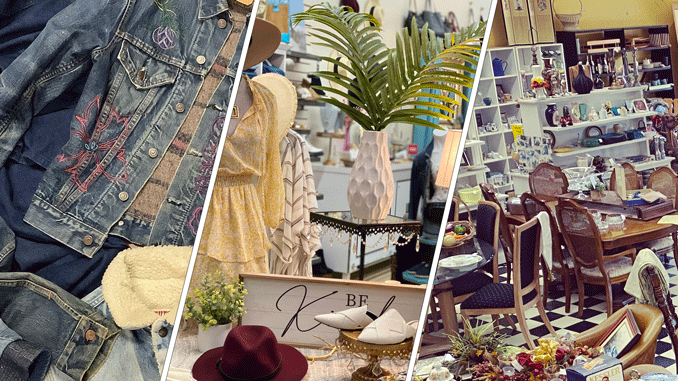 Between discovering unique pieces, scoring amazing deals, and doing your part to protect the environment and reduce waste, you can't go wrong by shopping second-hand! Whether you're looking to clean out your closet or upgrade your look, San Joaquin county has a vast array of vintage, consignment, and thrift shops to explore. Here are some of our favorite spots.
Lilou of the Valley, Stockton
Shopping at Stockton's Lilou of the Valley Vintage is like stepping into a time portal. The store features trendy vintage clothes and accessories from the 1940s to Y2K, such as 80s band tees, weathered Levi jeans, and swing dresses. If you're looking to add some nostalgic flare to your wardrobe, you're sure to find something special on these racks. For customers looking for something specific, shop owner Shontay Rodriguez recommends calling ahead or sending a DM to the shop's Instagram (@lilouofthevalleyvintage). Whether you're a seasoned vintage shopper or new to the retro fashion game, Lilou of the Valley's wide selection of stylish throwback pieces will help you step out of your comfort zone and have fun with your personal style.
My Best Friend's Closet, Tracy
 My Best Friend's Closet is Tracy's go-to shopping destination for finding authentic, upscale items, from Tory Burch bags to Chanel earrings. The shop also features a wide variety of children's fashion and gifts. To consign, clients can schedule an appointment over the phone to drop off their items, which are then reviewed for condition, seasonality, and demand. For shoppers looking for high-end pieces to jazz up their look, either stop by the store or browse the boutique's curated collection of stylish pieces available online.
New & Again, Lodi
For special, timeless items to furnish your home, check out New & Again Consignment Furniture Gallery in Lodi, a family-owned business that offers quality decor at great prices. At New & Again, you can find gently-used dining sets, dressers, lamps, sofas, and much more. Additionally, the shop assists with estate sales and consignments by working with clients directly to evaluate and purchase items. New & Again also proudly supports many local charities, including Lodi House Thrift Store, another great second-hand shop that provides support for homeless women and children in the community.  
Shop 'Til You Drop:
Lilou of the Valley Vintage
32 Acacia St., Stockton
(209) 851-0434
My Best Friend's Closet
53 W. 10th St., Tracy
(209) 833-6232
MBFCloset.com
New & Again Consignment Furniture Gallery
210 S. School St., Lodi
(209) 368-2200
NewAndAgainOnline.com