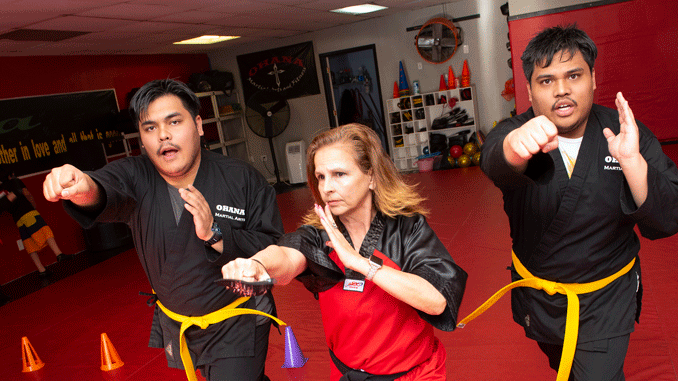 Advancing through belt classes at a dojo—regardless of the specific style—is a tough task for everyone. The classes require focus, strength, and athleticism as athletes young and old build on skills to become proficient in martial arts. At Ohana Martial Arts/ Whelan's Kajukenbo, the focus is on an accessible style of Hawaiian-based martial arts that is open to everybody. "In our school it's not just about punches and kicks. It's also about character building, which we have a program that instills in every student good morals and values."
Every student who comes through Tami Whelan's dojo learns more than a few moves. In addition to holds and takedowns, students build character through focus, respect, and discipline. This aspect of martial arts is beneficial for many children (and even adults, too), and it has a way of reaching children with special needs in a way other programs may not.
Among Tami's students are those with ADHD, cerebral palsy, and autism. She has even taught a class for the blind center in the past. "The benefits I have seen with special needs is the excitement of accomplishment and perseverance that you don't normally see from students that do not have special needs," Tami explains. Sometimes children who feel they are different or don't learn typically can struggle to fit in, but a dojo evens the playing field and creates a sense of belonging in a safe space that is also fun for all ages.
Angelo and William Samson are two of Tami's students that represent everything it means to thrive with special needs. The two brothers, 20 and 21, participate in both private lessons and group lessons at Ohana. Already they've advanced to a yellow belt, carrying a sense of pride and accomplishment with them every time they reach a new milestone. Their mother, Jeramie, says she has recognized a boost of confidence in both of her sons through martial arts, and it's a benefit she says is important for all children. She also credits the sport with advancing their ability to follow simple directions. For Jeramie, martial arts provided a social outlet while schools were shutdown, peer interaction her sons need, and an opportunity to make friends. It also gave them a way to get active and pursue a sport they enjoy, while many others didn't pique their interest.
Find out what it's all about:
Ohana Martial Arts/Whelan's Kajukenbo
2714 Country Club Blvd., Stockton
(209) 814-4297