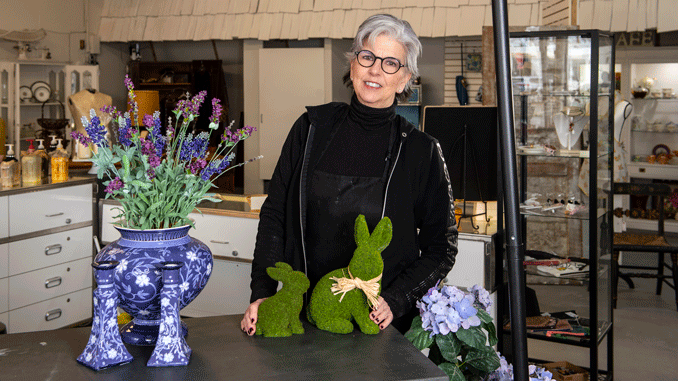 The talented business owner behind Lodi's new unique gift and collectables storefront is no stranger to many of us in the area. Terrie Green has made it her mission to bring the fresh and fabulous to Lodi for over eight years now. You might say she is most loved for the delicious treats she serves up daily at the charming Corner Scone Bakery or her darling gathering spot and specialty shop The Hidden Tea Room.  With her eye for beauty and desire to bring a whole lot of sunshine to the area, Terrie decided to purchase the retail-zoned shop near her other ventures and transform it into The Urban Barn.  With a trifecta of booming businesses, Terrie, along with the help of her daughter Tara, has turned what was once a sleepy corner of Lodi into a one-stop shop for gifts, treats, hospitality, and fun,
At The Urban Barn, shoppers can expect to be greeted by a gorgeous seasonal display in the window. "The holidays are really fun," says owner Terrie, who plans to display a variety of seasonal dishes and décor to match each season. The store also will feature quality, unique vintage furniture, and some beautiful large consignment pieces.  
For Terrie, it's all about the community experience. And having the three businesses in the same shopping center allows for plenty of integration. For instance, at The Urban Barn, one can request a customizable gift basket that includes the famous lemon curd, clotted cream, and other items from Corner Scone Bakery, as well as vintage aprons, locally made candles, and jewelry sold in the shop, a bottle of wine, or really anything else you want to bring in and have aesthetically arranged. Customers will also find an assortment of greeting cards, gift bags, and fresh flowers sold by the stem.
"I really wanted to create a unique shopping experience that would bring value to the community and give services that aren't really around anymore at prices that are doable," says Terrie. "We're hoping to bring back that warm gift shop experience that locals once had at places like Lakewood Pharmacy."  The store is now open for business Wednesdays through Saturdays from 10 AM-2 PM.
The Urban Barn
545 W. Lockeford St., Lodi
(209) 263-7143
Instagram: @URBANBARN_LODI