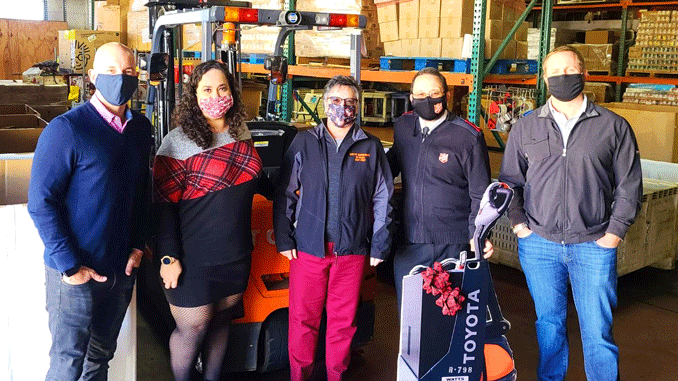 When 2020 was wrapping up, Blake Burnham, general manager and vice president for Wattts Equipment, wanted to give back to the communities his company serves. Having had a successful year of sales, he looked for ways to help the non-profit community reeling from the long-term effects of the COVID-19 pandemic.
Watts Equipment, founded in 1967, is a forklift and supporting material handling dealership specializing in Crown and Toyota products. It's a family-run business in its third generation, and philanthropy is at the base of the company's foundation. So, when Burnham was looking for a way to make a donation at year's end, he sought out organizations in need of forklifts to make them more efficient.
"When my wife's grandfather Virgil, started Watts Equipment in 1967, philanthropy was at the core of our company's foundation," Burnham said. "With success comes an obligation to give back to our community. And the best way we could help our community was to make our non-profits more efficient in their distribution of products."
The response was overwhelming. What began as a 12 days of Christmas giveaway, turned into the donation of 13 electric pallet jacks to non-profits. With COVID-19, fundraising for many organizations came to a screeching halt while demand grew exponentially. Food banks and community centers were scrambling to serve their constituents. When Burnham discovered organizations like the Oasis Center were moving pallets of food and water by hand, he knew the electric pallet jacks could make a difference.
With the help of Second Harvest Food Bank, Watts Equipment found 13 worthy non-profits in need of the machinery, and the impact was immediate. From food banks to the Salvation Army to St. Joseph's Hospital Foundation, Burnham doled out the pallet jacks with pride and the charities were thrilled to receive them. "In the face of this pandemic, and the challenges our hospital staff faces daily, just getting PPE into the hands of our departments takes a significant effort," says Julie Kay Eckardt-Cantrell, vice president and chief philanthropy officer at St. Joseph's Hospital Foundation. "We are incredibly grateful for the donation of an electric pallet to ease the burden of our hard-working staff."
Lucky 13
The non-profits that received an electric pallet jack from Watts Equipment Co.
Second Harvest Food Bank, Manteca
Salvation Army, Lodi
Red Cross, Modesto
Oasis Center, Stockton
Gospel Center Rescue Mission, Stockton
Stockton Emergency Food Bank, Stockton
Ceres SDA, Ceres
Big Valley Grace, Modesto
Good Samaritan Training Center, Stockton
Howard Training Center, Modesto
The Food Initiative of Greater Stanislaus, Modesto
St. Joseph's Hospital Foundation, Stockton