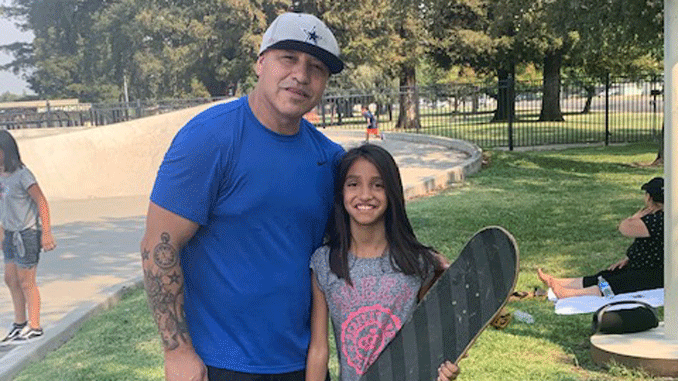 For Carlos Carrasco, COVID-19 presented an unexpected opportunity to rediscover his childhood hobby, connect with his daughters, and lift the spirts of local kids. What started with his daughter's desire to get out of the house and stave off the quarantine stir-crazies turned into a monumental undertaking to equip 43 local kids with their own skateboards.
Carlos and his family moved to Lodi at the end of 2019 and his 11 and 12-year-old daughters had hardly adjusted to their new school before they were forced into distance learning due to the pandemic. "I found skateboarding as a kid watching Bart Simpson and Back to the Future 2," Carlos recalls. "When my 12-year-old asked if she could get a skateboard, I said 'yes' with a big smile on my face." For Carlos, it wasn't just about taking the chance share part of his childhood with his daughter: he believes that skateboarding teaches lessons that can take you far in life. "[It's about] conquering fears," he says. "You're not going to get everything the first time. It's going to take practice, persistence, pain, and focus – things we need to overcome other obstacles in life."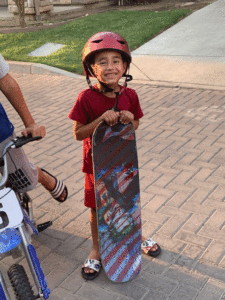 Before long, the neighborhood kids started to take notice and they asked Carlos to teach them how to skate, but he decided to do more than that. He started asking around and collecting spare parts to build boards for the kids in his neighborhood. Wicked Ways, a Lodi tattoo parlor and skate shop, was even able to donate spare parts for the project. Then, Carlos turned to Facebook. "I figured other people might have an old skateboard lying around or parts, so I asked for donations on Facebook swap sites and the support was overwhelming," he says.
Carlos spent his spare time teaching neighborhood kids how to build their boards and how to skate. Once all the kids in his neighborhood had boards, he started seeking out other kids at the skatepark and finding families on Facebook who could use them. "I feel good because it got my kids and other kids to get off their phones and playing outside like I did when I was a kid," Carlos says. "I'm happy to bring back some of the old school."
Donations slowed over the winter, but Carlos hopes to keep collecting parts to be able to give more skateboards to local kids. He can be contacted at carrascoconstruction@hotmail.com or donations can be dropped off at Wicked Wayz in Lodi.