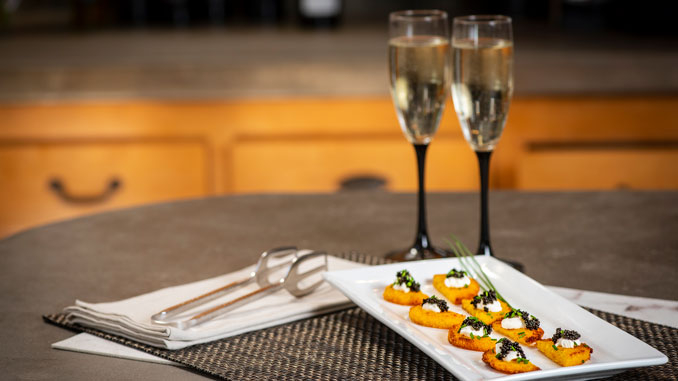 Liz willingly handed over the secrets to her Crispy Polenta with Caviar and Crème Fraiche for us to share with readers as a special treat for toasting to the New Year and celebrating the launch of her cookbook, Tapas.
While you're enjoying these crispy bites, you'll certainly be feeling fancy enough to uncork a bottle of champagne. After all, how else would you wash down the rich taste of caviar? We recommend grabbing a bottle of something local to sip while you nosh—black tie optional.
Crispy Polenta with Caviar and Crème Fraiche
Ingredients:
1 Polenta Log, packaged
1 jar black Caviar, drained
Crème Fraiche, or substitute sour cream
Fresh Chives, chopped
Olive oil
Preparation:
Cut Polenta into rounds, about ¼-inch thick
Pat the polenta rounds dry with paper towels before frying to help with spattering.
Fry the polenta rounds in olive oil until slightly brown and crispy along the edges; let drain on paper towels.
Cut the polenta rounds into halves.
Top with a dollop of crème fraiche and caviar.
Garnish with chopped chives.
Read the blog:
LizBokisch.com
Grab the Cookbook:
18921 Atkins Rd, Lodi
(209) 642-8880
BokischVineyards.com