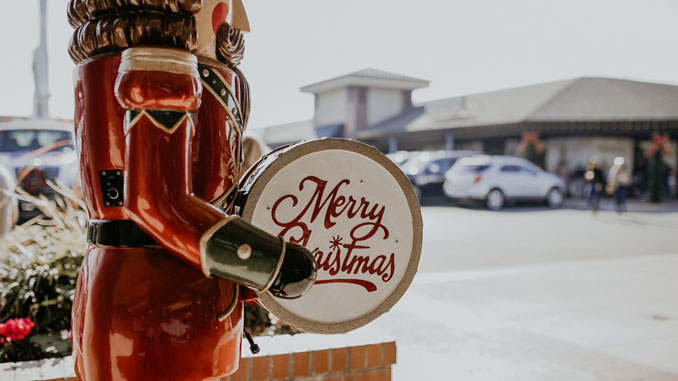 Is there anything more magical than a White Christmas? While we might need a miracle to experience a true White Christmas in the 209, our friends over at Lincoln Center Shops are creating their version of the magical phenomenon, and you can get in on the action!
Starting November 27, Lincoln Center began their annual snowfall on the brick walk each evening from 5-9 PM, every half hour. But how do they make it snow? Well, it's all part of the magic that is Lincoln Center.
Eat on the patio at Midgley's Public House for the ultimate in holiday dining and watch the artificial snow flutter to the ground while the children prance in delight. Even if you aren't in the mood for dinner, you can head to Lincoln Center to get in some holiday shopping, take a brisk walk, or stop in for a quick family photo op. Sounds fun, right?  
We all know the 2020 holiday season will probably be celebrated a little differently this year. But that doesn't mean we can't find our own family fun, which is exactly why Lincoln Center is our home for the holidays. The center will host the unique Department 56 Christmas display for the eighth year in a row. You can even take part in the Department 56 scavenger hunt or purchase the Christmas village set at Best Wishes.  
But the best news of all is that we hear there will be Santa sightings at Lincoln Center on December 5, 12, and 19. The kids probably won't get to sit in Santa's lap, but the pure joy of seeing him throughout the center should bring the magic of the season alive.
Don't forget that L.C will also have a variety of holiday back drops that make for the perfect Christmas photo op, daily holiday music, and weekly Instagram contests. So, go ahead, live a little, and let it snow! Tag #LincolnCenterShops for a chance to be featured on their page.
Watch the snow fall at Lincoln Center
Lincoln Center
374 Lincoln Center, Stockton
(209) 477-4868
LincolnCenterShops.com