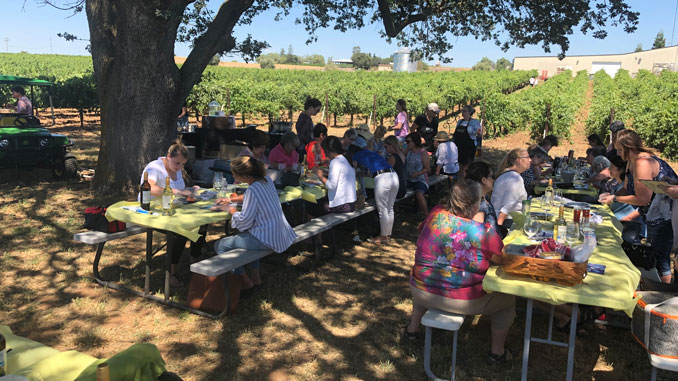 Want to add some color to your backyard? There is no better time than the present to take on an art project that doubles as a home renovation, and mosaic stepping stones are just the piece to add function and frivolity to a playful backyard landscape. Kristi Halva, Lodi's own mosaic expert, makes the pieces for sale, but she's also down to teach us all how to make our own mosaic masterpieces.
Simply follow the DIY steps on the next page to finish your own creative stepping stones, or shoot an email over to the expert to have a customized set made. "The bright colors of tile and stain glass are a fun addition to the backyard greenery especially when it's your own masterpiece," she says
Making mosaic stepping stones can start easily with a concrete stepping stone to adorn. Then, let your imagination run wild, using broken china, marbles, glass, crystals, stones, and more. It's easy to mix materials and colors when making mosaics.
Want a mosaic made easy?
Kristi also sells kits for sparkle and shine decorative mosaics that are perfect for adorning fences and other outdoor (and indoor) spaces. These kits are just $50 each and can be obtained by shooting a quick email to kristihalva@gmail.com.
DIY 10 Step Mosaic Stepping Stones
Materials:
concrete stepping stone
stained glass, marbles, and any other items to decorate
thin-set mortar
notched trowel
grout mix
sponge
soft cloth
water
Step by step:
Step one is to plan your design. Mortar dries fast and once you stick something you might not be able to get it back up, so you'll want to have a physical or mental drawing of the finished project before you get started.
Step two, gather your materials. Have everything nearby and easy to grab to prevent running to grab items while you create.
Step three, immerse the concrete stepping stone in water.
Step four, prepare the thin-set mortar according to package instructions. It should be the consistency of slightly runny peanut butter.
Step five, using a notched trowel, spread the mortar onto the wet stone in sections. Because it dries fast, you'll want to lay your design pieces one section at a time, pressing each one lightly into the mortar. You'll need to spread about a ½-inch layer of mortar for the best results. Repeat step five until you've placed all of your pieces on the stone. Pro Tip: Leave space between pieces for grout.
Step six, when you've finished laying your pieces, remove any excess mortar from the stone and place in a cool, dry place away from the elements to set over night. If it's going to rain, bring the stepping stones into the garage to set.
The next day you'll launch into step seven, mixing the grout according to the package instructions.
Step eight, plop a large heap onto the center of the stone and use a trowel to spread over the entire stone, being careful to fill any gaps completely. Make sure to spread grout on the sides of the stone as well and remove any excess grout using the trowel.
Step nine, wet a sponge and clean excess grout from the stone. Rinse sponge as you work to carefully remove all of the extra grout. This will help the finished stone look clean and professionally-done. Pro Tip: If you accidentally remove too much grout, go back and replace it with more grout and repeat the steps above.
Step ten, let the stone dry for 48 hours. Then, buff with a soft cloth and place it in your backyard!
SYBIL: I have photos of the other kits (not stepping stones) if you want it for the call out, let me know. I thought it might get confusing to use them since they aren't the stones.