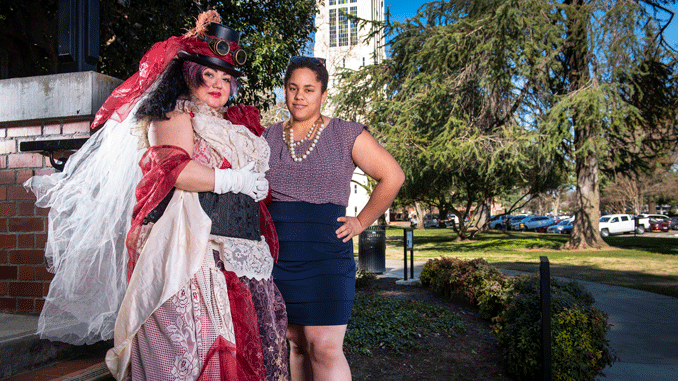 Gowns reimagined with recycled comics, thrifted creations that speak to climate issues, and uncommon materials such as drapes from a thrift store represent just a few of the showstoppers that have walked the runway during the Green Fashion Show, an event hosted by Sustaining Pacific, in conjunction with Sustainability Month at University of the Pacific in Stockton.
            "The piece that I always think of when looking back on Green Fashion Show's past would be 2018 winner 'Seein' the Funny Pages' created by Tricia Smith, who was representing Pacific Mail Services," says Kelsey Smith, sustainability coordinator at UOP. "She found a dress at a thrift store, modified it, and added recycled newspaper comics to create an absolute showstopper." Kelsey called it the "perfect blend of thrifted and upcycled fashion."
            The Green Fashion Show is celebrating its tenth year with the theme Decades, and Kelsey is already getting excited for the 2020 show. "We do have a few submissions so far and I can tell you that we can count on seeing some inspired designs representing the past century, from 1920s Josephine Baker style to 1990s street fashion," she says.
            The fashion show is part of UOP's larger efforts to support sustainability both on and off campus. It came about when the university deemed April Sustainability Month in 2011, a month filled with programming aimed at promoting environmental action and green living. Anyone in the Stockton community is welcome to submit a piece for the show using items found at a thrift store, organic linens, or materials that would otherwise be in a landfill. Then, the pieces hit the runway where they are judged and a winner is crowned.
            "Past designs in our show have been used to shed light on issues such as ocean pollution, plastic consumption, and the meat industry," Kelsey shares.