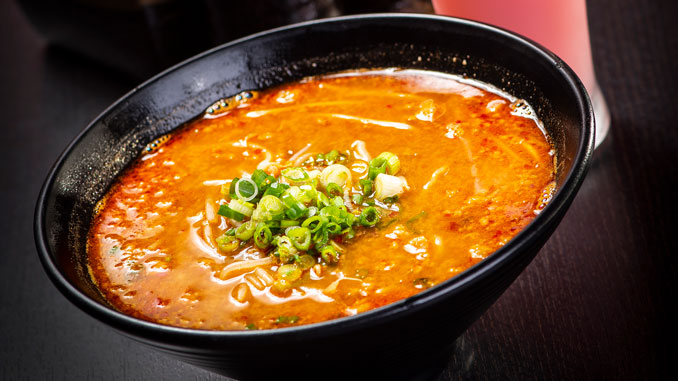 Located nearby University of the Pacific, Yujin Ramen & Noodle Bar owner Harry Yu picked the perfect location for his noodle shop—one of three restaurants he owns in San Joaquin County including Mikasa Sushi and New Midori in Tracy. On Pacific Avenue, Yujin Ramen caters to both students and professionals. Food is good but inexpensive, plus it offers a fresh, high-end alternative to the cup of noodles many college students live off of. And with students coming from Los Angeles and San Francisco to study at UOP, Yujin Ramen provides a staple they are familiar with in a place where ramen places aren't as easy to find.
While the food is what keeps people coming back, there is another reason Harry says his restaurant enjoys so many repeat customers. In addition to the ability to grab a quite bite or sit at the bar and socialize—the space is small, but cozy, with 66 seats total—Harry is focused on quality service. In fact, in Japanese, Yujin translates to very friendly, so, Yujin Ramen & Noodle Bar roughly means very friendly noodle shop.
Ramen, according to Harry, is different from other Japanese and Chinese fare. For one, it's healthier. Opened in April 2018, the noodle shop is accessible, with a low price point (bowls of ramen cost just $9-11), and ramen is made fresh to order with ingredients imported from Japan, not made from a pre-prepared paste like some other shops. "When you eat fresh ramen, it's totally different," Harry says.
Harry and his team have making ramen down to a science. Every single noodle is cooked individually in a drop basket for exactly two minutes. Any more or less and the noodles will be under- or over-cooked. The broth, however, is made ahead of time. To create the broth, the chefs at Yujin Ramen boil and simmer chicken or pork bones and other ingredients for up to 10 hours, allowing for the subtle flavors to come through. Once the noodles have been rinsed and added to the broth, it's time for the toppings. Each ramen dish has its own finishes, and loyal customers have a tendency to customize their bowls by adding extra toppings. Popular choices include corn, eggs, and chashu (a braised pork in a soy sauce base). "They don't leave a single drop," Harry says. "We're happy to hear so many good comments."
One of the most popular choices on the menu is the tongue casserole, a very creamy soup made with BBQ pork ramen. There are also more traditional meals such as miso ramen and vegetarian ramen. The Chuka Soba is another favorite, ramen made with pork or chicken and topped with a soft-boiled flavored egg, a narutomaki fish cake, the white part of a green onion, menma (a condiment made from bamboo shoots), and nori (edible red algae seaweed). The spicy miso ramen is the most expensive ramen on the menu. For $11, guests can dive into a bowl of spicy ground pork with bean sprouts and green onion.
While many stop into Yujin for a quick meal between classes or on their lunch break from work, the sit-down restaurant does also cater to a more leisurely meal. Sure, it's possible to be in and out of the noodle shop in 30 minutes or less, but for those looking for a multi-course meal or a chill place to veg out and watch the game, Yujin does that too.
Also on the menu is a collection of Japanese-style curry rice at the same price point, either made with your choice of meat, or vegetarian style with broccoli, cabbage, corn, and carrot. Don't forget to start your meal with one of Yujin's tempting appetizers. Order up a gyoza (chicken dumpling, $5), spicy edamame ($5), or gesso kara (fried squid, $6). And, always end with dessert. The eatery has three daily options: baked cheesecake ($3), amano strawberry shortcake ($4), and green tea monblanc cake ($5).
Come Eat:
3202 Pacific Ave., Stockton
(209) 395-0188
YujinRamen.com