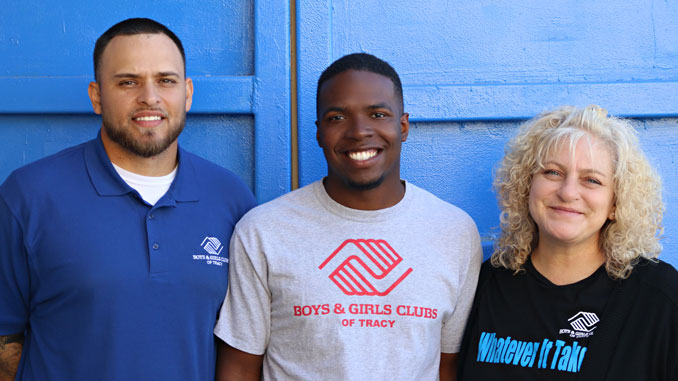 For 20 years Lisa Sughayar has run the inclusion program at Boys & Girls Clubs of Tracy, a program aimed at bringing quality after school enrichment activities and sports leagues to children with both physical and cognitive disabilities. The goal is to create a space where kids of all abilities feel welcome, receive one-on-one care, and can stay afterschool until 5:30 PM to assist working parents. According to Lisa, the inclusion director and marketing stewardship coordinator at Boys & Girls Clubs of Tracy, the offerings fill a serious gap in the community for kids with varying disabilities. "There are no programs for kids around here with disabilities after school," Lisa says. "You have to become an advocate for our kids with disabilities."
Lisa has found success with the program—which offers free meals, life and social skills training, positive relationship building, and physical activities—through private funding. And while all seven B&G sites within Tracy cater to kids with disabilities, the inclusion program was created specifically with these kids in mind. However, kids who attend the program are also invited to integrate into some of the other programs the B&G clubs offer, and there is no additional cost to parents; those who enter the inclusion program pay the same $35 a year that all members do.
The program is so popular that Lisa rarely has spots for new kids. The inclusion program serves 15 high-functioning students at a time, and most of them will stay until they age out of the system, partially because there is nowhere else to go.
Aaron McAllister is a favorite success story. A high-functioning autistic, he grew up attending the inclusion program. When he first came to B&G, his mom was worried about how other kids would treat him, but he loved it so much he stayed until he aged out. Then he started volunteering, riding his bike several miles everyday to be there. After a few years, Lisa offered him a job running the front desk where he's now been working for nearly five years. Qualifying for the job wasn't easy. Aaron had to pass CPR, PARA, and active shooter training first, but with the skills he learned through B&G he's thriving in his career. "He's very, very smart," Lisa says.
One goal of the program is for all kids to become successful and comfortable in social situations. The structured environment pushes kids outside of their comfort zone to make new friends and play games they wouldn't otherwise have access to. "Everybody wants to have friends and have a place to go," Lisa says.
Learn More:
Boys & Girls Clubs of Tracy
753 W. Lowell Ave., Tracy
(209) 832-2582
BGCTracy.org