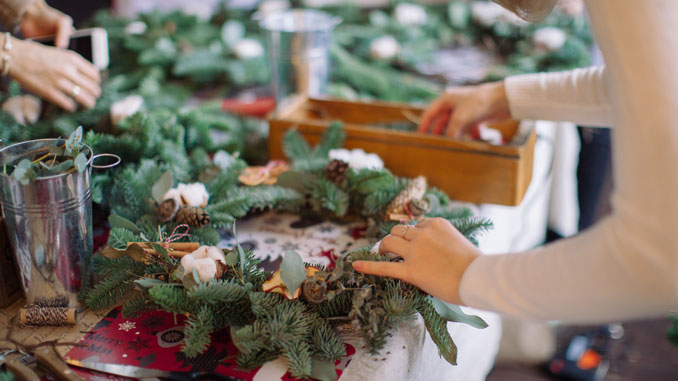 Putting together your own holiday wreath is a great way to get into the holiday spirit. The nostalgic smell of fresh pine alone will likely have you ready to put on your favorite flannels, make a cup of cocoa, and start decking the halls. 
When it comes to picking out a wreath, it's important to make sure that there are no browning needles on it. The fresher the wreath you can find, the better. This is especially true if you're going to be buying your wreath early on in the season, thus needing it to last a little longer. Once you've brought your wreath home, give the branches a light spritz of water every other day or so. This will keep it looking fresh, and full of Christmas cheer.
The next step consists of picking out your wreath decor. Burlap or checkered ribbon paired with rustic accents, and cotton balls make for a wreath that says trendy with a farmhouse flair, while white or red ribbon accompanied with gold jingle bells and frosted pine cones say classic and timeless. The best part about this step is you can really do whatever your heart desires. When it comes to picking out ornaments and patterns, just have fun.
To attach your decor, use a pair of wire clippers to cut individual pieces of floral wire for each item. Next, use the wire pieces to secure the ornaments one by one to the wreath by twisting the ends of the wire together. Be sure to tuck the remaining wire in where it cannot be seen. For the final and finishing touch, tie a bow using your favorite ribbon. Expert Tip: try placing the bow in a few different spots on the wreath to make the best placement. Then, using a piece of wire, attach the bow wherever it sits prettiest.
Wreath Workshop Tickets:
AZ Floral Design
(209) 327-2611
AZfloraldesign.com