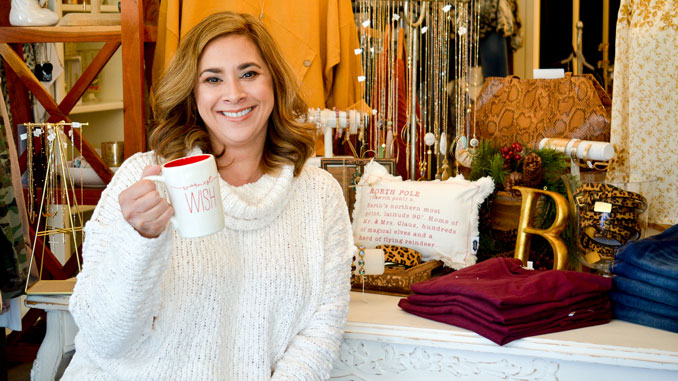 Deck the halls with Bellissima goodies! The Miracle Mile boutique that sells women's clothes, accessories, handmade jewelry, gift items, and more, is gearing up for the holidays with new lines and holiday sales.
Each week new items and designers come into the store, sourced from San Francisco, Los Angeles, and San Mateo. Not only does this help inventory stay fresh, it allows Owner Mary Herrera to keep an eclectic collection of classic, chic, bohemian items for her customers. And some of her greatest treasures are made right here in San Joaquin County, including local-made jewelry.
"We are huge supporters of shopping small," Mary says. And, at Bellissima, staff supports the community, frequently participating in Miracle Mile events, as well as giving back to the University of the Pacific Tigers (where Mary's two nieces attend college).
With shopping small, Bellissima is able to bring guests hard-to-find pieces to impress friends with. It's the ultimate satisfaction when someone gasps at your newest dress and says, "Where did you find that?!" It's even better when your response isn't some chain store anyone can purchase a duplicate at.
Just in time for the holidays, Mary is bringing in more La Vie Parisienne jewelry—an L.A. brand—due to its popularity with customers. The label carries chunky bracelets perfect for stacking and big, statement earrings. All of the pieces make great gifts, or little treats for yourself to finish those holiday outfits. Mary's advice? Don't forget to ask about the faceted crystal link bracelets while you are in!
Looking forward, the New Year brings new joy to Bellissima. The store will start carrying Bellissima Baby items, a collection of clothing and gifts for the youngest bellas, this spring. Mary also has her sights set on a third location, and a website to open up her business to online shopping, making it possible to shop your favorite goods without leaving the house.
Save Money!
Are you a UOP Tiger? Present your PacificCard for 10 percent off every purchase.
Something for you, something for me
During the month of December, Bellissima is running a promotion for shoppers. Stop in and purchase a gift card valued at $100 or more and receive a second gift card worth $20, free to you. Either gift it to someone else, or keep it for yourself.
Shop With Us!
2230 Pacific Ave., Stockton
(209) 469-0369
Facebook.com/BellissimaBoutiqueStockton
@bellissima_boutique_stockton
821 W. Roseburg Ave., Modesto
(209) 284-0007
@bellissimamodesto