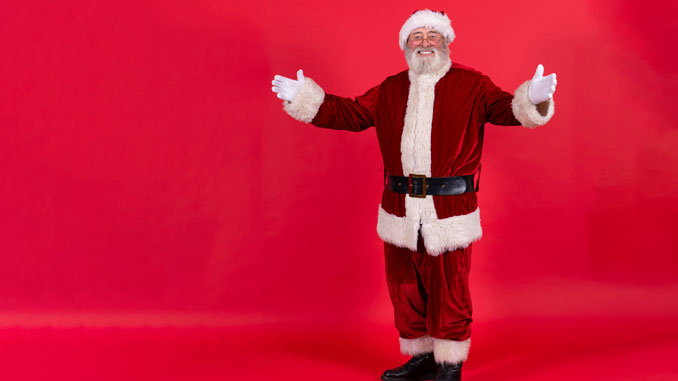 Darrell Phillips, 80, has been Santa Claus for 39 years. His first gig was at the Clements Buckaroos Christmas Party, a private event for members and their guests. Since then, he's kept busy being Santa, dressing up in a red suit and donning a full (natural) beard at Santa jobs across the county.
In his job, which he does on a volunteer basis, Darrell says the best part is seeing babies start their Santa traditions; little ones just a few weeks or months old, visiting Santa for the first time with parents.
When payment is given to Darrell for his efforts, he turns around and donates it to local causes. He's not in it for the money, and that shows through his dedication to his seasonal role.
Many kids who climb onto Darrell's lap each Christmas—he estimates more than 25,000 kids have taken a seat on his lap so far—ask for the newest toys on the market, or Christmas staples like dolls and LEGOs, but some kids are surprisingly selfless, embracing the true meaning of the holiday season.
"Some children ask for things for others, not for themselves, which always touches my heart," Darrell says.
The hardest moments are when kids who believe in the magic of Santa ask him something Darrell, no matter how much he wants to, simply cannot give. "It can be heart wrenching to hear from children at the schools when they ask for one parent or the other to come home, get a job, or sadly, get out of jail," he says. "There is nothing to be said but to try to give a bit of a hopeful answer."
Darrell says there is one child he knows personally who recognizes him when he visits his school each year, but he's vowed to not ruin the surprise for the other kids. Instead when he sits on Darrell's lap he whispers his name in his ear and gives him a thumbs up without letting the other kids in on their secret.
Even when Darrell isn't playing Santa at local events, he's not exactly breaking character. He spends time with his pet—a dog named Barney, not nine flying reindeer—and works on various projects on his ranch, mainly in his shop out back. He is, however, incognito January through July—that's when he has to start growing out his beard again for the holidays—which makes spotting Darrell a little bit trickier.
Being Santa is not a gig he intends to give up any time soon, either. Darrell says he will continue to play Santa Claus for as long as his health allows.
"I have as much fun playing Santa as the kids do in seeing Santa," he says.
Upcoming Santa Events
8-10 AM on Dec. 7
Vinewood School
For students and families of Vinewood only
 10 AM-1 PM on Dec. 8
Micke Grove Festival of Trees
Open to the public
1-3 PM on Dec. 14
Calivirgin-Coldani Olive Ranch
Open to the public