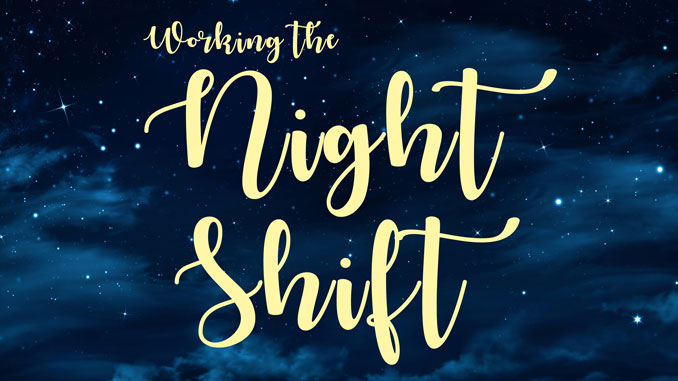 But when most of the city has gone to sleep, there is a group of nocturnal workers just starting the day. After dinner they shuffle off to odd shifts, ready to work a long night by streetlight. From medical professionals to service workers, these individuals keep the city ticking long after the rest of us have clocked out.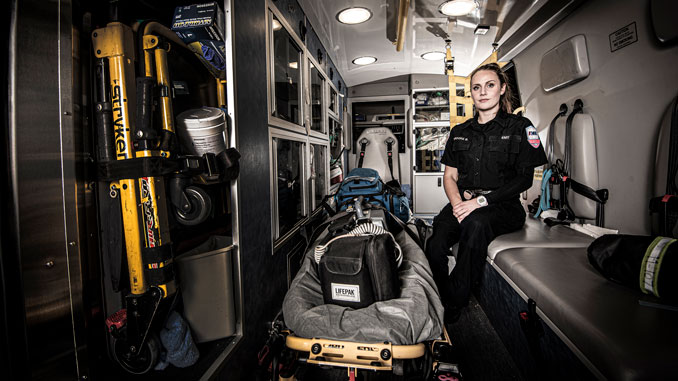 Brooke Baltzer | EMT, AMR
When Brooke Baltzer was growing up her mom worked nights as a dispatcher for the Stockton Police Department, so when she was given the opportunity to become an EMT at American Medical Response in Stockton she didn't think twice about signing up for the night shift.
"I grew up in Stockton so I love the fact that I get to work in the community that raised me," Brooke says.
And while Brooke admits she runs on less sleep than she used to, she also wouldn't trade working nights for the world. As a parent, it actually works best for her schedule.
"There is no good 12 hours to be away from your child," she says. But most of the time Brooke is away, her son is asleep. "I don't miss basketball games, or dinners, or birthdays."
Lucky for Brooke, those 12 hours go by fast. One night is never quite like the next, but the lack of downtime is pretty consistent. AMR runs calls for the entire county, which means in one night Brooke could be servicing anywhere from Tracy to Lockeford and everywhere in between.
"The call volume and what I do just depends on what the county's needs are," she says.
Some of the worst calls Brooke has gone on are motorcycle versus automobile accidents. The scenes are always hectic and they can be mentally exhausting and emotionally trying.
Not all of Brooke's calls, however, are crazy made-for-TV moments. In fact, Brooke says some of the most impactful calls happen during medical transfers when a simple "I'm not feeling well," can turn into a life or death situation.
Once Brooke and her team get their patients to the hospital, they hand over the reigns to emergency department staff. From there, they can call for updates on critical patients, but once they are transferred out of the emergency room, EMTs stop getting updates. Brooke says not knowing how people are after a call might be the hardest part of her job.
Difficult or not, Brooke loves the nightlife. In fact, she chooses to stay on the shift. "Nights – it does kind of take over your life," she laughs. "You just adjust to it over time… I wouldn't give it up for anything."
---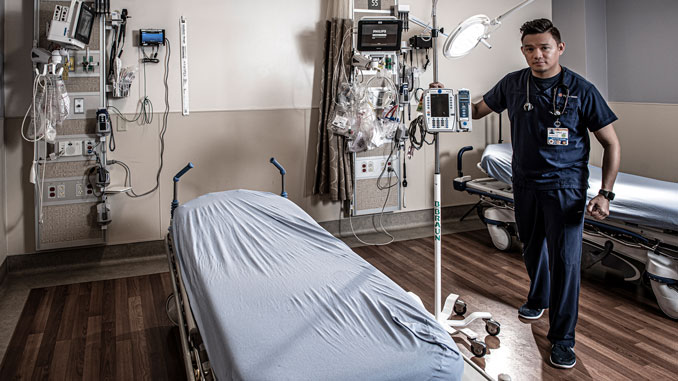 Carlo Magpantay | RN, BSN
Carlo Magpantay works his dream job. "I've been a night shift nurse for about nine years now and I love every second of it," he says.
Being an emergency room nurse is not a boring profession. It is the hospital's busiest department day and night, and no day is ever the same as the next. But working nights brings a new level of crazy to an already high-intensity job.
"I've cared for patients ranging from gunshots and stab wounds to stuck objects-use your imagination-and STD checks," Carlo says.
At night, the patient load is different. Those who come in are often severely ill, injuries can be life threatening, drugs and alcohol alter mental states, and staffing is always low.
Carlo says the camaraderie on night shift, however, is also different-in a good way.
"Though we have very limited resources, we treat each other as a family. We often have to rely on each other to provide the best care to our patients and that creates a special bond that you won't typically see on other shifts," he says.
As a nurse shift manager, Carlo is responsible for a lot. He manages the bed status, reviews the ER census, assigns roles to other nurses during the pre-shift huddle, and then he hits the ground running.
"A common assumption is that patients are sleeping at night so nightshift is easy, but that couldn't be further from the truth. I don't stop moving until I'm home in bed," Carlo says.
After nearly a decade working nights Carlo says he has the home life balance down to a science. On his first day off, Carlo naps and resets to nighttime sleeping so he can enjoy life with family and friends. On the days he works, however, his schedule is a little different.
"My meal times are very backward. I wake up to spaghetti for breakfast and my coworkers and I will go for mimosas and eggs for dinner after shift," Carlo says. "Sometimes I get off work and hop a flight to my favorite place on earth-Disneyland. I wouldn't change it for the world!"
---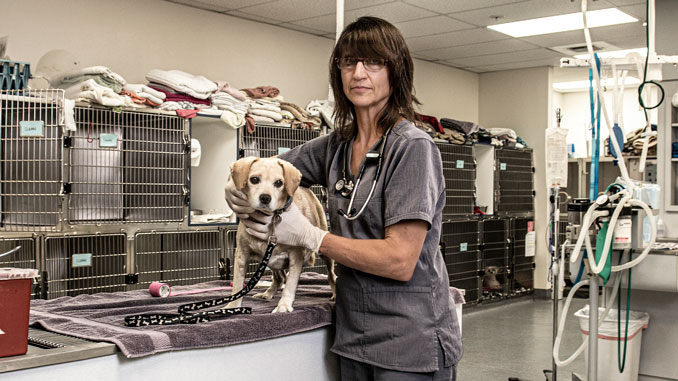 Ingrid Judge | Veterinarian, Stockton Veterinary Specialty & Emergency Center
As an emergency room veterinarian, you never know what's going to come through the door-and that's just how Ingrid Judge, a veterinarian at Stockton Veterinary Specialty & Emergency Center, likes it.
"I enjoy the unpredictability of it," Ingrid says. "I enjoy the challenge of those moments."
Not long ago Ingrid, a self-proclaimed adrenaline junkie, saw a 20-pound Labrador puppy come through her door, attached to a three-foot metal sign. The puppy had run into the decorative lawn piece while playing, and the sign went into the dog's mouth and out of the side of its neck.
In these moments, your mind goes into overdrive. Ingrid says it's routine to only have a few minutes to evaluate a situation and make a plan. In this puppy's case, the situation wasn't as dire as it looked, but it did require emergency surgery to remove the metal stake and get the puppy back home.
Cuts, puncture wounds, and other injuries are commonplace during Ingrid's nightshifts, which she works three days per week including a weekend shift that starts every Saturday at 6 PM and ends Mondays at 8 AM. The best part of her job, she says, is when critical cases end well. Seeing a dog walk in on the brink of life and then walk out less than 48 hours later is the most rewarding feeling, according to Ingrid.
Vomirrhea is the other main cause of visits, a word the ER department uses to describe digestive troubles. Sometimes it's little more than an upset stomach, while other times the symptoms are caused by lodged objects. Once a dog presented with issues due to a ruptured bladder that needed surgery to fix.
Like any emergency room, the goal of the doctors is to get patients stable, and then refer them to regular daytime clinic for continued care.
The hardest part of Ingrid's job is not being able to do all she can to save animals. At the clinic, which sees only cats and dogs, financial limitations often dictate care. If a procedure would save an animal's life, it can't necessarily be performed if the owners are not able to pay, which often keeps her out of the operating room.
"Finances dictate a lot of what we do," she says. "It's hard for people to understand."
---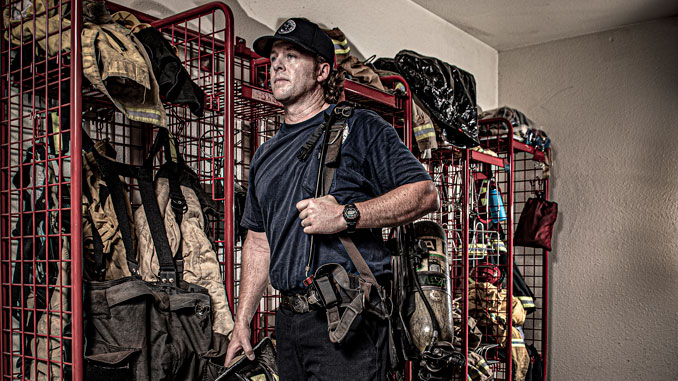 Kris Graves | Firefighter at the Lodi Fire Department
The craziest call Kris Graves says he ever took was first thing in the morning. There was a man drowning out in Lodi Lake. The bells woke Kris and the rest of his crew from deep slumber, and they had just thirty seconds to be out of the door and in the truck, which Kris is in charge of driving.
Dressed in sweats, a t-shirt, and socks, Kris dove into the excrement-covered lake where a man was bobbing up and down about 200 feet from shore, occasionally calling for help when his head made it above water. By the time Kris got to him, he wasn't breathing on his own. Once on shore, the crew got to work, pushing drugs, starting an IV, and administering CPR. The man was lifeless, and naked. Luckily, the team was able to revive him and get the man to the hospital where he made a full recovery.
"You have to go zero to 100," Kris says of working overnights. "You need to be at your 100 percent by the time your feet hit the floor."
Every time the alarm sounds, firemen are expected to be out of the door in thirty seconds. And on nights when the department gets three or four calls, that can be a tough task. "There's just no time for wiping the sleep out of your eye."
For Kris that wake up has to be even faster. He's in charge of listening to the details of the call before heading out and making sure he has the right destination to drive to. There is no room for error when someone's life is on the line.
Kris's shifts are 48 hours straight, which means he's working both days and nights, but at night, the calls are different, and so is the job. Kris says on an average night the station is slow, but there are times where the crew is rushing off to four calls in an eight-hour period, many of which are medical aid calls for elderly patients.
"It's amplified if it's at night," Kris says of the job. Your vision is blurred from sleep and your mind isn't as sharp as it is during the day. "Something as simple and mundane as driving to the call can get different."
The clientele is also different.
"The freaks come out at night," Kris laughs. A person at 4 AM is simply different than someone at 4 PM. People are sleep-deprived, drugs and alcohol are more prevalent, personalities are just different.
At this time of night, and having been awake for a considerably long time, people's senses aren't working as effectively as they normally are. If they get handed a drink or something to smoke, they are more likely to just take it, without asking or checking what it contains. If only they were told beforehand, that something like an Ehrlich test kit could help them to decipher what drug they're consuming, it could make a difference to someone's life. Unfortunately, once you get past a certain point in the night, you can't stop people from doing what they want to do, and changes in their behavior seem to become more apparent.
"It also creates this kind of comedic scene play out," he says. "You just don't see that s*** in real life."
Some of what Kris sees is less comedic. He's learned to compartmentalize on the job in order to stave off PTSD, which affects many in his line of work. "The stuff that we see, we try to normalize on an everyday basis and it's not normal," he says. "That stuff stays with you and haunts you for the rest of your days."
---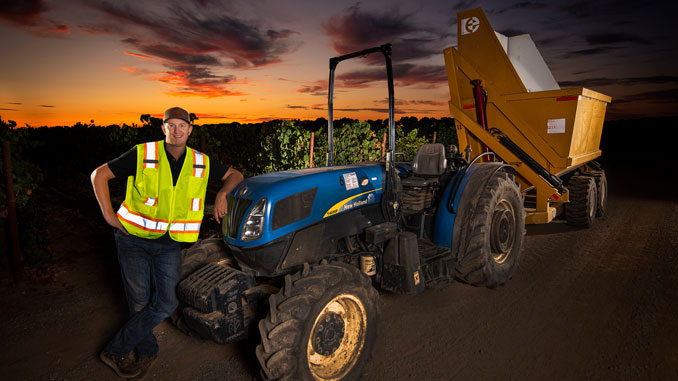 Aaron Shinn | Operations Manager, Round Valley Ranches
Grapes are often harvested at night because wineries like to receive their product cool and not overly exposed to sun and heat. This gives the winemakers more control over fermentation and early wine making processes, as well as the finished product.
For Aaron Shinn, a harvester for several wineries throughout Lodi, a typical shift runs from 7 PM-7 AM. Aaron and his team are often harvesting grapes for up to five different wineries per night, which keeps them busy on those 12-hour shifts!
"This is a job that would be very difficult to do if you weren't passionate about it," Aaron says. "Despite long hours, time away from family, and little sleep, it is satisfying to watch a crop that you grew all year be harvested and sent to a winery to be turned into wine."
Most nights aren't too eventful-and that's how Aaron likes it. Every harvest season, Aaron is responsible for coordinating harvest and the delivery of the fruit to winery clients. He arranges what team members need to be where, how much manpower is required, and what equipment should be on-site. In the end, it's all about delivering the best product possible to the winery.
While working sunset to sunrise in a vineyard doesn't pose a lot of threats, the dark does create a few dangerous situations for harvesters.
"Harvesting grapes at night is inherently dangerous. We are dealing with large, slow moving equipment that is difficult to see on the road," Aaron says.
With lots of safety training, proper lighting, and experienced workers, the team is able to mitigate many of the risks, however, and do the job as safely as possible. While this may be the case, experienced workers can still never fully eliminate the chance of them succumbing to the present dangers and actually becoming injured on the job – someone like a Webster injury attorney may be able to help those who have experienced something like this and provide them with legal assistance.
As a harvester, Aaron isn't always working the graveyard shift. The long overnights are seasonal. And those first few days on nights can be rough. However, he says it only takes a few days for his body to adjust to the new schedule, and working at night actually comes with several benefits including cooler weather and less traffic. Mother Nature provides perhaps the best perk though.
"You get to enjoy great sunsets and sunrises," Aaron says.
---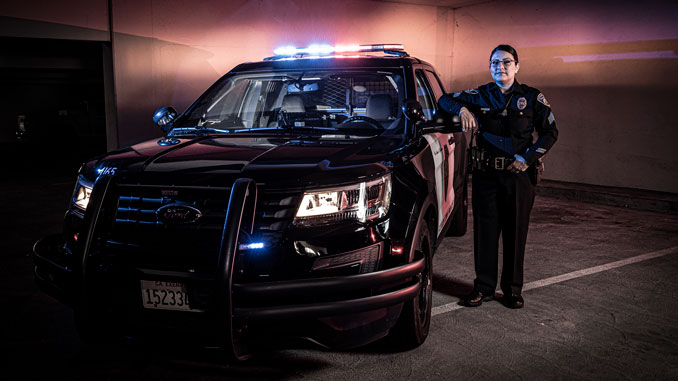 Sgt. Sophia Cantwell | Supervising Officer at Stockton Police Department, 4th Watch
Mornings can be tough. With two little ones at home who don't understand sleeping in, Sophia certainly knows what it means to be tired, balancing life as a Stockton police officer and mom of two active kids-ages three and five.
To manage, she and her husband, Sgt. Duane Cantwell, who is also an officer with Stockton PD, work opposite shifts to limit the need for childcare.
Sophia works fourth watch, which means her hours are roughly 5 PM to 3 AM. She says it's the second busiest shift after third watch, which runs 11 AM-9 PM.
"We are really busy," Sophia says.
Growing up in Stockton, Sophia was somewhat numb to just how much crime happens in the city at night. She remembers going to parties where fights would break out and sometimes she'd hear about a shooting on Monday morning at school. But seeing if from an officer's perspective is certainly different, and being short-staffed doesn't help. Sophia says the graveyard shift is the worst because there isn't as much overlap between shifts at that time, but fourth watch is nearly as bad, almost never fully staffed between leave taken for trainings, injuries, FMLA, and more.
As a supervisor, Sophia is in charge of the other officers on her shift as well as managing resources. She may not respond to all calls that come in, but she is on those that are most significant, such as shootings and stabbings.
Nearly every night the department gets calls about shots fired, domestic disturbances, noise complaints, theft, missing persons, and 5150 mental health calls.
During her patrol days before she was a supervisor, Sophia remembers a particularly intense service call where the reporting party said his roommate was delusional and wreaking havoc at the house. When the cops showed up, the scene was unruly at best. One of the roommates had been stabbed multiple times by the suspect who had already barricaded himself into a small bathroom.
"It was kind of chaotic," Sophia said. "Fortunately we were able to take him into custody without any incidents."
Luckily calls like that are not nightly occurrences, but they do come in a few times a month, according to Sophia.
---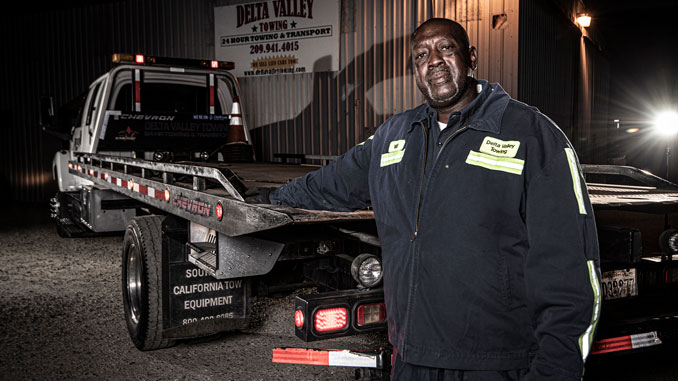 Will Maynard | Tow Manager/Owner @ Delta Valley Towing
Two nights each week Will Maynard switches from the day shift to the night shift to handle tow calls for his business Delta Valley Towing.
"I like the nights because it's interesting and it has its benefits," Will says.
Calls at night typically involve drunk drivers, arrests, and accidents with some impounds thrown in there, too.
Although Will doesn't work in law enforcement, he often feels like an extra man on the team. The Stockton Police Department calls Delta Valley when they need a vehicle moved for one of the aforementioned reasons.
"After awhile you get to know a lot of the officers on a first name basis," he says.
When Will shows up on scene, his safety is often at stake, not due to the person whose car he is towing (although that can get sketchy), but more so because of the buzzing cars around him on a busy road. His first priority is the safety of himself and his equipment, making sure a drunk driver or someone speeding doesn't clip him.
That's not to say Will doesn't deal with his fair share of irate customers. There's nothing quite like an angry person coming at you after you've towed their car. Calming them down is just part of the job.
"It's just people skills," he says coolly. "If [you can't calm them down], it can escalate."
Once, one of Will's drivers had a machete pulled on him. Luckily that wasn't Will's call.
It gets tricky when Will is called in for a vehicle that will become part of evidence. In criminal cases, the car still needs to be moved, but Will has to secure the car for evidence and not accidentally tamper with anything. This is the same for everyone who works in the tow truck industry. For example, the company Towingless also deals with issues like this.
Being a tow truck driver any time of the day, a profession Will has held since 1985-he took taking over Delta Valley in 2013-requires workers to be on their toes 24/7, ready for a call to come in. If you've been sleeping, that's much harder to accomplish.
"We have to be ready to go at all times," Will says. "Sometimes it takes one to two minutes to collect your thoughts."
It doesn't help that details are scarce until you show up. So how does Will handle it? Whenever he can he takes ten seconds to catch his breath and make a plan before stepping out of the truck. Then, it's show time.