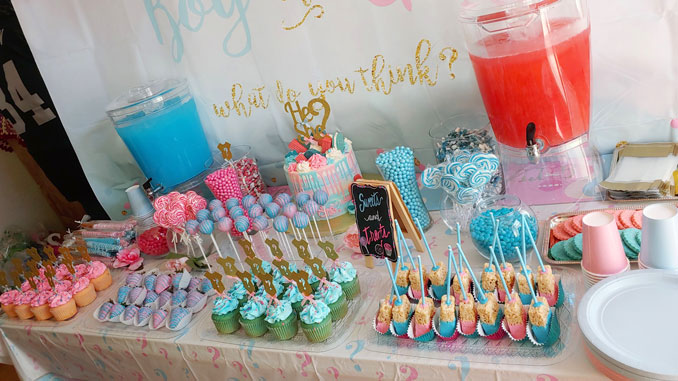 Gone are the days of buying a sheet cake from the grocery store the day before a big family event.
"Birthday cakes are not just a simple border and a happy birthday anymore," says Tiffany Torres, owner of Fizz Bakery in Stockton. "People are making it more of a show."
In just one day, Tiffany fielded orders from customers looking for gender reveal cakes with pink or blue insides, multiple-tiered naked cakes outfitted with florals and berries, and a jungle-themed cake complete with fondant banana leaves and gold flakes.
"It's the centerpiece of the party," Tiffany says. "The bigger the cake the bigger the impact it's going to make."
Kids' birthday parties are one of the most popular events for these extravagant creations, and people are making the trend more modern by going with themes over characters.
For example, two years ago Tiffany says orders for Mickey Mouse and Minnie Mouse cakes were among the most popular, but lately, it's more about the overall theme. A tropical children's party recently resulted in an order for a textured leaf pattern on the base of the cake, punch-outs of bamboo leaves, and a big gold pineapple on the front. It didn't stop at the cake either. The parents also purchased a bundle of matching rice krispie treats to go with it.
Tiffany has also noticed a lot of personalization in cake themes. She says parents are more in tune with what kids' interests are, and the parents are evolving with the kids' tastes instead of vice versa. "It's keeping up with what's hip and trendy," she says.
Video games, dancing, clothes, and fashion are all making their way onto cakes in one way or another. Not too long ago Tiffany built a Marshmello (the artist) and Fortnite cake for a client to represent her son's two favorite things.
To go with those fancy cakes, customers are adding on every dessert in the book to craft ornate dessert tables reminiscent of those displayed at weddings, from custom sugar cookies to sandwich cookies to chocolate covered pretzels and dipped marshmallows. She's even made chocolate dipped oreos, brownies, and lemon bars, for past events.
"Families now are just going really big," Tiffany says. "They want their guests to remember their party and the one thing people remember the most is food."
Go Big:
Fizz Bakery
9210 Thornton Rd., Stockton
(209) 951-3499
FizzBakery.com