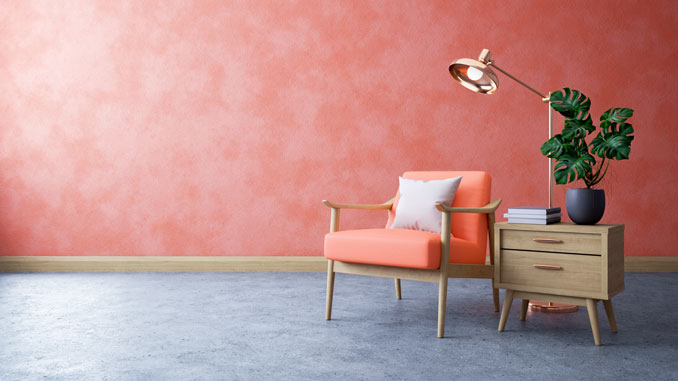 Pantone's Color of the year belongs in your home
Every year Pantone announces a new color of the year, and those who want to remain trendy find chic ways to incorporate the color into their lives. While wearing living coral is one way to don 2019's most popular hue, another creative way to embrace the shade is in your home décor.
Redoing your décor annually would be too much for even a Real Housewife to bear, but adding pops of color here and there is one quick way to change things up routinely. Instead of buying new furniture or committing to a new paint shade, add throw pillows, accent furniture, candles, blankets, and small décor items in living coral to your living room and bedroom. With this shade, flowers and other floral decorations are good options for quick additions, and those who want to embrace the color's origins may find themselves adding brightly colored bits of coral into their aquariums.
If the color really speaks to you, embrace it. Living coral isn't going to be out tomorrow just because it's in today. If you've been meaning to redo your bedroom for some time and have fallen in love with the golden-coral hue, make it the statement color in a room. With a new set of sheets and a piece of artwork, you can bring living coral into your home semi-permanently without a huge overhaul. For added pizzazz, choose an accent wall and add wallpaper, paint, or decals in living coral to the room.
Characteristics:
Joyful
Optimistic
Playful
Light-hearted
Soft
Spirited
Engaging
Energetic
Past Honorees
2018 – Ultra Violet
2017 – Greenery
2016 – Rose Quartz & Serenity 
2015 – Marsala
2014 – Radiant Orchid
2013 – Emerald
2012 – Tangerine Tango
What is it?
Pantone describes its color of the year like this: "an animating and life-affirming coral hue with a golden undertone that energizes and enlivens with a softer edge." Pantone chose this color for several reasons. One reason is its existence in nature, specifically in the ocean, seen in small fish and vibrant coral. It's also a bright enough color to grab a follower's attention on social media.