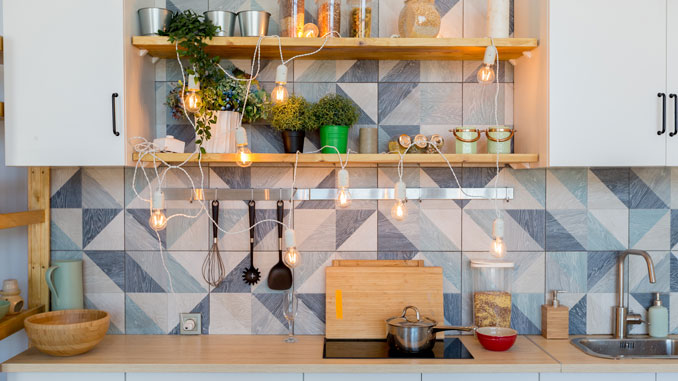 No matter how large your kitchen is, it always seems like you're running out of space. Cabinets get filled to the brim with pots and pans stacked awkwardly; your utensil drawer has everything you need…if only you could find it in the jumble. Your countertops are covered with random appliances that don't quite fit in a cupboard. What's a homeowner to do?! Don't give up! We have a few space saving solutions that will take your kitchen from chaos to clean in no time! Obviously, you have the options of selling some items in a yard sale or on a site like LeoList, but make sure you take a look at our tips too!
Unclutter your Counters!
Add a small shelf or some sort of hideaway kitchen storage to your countertop to double the storage capacity,. That way, the items that you really want at your fingertips are still there but will take up less overall space. You may even have room to add a small bouquet of flowers to brighten things up!
Use containers for oddly shaped items like cereals, flour, rice, sugar, etc. The items will last longer and you can reshape them to fit your needs! Get mason jars or plastic containers that slide neatly into your cupboards and say goodbye to shoving cardboard boxes haphazardly onto shelves.
Hang pots and pans or get pan racks for your cabinet. Pots and pans are some of the biggest contributors to clutter. They just aren't made well for stacking. Luckily, people have designed beautiful pot and racks that will make it easier (and quieter) to grab your favorite pots and pans for cooking. If you prefer to give your home a bit of a rustic appeal, install small hooks into the ceiling and hang a few pots and pans instead. Just be sure you hang them securely and to not hang too many (more than four pots suspended starts to look like a hanging mess).
If your kitchen could use a facelift or an entire revamp, we highly recommend California Closets or HT Home. These experts can transform your kitchen storage space, giving it a new lease on life.
Divide your drawers.
Start by putting spacers inside that messy utensil drawer. Purchase small, long plastic containers without lids and organize by utensil type. No more frantically rummaging around to find the ladle you left at the back.
De-clutter
If you haven't used it once in the last month, store it! It's nice to have those fancy dinner plates and extra wine glasses, but if you only use them once in a blue moon, invest in a lofted barn or storage shed. This will free up the kitchen and make it look less cluttered!
Call the Experts:
California Closets
601 Galaxy Way, Modesto
(209) 576-8668
CaliforniaClosets.com
HT Home Design
2363 Pacific Ave., Stockton
(209) 547-0480
HTHomeDesign.com