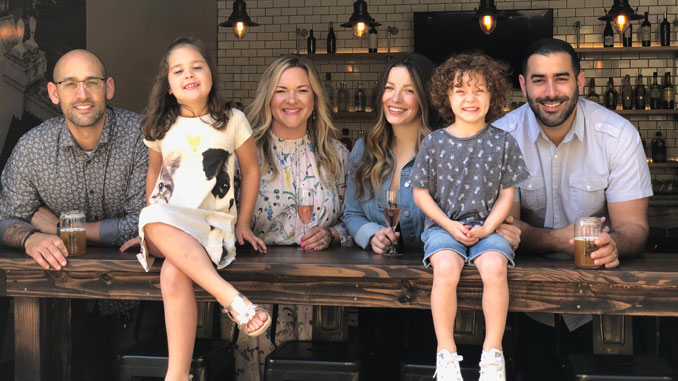 West Oak Nosh, which celebrated their one-year anniversary in April, is one of Lodi's brightest additions to the food scene. Serving up authentic and tasty German-inspired cuisine with a seasonal flair, West Oak Nosh is family friendly, convivial, and downright delicious. 
But what you may not know is that this restaurant venture is truly a family affair. For brothers Marcus and Gabe DeAnda, the dream of owning a restaurant together was something they couldn't pass up. Marcus and his wife Hailee were living in the Bay area when they received a phone call from his brother Gabe that a building had just become available in the heart of Downtown Lodi. The two visited the space and decided if there was ever a time to open a restaurant together, the time was now. So they, along with their wives Hailee and Melissa, jumped feet first into creating, designing, and opening West Oak Nosh.
With Marcus's expertise in the restaurant business and Gabe's marketing skills, the two families opened the beer hall-style establishment within three months of signing the lease. Local beer lovers appreciate the exceptional beer and cider choices while local winos can sample Lodi wines they haven't had before. Local foodies are drawn to the house-made sausages and beef fat Nosh fries while families love the communal tables and chalkboard walls. It's one of those places your kid can pick up a piece of chalk and draw on the walls and it's perfectly okay. Not like at home. And honestly, the place just keeps getting better.
This past spring, West Oak Nosh upped their game by adding brunch to the already stellar line up. Keeping in line with the German-themed dishes, Nosh serves up Schnitzel and Waffles that will blow your mind. But you can also opt for the German apple pancakes or the build your own eggs benedict featuring a West Oak sausage of your choice. They also have lighter fare including a yogurt parfait and an elevated avocado toast. You are winning no matter what you order—especially if it includes a mimosa.
And in keeping with the all in the family theme, the brothers recently brought Terranova Coffee on board. "It's just a better bean," boasted Marcus. "And it was a natural fit for Nosh because they are a family business just like us."
Bottom line—this family business is doing everything right. From gourmet grub to seasonal cocktails and the chilliest vibe, this place feels like home. Be sure to stop on in and see for yourself.
Support a family business and get your nosh on at West Oak Nosh, 10 W. Oak Street, Lodi, CA. 95240