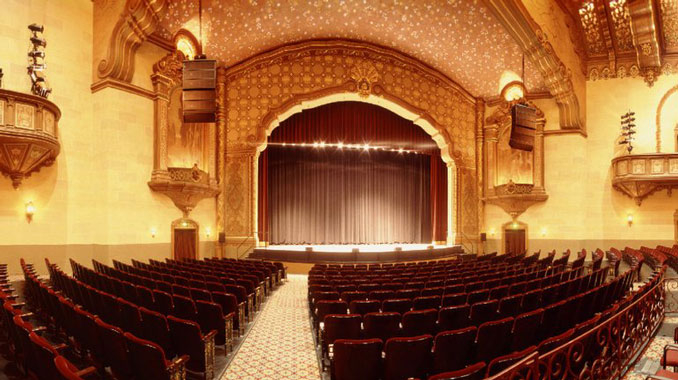 Marvel at each twirl and pirouette, laugh until you can barely breathe, and leave the world behind as performers take center stage at some of San Joaquin's very best platforms for live entertainment.
Bob Hope Theatre, Stockton
Entertainment, ornate design, and rich history await beyond the doors of the Bob Hope Theatre. Slip into this building to discover an incredible cinema palace in downtown Stockton brought back to its former glory. This landmark draws the attention of comedians, musical performances, and acting troupes alike. StocktonLive.com
Community Theatre of Linden, Linden
Founded in 2011, Community Theatre of Linden (CTL) began and continues to grow through the community's love for the arts. First operating as a children's theatre, parents expressed their desire to also get on stage—which resulted in its expansion to offer both adult and youth opportunities. With an aim to provide an outlet for creative community involvement CTL and its members have put on classic shows like Bye Bye Birdie, Footloose, Sleeping Beauty, Aladdin and more. CTL invites you to audition for their next show, surround yourself with like-minded people, and create lasting memories! LindenTheatre.com
Delta Center for the Arts, Stockton
With students and community in mind, Delta College's Center for the Arts offers Delta College productions showcasing their drama, dance, concert and jazz band, and choir and vocal jazz band. Enjoy performances sure to entice the entire family, as you support our local talent throughout the year! Currently a student? Enroll and find your passion for the arts. DeltaCollege.edu
Hutchins Street Square, Lodi
Considered a crown jewel by Lodi citizens, Hutchins Street Square serves as a social, cultural, and historic center. The beautiful grounds house an entertainment center, several banquet halls for weddings, birthday parties, and other events, and arts and specialty classes. The theater aims to bring exciting entertainment to be enjoyed by the whole family.
San Joaquin Pride Center, Stockton
As our region's leading support center for the LGBTQQIA community, San Joaquin Pride Center boasts a new location that acts as both a venue and community resource hub for empowerment programs and wellness services, activities, and a plethora of incredible events that include Pride Honors and LGBT Mixers. SJPrideCenter.org
Stockton Arena, Stockton
The crown jewel of the waterfront, the Stockton Arena provides its residents and those visiting the area with a wide array of events ranging from conferences and conventions to sports and special performances. Whether you prefer your functions on firm footing or gliding across the ice, Stockton Arena is guaranteed to furnish fun. StocktonLive.com
Stockton Civic Theatre, Stockton
Bringing Broadway classics and many new-hit masterpieces to our back door, the Stockton Civic Theatre will conquer not only the stage, but also your undivided attention! Hold onto your sides for comedic rides and soak in many other various selections brought to you over the course of the year. SctLiveTheatre.com
Stockton Symphony, Stockton
Fall under the sweet spell of music by following the Stockton Symphony on each of their classical concerts and pops performances! You'll find these amazing events hosted at the Warren Atherton Auditorium at San Joaquin Delta College.StocktonSymphony.org
Grand Theatre Center for the Arts, Tracy
Entertaining the public since 1923, this historic theatre is a Tracy jewel. Today, the facility's amenities seem endless and are the only of its kind in the state of California—offering art education, exhibitions, and performances. Enroll in a plethora of classes like dance and music for both children and adults or catch a show. AtTheGrand.org
Pacific's Long Theatre, Stockton  
Take a seat and enjoy the many productions put on by Pacific's sensational students, staff, and special guests at the Long Theatre. This structure, capable of hosting 380 audience members, serves as the platform for a variety of entertainment. Watch out for witty plays or dramatic plots, potent lectures and music ensembles. Calendar.Pacific.edu/longtheatre
University of the Pacific Conservatory of Music
The Conservatory of Music at University of the Pacific hosts upwards of 100 performances each year. Enjoy intimate chamber music recitals or exuberant symphony and choral concerts. Nationally recognized jazz and opera theatre ensembles light up the stage of historic Faye Spanos Concert Hall. The versatile concert schedule features Conservatory students and faculty as well as nationally and internationally renowned guest artists. The 2019-2020 season starts on September 1. Pacific.edu/Conservatory