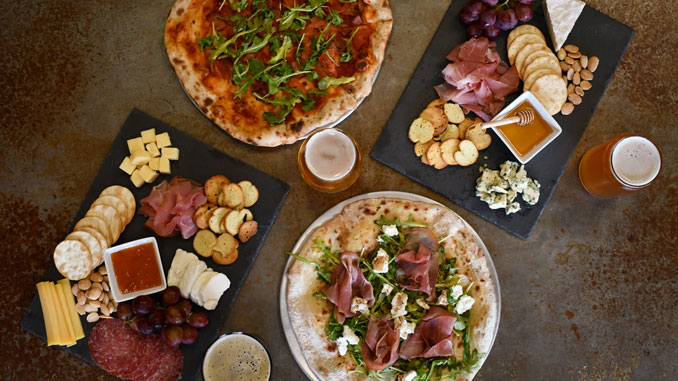 We want to keep you in-the-know for all thing's food & wine in the 209. Here are the events to indulge in this month:
Five Window Beer Co.
Lodi's own Five Window Beer Co. has been kicking up the food pairings as of late. They recently launched a new Cheese and Charcuterie program for guests to enjoy with their beer and wine offerings. This isn't a meager platter. Diners can choose three or five items from a grand selection of cheese and meats, including a nutty aged gouda, creamy brie, salty prosciutto, or my all-time-favorite sausage, finocchiona. And every board is presented with local honey, seasonal fruit, and a selection of local nuts. Be sure to stop on by for some cheese, charcuterie, and seasonal brews!
9 West Locust St., Lodi
Riaza Chef's Series
Presented by Riaza wines, The Chef Series showcases local culinary talent paired with their award-winning wines. Every month they feature a local chef, who creates three or four small plates in a casual setting with like-minded foodies. No white tablecloths, no linen napkins, just seriously good food and damn fine wine. This month's Chef Series will feature Chef Shane Tracewell, an uber talented up and coming chef who slangs food for Heritage Provisions, the Waterloo Gun and Bocce Club. The dinner goes down on May 11th and will be held after hours at the winery from 6 to 8 PM. Seating is limited to 40 guests and costs $40 for wine club members and $50 if you aren't!
2441 South Stockton St., Lodi
Tickets are available through their Facebook page on Eventbrite.
Harney Lane's Grape to Glass Tour
Did you know that Harney Lane Winery won USA Today's Best of Award for their Grape to Glass Tour last year? During ZinFest's cellar tours on May 19th, Harney Lane will offer complimentary Grape to Glass tours to guests. Count on a conversation in the vineyard with your knowledgeable guide Kyle Lerner and a Zinfandel themed twist that is sure to please the palate. The tours begin at 11 AM and 2 PM in the rustic Harney Lane tasting room. Space is limited and reservations are required.
Reserve your space by calling (209) 365-1900 or by emailing rsvp@harneylane.com.