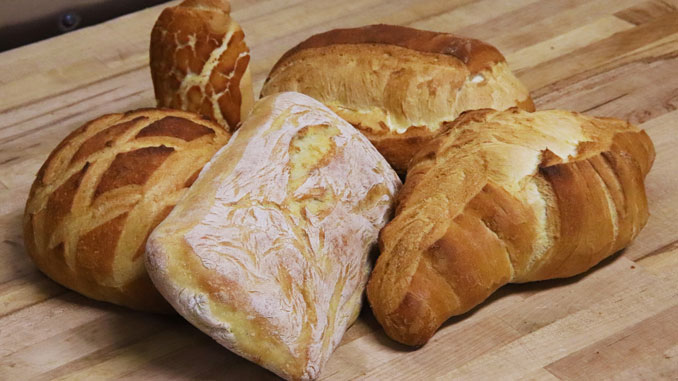 Genova Continues to Keep Customers Happy
Genova Bread – it's a name that's synonymous with deliciousness around these parts. And while most locals know Genova for their fresh, ultra-satisfying French bread, just one step into their bakery will show you that there's so much more to them than just their perfect French bread.  
Since Genova Bakery first opened their doors in 1918, they have been delivering high quality goods to both San Joaquin County and the surrounding areas. For a century, customers have been pouring into this humble bakery (which is still in its original location) and have continued to seek out those familiar Genova bakery bags in local grocery stores.
While some might be surprised to learn that Genova not only opened their doors a hundred years ago, many people probably aren't aware that Genova was also initially a general store as well as a bakery. And though they no longer sell wash tubs, lanterns, or plumbing supplies, they do sell something else that many people consider vital: sandwiches. So, if you haven't visited this historical location yet, perhaps their freshly prepared, custom made deli sandwiches will be enough of an incentive.
Chances are that upon arriving, you may be overwhelmed at the number of options available. Whether you want to grab a sandwich to go, or you're more interested in buying yourself enough ingredients to make several sandwiches at home, you are guaranteed a superb meal. And don't forget to check out their selection of Italian groceries! But, if you're still unsure of what you want, let an expert give you his advice: "My favorite sandwiches are Toscano Salame with Swiss Cheese on a Ciabatta Roll, or Applewood Smoked Ham with Havarti on our new sliced bread, Honey Whole Grain," says Tim Canevari, owner of Genova Bakery.
The original recipes for French bread and rolls, and the Milk bread and rolls, are still in use. But Tim, who's history with Genova dates back to the 1980s, has added new bread additions to the menu, including Dutch Crunch, Ciabatta, and Squaw. If the number of bread choices overwhelm you, then the lists of meats, cheeses, and extras may also have you agonizing over your order form for quite a long time. But it's okay – Genova Bakery has already withstood the test of time for 100 years. You can keep coming back to try as many new breads, meats, and cheeses, in whatever combination strikes your fancy, as your heart desires.
For a Timeless Taste:
Genova Bakery
749 N. Sierra Nevada St., Stockton
(209) 466-6145