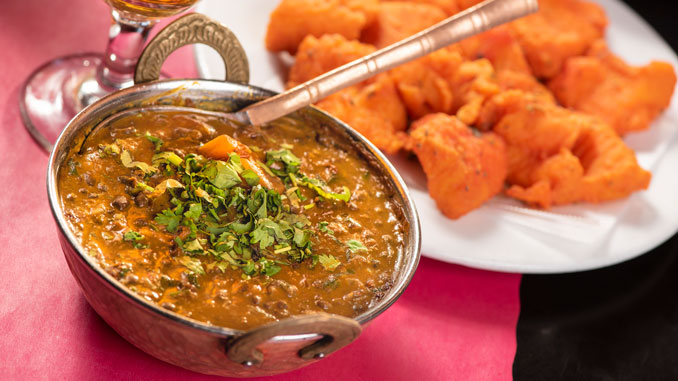 Sometimes, the best meals are the ones that you grab when you're on the go. A humble roadside establishment welcomes you in with tantalizing scents, and the warm, flavor packed meal reminds you to slow down and savor life. Dhabas, which are small, informal dining spots found on the side of highways in India, are exactly those kinds of places. And while Dhaba Indian Cuisine, one of Tracy's most popular restaurants, isn't quite as casual, both the food and the good feelings you'll get there are just as fantastic as the ones you'll find at an actual dhaba.
While Manjeet Singh Rattanpal, the owner and manager of Dhaba, has no family history of owning and operating restaurants, he admits that he is very fascinated with food and cooking. "I wanted to bring good Indian food to Tracy," he says, simply. And he clearly succeeded. He opened Dhaba in 2008, and from there, they have grown in popularity, even being voted as one of the best by our readers in our 2018 "Best of San Joaquin" issue. But whether it's the delicious, fresh food, or the family friendly serving style, Dhaba has become a mainstay of Tracy's dining scene.
For those who haven't yet tried Indian food, it's an experience that is not to be missed out on. With food so rich in spices and freshness, you'll likely become an immediate fan. Need a little help in deciding where to start? Dhaba's vast menu can help with that. Any dishes marked with an asterisk signal favorites, and all dishes include a description underneath their names. But a good bet for a pleasing dish to introduce you to Indian cuisine is to check out the Tandoor section. Tandoori chicken is one of their most popular dishes, and a good place to start. Named after the tandoor, which is the clay oven it's roasted in, this flavorful chicken entrée is marinated in sauce with yogurt, garlic, ginger, and home ground spices.
If you're a vegetarian, not to worry! Indian cuisine has an exciting variety of non-meat options to choose from. And vegans, keep your eyes out for their outstanding dairy free dishes! For one of the most popular vegetarian choices at Dhaba, try Dal Makhni. Lentils cooked with onion, tomatoes, garlic, and a variety of spices culminate in a dish that is rich in both color and flavor. Served with a side of steaming basmati rice, this classic Punjabi recipe is so flavorful that even non-vegetarians are sure to fall in love with it! And of course, an Indian meal isn't complete without a side of naan. Try their lightly buttered plain naan, or the garlic naan (as long as it's not date night!). Or, dive a little deeper into the naan section and try the other types of flatbreads, like their onion kulcha, or mint paratha. All are delicious, but their recipes all vary slightly.
If you possibly have any room left in your stomach, dessert is highly recommended. Try Manjeet's favorite dessert, which is kheer, a pudding made of rice and milk, served cold, is the perfect way to wrap up a most satisfying meal.
With food so delicious, yet still unknown to many people, Indian cuisine continues to grow in popularity. A table laden with large plates of fragrant, vibrantly colored dishes allow for family style sharing, and invite you to a culture whose recipes are rich not only with flavor, but with history.
"We always do our best to provide good quality, authentic Indian food," says Manjeet. Having just hit their ten-year anniversary, it's clear they're doing something very right.
For an Authentic Experience:
Dhaba Indian Cuisine
2242 W Grant Line Rd., #101, Tracy
(209) 835-9090